Americans Abroad eye championships, promotion as seasons wrap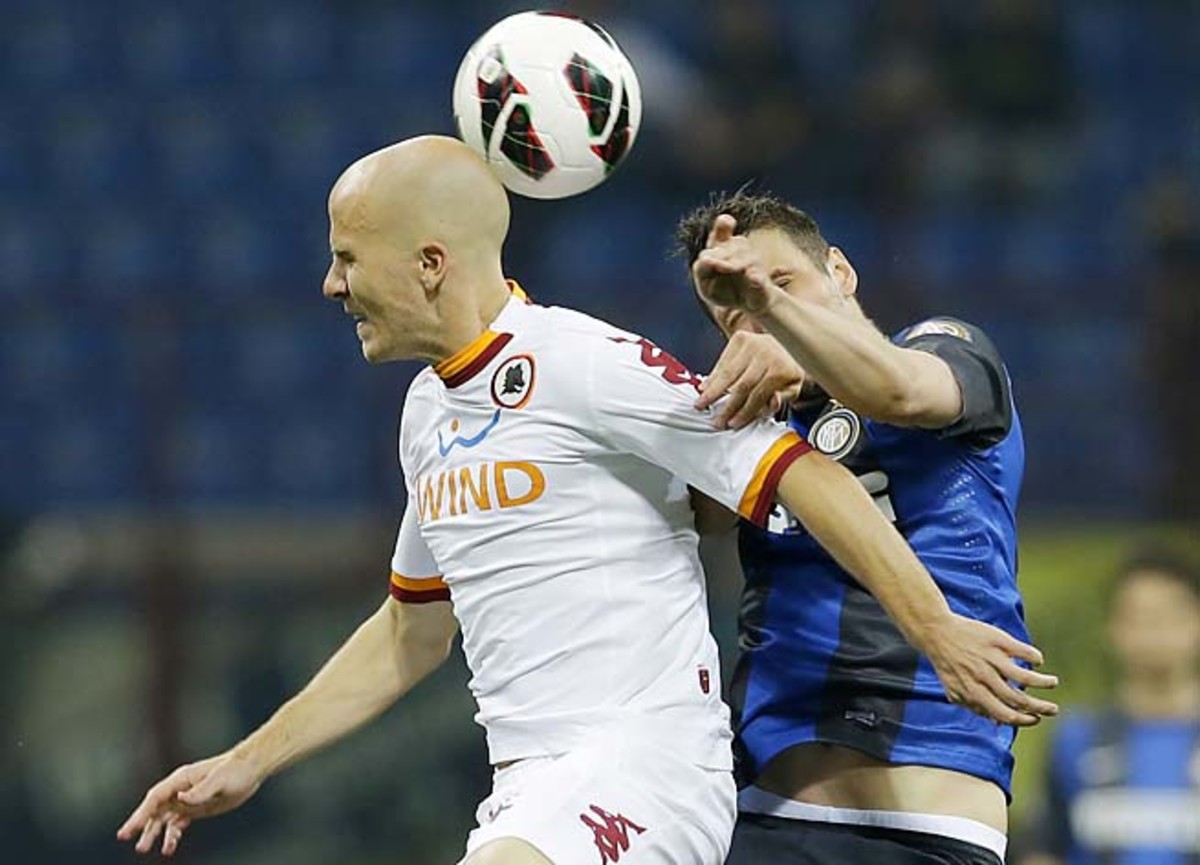 It is the time of year when the P words take on more relevance: Prestige. Playoffs. Promotion.
Americans abroad are competing for all three as seasons across the world come to a close. Some are playing vital roles for their teams in quests for each kind of glory.
Clint Dempsey continued his assault on the Manchester clubs, scoring a turning-point goal in Tottenham's come-from-behind win over Manchester City on Sunday. His 75th-minute finish off Gareth Bale's cross sparked a three-goal, seven-minute surge that kept Tottenham in the race for the prestige of a place in the Champions League.
Dempsey has 11 goals in all competitions this season, and three have come in games against the top two teams in the Premier League, Manchester United and City, which have helped Spurs net seven valuable points. Dempsey completed his transfer to Tottenham in hopes of competing on Europe's grandest stage, and he's doing his part to try and get Spurs there after they barely missed out last season.
As for domestic cup prestige, Michael Bradley and Charlie Davies will play for silverware in their respective countries. Bradley's Roma eliminated Inter Milan to reach the Coppa Italia final against rival Lazio. Davies' Randers will play in the Danish Cup final against Esbjerg after advancing this past week. Jozy Altidore and AZ Alkmaar have long sealed their place in the Dutch Cup final, where they will face PSV in a rematch of Saturday's league contest in which Altidore left with a minor injury.
In the playoff hunt, Sacah Kljestan's latest goal capped a postseason win for Anderlecht, fighting a dip in form at the worst time. With five games remaining in Belgium's 10-game playoff round robin, Anderlecht is in second place, a point out of a place that cements an automatic berth in next season's Champions League.
Halfway across the world, Santos Laguna and Tigres have cemented spots in the Mexico's eight-team playoffs, which means more meaningful matches for Herculez Gomez and Jose Torres. Gomez also has the CONCACAF Champions League final against Monterrey as he looks to become the first American since Torres (2008) to play in the FIFA Club World Cup.
As for promotion, after everything Stuart Holden has endured over the last two years, having him reclaim a place in the Premier League would be just desserts. Bolton has recalled him from his loan to Sheffield Wednesday for the remainder of the season as it looks to cement a place in the League Championship promotion playoffs. One side that has already sealed it's top-flight fate for next season is Hertha Berlin and its two U.S.-eligible products, defenders John Anthony Brooks and Alfredo Morales, who will play in the Bundesliga next season -- assuming they remain with the club -- after clinching promotion from the 2. Bundesliga.
Elsewhere of note this past week, January U.S. camp call-ups Alejandro Bedoya and Mix Diskerud scored goals, while Freddy Adu made his debut in Brazil with Bahia as a substitute in the Campeonato Baiano. Here's how the Americans abroad contingent fared overall (season statistics encompass all competitions):
England
Premier League
Geoff Cameron, D/M, Stoke City -- In the 18, came on as a 90th-minute substitute in Stoke's 2-0 win over Queens Park Rangers on Saturday. SEASON: 34 games, 31 starts
Cody Cropper, GK, Southampton -- Not in the 18 for Southampton's 0-0 draw with Swansea City on Saturday. SEASON: 0 games
Clint Dempsey, M/F, Tottenham -- Started, played 90 minutes and scored the second-half equalizer that sparked Tottenham's come-from-behind, 3-1 win over Manchester City on Sunday. Dempsey slid to touch home Gareth Bale's cross by the left post and bring the teams level in the 75th minute before Tottenham seized control. SEASON: 38 games, 28 starts, 11 goals
Brad Friedel, GK, Tottenham -- In the 18, did not play in Tottenham's 3-1 win over Manchester City. SEASON: 20 games, 20 starts, 30 goals allowed, 2 clean sheets
Brad Guzan, GK, Aston Villa -- Started, played 90 minutes and made one save in Villa's 3-0 loss to Manchester United on Monday. SEASON: 33 games, 33 starts, 60 goals allowed, 6 clean sheets
Tim Howard, GK, Everton -- Started, played 90 minutes, made two saves and earned the clean sheet in Everton's 0-0 draw with Arsenal on Tuesday. Howard also started, played 90 minutes and made three saves in Everton's 1-0 loss to Sunderland on Saturday. SEASON: 36 games, 36 starts, 41 goals allowed, 7 clean sheets
Eric Lichaj, D, Aston Villa -- Not in the 18 for Villa's 3-0 loss to Manchester United. SEASON: 21 games, 13 starts
Brek Shea, M, Stoke City -- Not in the 18 for Stoke's 2-0 win over Queens Park Rangers. SEASON: 2 games
League Championship
Conor Doyle, F, Derby County -- In the 18, did not play in Derby County's 1-1 draw with Barnsley on Tuesday. Doyle was not in the 18 for Derby County's 3-1 win over Peterborough United on Saturday. SEASON: 3 games, 1 start
Stuart Holden, M, Sheffield Wednesday -- Started, played 60 minutes in Sheffield Wednesday's 0-0 draw with Barnsley on Tuesday. Holden was not in the 18 for Sheffield Wednesday's 1-1 draw with Ipswich Town on Saturday. Holden was recalled to parent club Bolton for the remainder of the season. SEASON: 7 games, 4 starts (3 games with Bolton)
Tim Ream, D, Bolton -- In the 18, did not play in Bolton's 3-2 loss to Leicester City on Tuesday and in Bolton's 2-1 win over Middlesbrough on Saturday. SEASON: 16 games, 14 starts
Jonathan Spector, D/M, Birmingham City -- Not in the 18 for Birmingham's 1-0 win over Bristol City on Tuesday or for Birmingham's 1-0 win over Leeds United on Saturday. SEASON: 30 games, 26 starts, 1 goal
Zak Whitbread, D, Leicester City -- In the 18, came on as a second-half stoppage-time substitute in Leicester City's 3-2 win over Bolton on Tuesday. Whitbread was in the 18 but did not play in Leicester City's 2-2 draw with Crystal Palace on Saturday. SEASON: 17 games, 15 starts, 1 goal
League One
Mike Grella, F, Scunthorpe United -- In the 18, came on as a 68th-minute substitute in Scunthorpe's 2-1 loss to Bury on Tuesday. Grella was in the 18 but did not play in Scunthorpe's 1-0 win over Milton Keynes Dons on Saturday. SEASON: 27 games, 12 starts, 2 goals
Frank Simek, D, Carlisle United -- Not in the 18 for Carlisle's 3-1 loss to AFC Bournemouth on Saturday. SEASON: 40 games, 38 starts
Germany
Bundesliga
Timmy Chandler, D, FC Nurnberg -- Started, played the first half of Nurnberg's 1-0 loss to SpVgg Greuther Furth on Sunday. SEASON: 30 games, 29 starts, 1 goal
Steve Cherundolo, D, Hannover 96 -- Started, played 66 minutes in Hannover's 6-1 loss to Bayern Munich on Saturday. SEASON: 31 games, 30 starts
Fabian Johnson, D, TSG 1899 Hoffenheim -- Started, played 90 minutes in Hoffenheim's 5-0 loss to Bayer Leverkusen on Saturday. SEASON: 26 games, 26 starts, 3 goals
Jermaine Jones, M, FC Schalke 04 -- In the 18, came on as a 64th-minute substitute in Schalke's 1-0 loss to Eintracht Frankfurt on Saturday. It was Jones' first appearance since spraining his ankle in the USA's World Cup qualifying win over Costa Rica on March 22. SEASON: 29 games, 25 starts, 2 goals
Michael Parkhurst, D, FC Augsburg -- Not in the 18 for Augsburg's 1-0 loss to Borussia Monchengladbach on Friday. SEASON: 23 games, 21 starts, 2 goals (21 games, 20 starts, 2 goals with FC Nordsjaelland)
Danny Williams, D/M, TSG 1899 Hoffenheim -- Not in the 18 for Hoffenheim's 5-0 loss to Bayer Leverkusen. SEASON: 21 games, 17 starts, 1 goal
2. Bundesliga
John Anthony Brooks, D, Hertha Berlin -- Started, played 90 minutes in Hertha Berlin's 1-0 win over Sandhausen on Sunday, which clinched the club's promotion to the Bundesliga for next season. SEASON: 25 games, 22 starts
Joe Gyau, M, St. Pauli -- In the 18, did not play in St. Pauli's 3-0 loss to VfL Bochum on Friday. SEASON: 14 games, 6 starts
Alfredo Morales, D/M, Hertha Berlin - In the 18, did not play in Hertha Berlin's 1-0 win over Sandhausen. SEASON: 7 games, 3 starts
Bobby Wood, F, TSV 1860 Munich -- In the 18, did not play in Munich's 2-1 loss to FSV Frankfurt on Saturday. SEASON: 13 games, 5 starts, 2 goals
Andrew Wooten, F, SV Sandhausen -- In the 18, came on as an 83rd-minute substitute in Sandhausen's 1-0 loss to Hertha Berlin on Sunday. SEASON: 25 games, 17 starts, 5 goals
Italy
Serie A
Michael Bradley, M, AS Roma -- Started, played 90 minutes in Roma's 3-2 win over Inter Milan in the second leg of their Coppa Italia semifinal tie on Wednesday. Roma advanced on a 5-3 aggregate and will meet rival Lazio in the final. Bradley was in the 18 and came on as a 72nd-minute substitute in Roma's 1-1 draw with Pescara in league play on Sunday. SEASON: 29 games, 24 starts, 2 goals
Spain
Primera Division
Oguchi Onyewu, D, Malaga -- Not in the 18 for Malaga's 5-1 loss to Valencia on Saturday. SEASON: 8 games, 7 starts, 2 goals
Segunda Division
Carlos Bocanegra, D, Racing Santander -- Started, played 90 minutes in Racing Santander's 1-0 loss to Villarreal on Sunday. SEASON: 23 games, 23 starts (7 games, 7 starts with Rangers)
Netherlands
Eredivisie
Jozy Altidore, F, AZ Alkmaar -- Started, played 54 minutes in AZ's 3-1 loss to PSV Eindhoven on Saturday. SEASON: 39 games, 39 starts, 28 goals
Belgium
Pro League
Sacha Kljestan, M, RSC Anderlecht -- Started, played 90 minutes and scored a 37th-minute goal in Anderlecht's 3-0 win over Lokeren on Wednesday. Kljestan laced a shot from the edge of the area under the crossbar for the final tally in a win that snapped Anderlecht's three-game winless slump in the Belgian playoff round robin. Kljestan started and played 74 minutes in Anderlecht's 2-1 loss to Zulte-Waregem on Sunday and fell out of first place in the playoff table by a point with five games remaining. SEASON: 44 games, 37 starts, 3 goals
Austria
Bundesliga
Terrence Boyd, F, Rapid Vienna -- Started, played 74 minutes in Rapid Vienna's 1-0 loss to Pasching in the quarterfinals of the Austrian Cup on Tuesday. Boyd was not in the 18 for Rapid Vienna's 2-2 draw with Austria Vienna on Sunday. SEASON: 37 games, 31 starts, 16 goals
Turkey
Super Lig
Maurice Edu, M, Bursaspor -- Not in the 18 for Bursaspor's 1-0 win over Antalyaspor on Sunday. SEASON: 13 games, 11 starts (1 game with Stoke City)
Portugal
Primeira Liga
Caleb Patterson-Sewell, GK, Vitoria Setubal -- In the 18, did not play in Vitoria Setubal's 1-0 win over Estoril Praia on Sunday. SEASON: 5 games, 5 starts, 12 goals allowed, 1 clean sheet
Tony Taylor, F, Estoril Praia -- In the 18, came on as a 78th-minute substitute in Estoril's 1-0 loss to Vitoria Setubal on Sunday. SEASON: 17 games, 4 starts, 1 goal
Mexico
Liga MX
DaMarcus Beasley, M, Puebla -- In the 18, came on at halftime of Puebla's 2-0 loss to Atlante on Sunday. SEASON: 19 games, 13 starts, 5 goals
Jonathan Bornstein, D, Tigres UANL -- Not in the 18 for Tigres' 3-1 win over Pachuca on Saturday. SEASON: 1 game, 1 start
Edgar Castillo, D, Tijuana -- Started, was sent off in second-half stoppage time of Tijuana's 2-1 loss to Morelia on Saturday. Castillo was whistled for a foul and picked up two successive yellows for dissent and was ejected. SEASON: 14 games, 14 starts, 1 goal
Joe Corona, M, Tijuana -- In the 18, came on as a 70th-minute substitute and was sent off in the 89th minute of Tijuana's 2-1 loss to Morelia. Corona was given a straight red for a sliding foul from behind, even though replays showed that minimal contact was made as Corona went for a 50-50 ball in midfield. SEASON: 17 games, 12 starts, 1 goal
Michael Orozco Fiscal, D, Puebla -- Started, played 90 minutes in Puebla's 2-0 loss to Atlante. SEASON: 17 games, 17 starts
Greg Garza, D/M, Tijuana -- Not in the 18 for Tijuana's 2-1 loss to Morelia. SEASON: 6 games, 3 starts
Herculez Gomez, F, Santos Laguna -- Started, played 74 minutes in Santos Laguna's 1-0 win over Monterrey on Friday. Santos Laguna clinched a place in the eight-team Liga MX playoffs in a match that was also a preview of the CONCACAF Champions League final. SEASON: 19 games, 18 starts, 6 goals
Benji Joya, M, Santos Laguna -- Not in the 18 for Santos Laguna's 1-0 win over Monterrey. SEASON: 0 games
Jose Torres, M, Tigres UANL -- Started, played 85 minutes in Tigres' 3-1 win over Pachuca. SEASON: 15 games, 15 starts
Denmark
Charlie Davies, F, Randers FC -- In the 18, did not play in Randers' 3-2 win over Horsens in the second leg of their Danish Cup semifinal tie on Wednesday, advancing to the final on a 4-2 aggregate. Davies was also in the 18 but did not play in Randers' 0-0 draw with FC Nordsjaelland in league play on Sunday. SEASON: 23 games, 3 starts
Clarence Goodson, D, Brondby IF -- In the 18, did not play in Brondby's 3-1, extra-time loss to Esbjerg in the second leg of their Danish Cup semifinal tie on Thursday. Goodson was also in the 18 and did not play in Brondby's 2-2 draw with Silkeborg IF in league play on Sunday. SEASON: 18 games, 17 starts, 1 goal
Conor O'Brien, M/F, FC Nordsjaelland -- Started, played 67 minutes and picked up a yellow card in Nordsjaelland's 0-0 draw with Randers on Sunday. SEASON: 29 games, 18 starts, 5 goals (22 games, 12 starts, 5 goals with Sonderjyske)
Sweden
Alejandro Bedoya, M, Helsingborg IF -- Started, played 86 minutes and scored a goal and assisted on another in Helsingborg's 4-1 win over Norrkoping on Thursday. Bedoya struck for a low, left-footed shot from about 22 yards for his first league goal of the season at the start of the season half. Bedoya also started and was substituted for in second-half stoppage time of Helsingborg's 2-0 win over Brommapojkarna on Sunday. SEASON: 8 games, 8 starts, 3 goals
Brian Span, M, Djurgarden IF -- In the 18, did not play in Djurgarden's 1-1 draw with Brommapojkarna on Thursday and in Djurgarden's 2-0 loss to Elfsborg on Monday. SEASON: 4 games, 1 start
Norway
Steve Clark, GK, Honefoss -- Started, played 90 minutes and earned the clean sheet in Honefoss' 3-0 win over Holmen in the first round of the NM Cupen (Norwegian Cup) on Wednesday. Clark also started and played 90 minutes in Honefoss' 1-1 draw with Sandnes Ulf in league play on Sunday. SEASON: 5 games, 5 starts, 9 goals allowed, 2 clean sheets
Mix Diskerud, M, Rosenborg BK -- In the 18, did not play in Rosenborg's 11-0 win over Buvik in the first round of the NM Cupen on Wednesday. Diskerud started, played 90 minutes and scored a goal in Rosenborg's 3-1 loss to Haugesund in league play on Sunday. Diskerud received the bal on the left side of the box and whipped a right-footed shot from a tight angle to get his side on the board. SEASON: 5 games, 5 starts, 2 goals
Josh Gatt, M, Molde FK -- Not in the 18 for Molde's 5-0 win over Elnesvagen og Omegn in the first round of the NM Cupen on Wednesday. Gatt started and played 72 minutes in Molde's 1-1 draw with Odd Grenland in league play on Saturday. SEASON: 5 games, 4 starts