What if?
It's a question so often posed in the realm of sports. What if a certain player wasn't suspended, traded or hurt? What if a controversial call went another way? What if a coach had called a different play? What if a certain matchup had occurred at a different time?
That last question, above the others, has piqued our interest. In light of Floyd Mayweather finally facing Manny Pacquiao this Saturday in Las Vegas, years after both boxing greats were widely considered to be at their absolute best, it got us wondering: What if two soccer titans of their era who never got the chance to meet at their peaks actually did? All week in the build-up to Mayweather-Pacquiao, Planet Fútbol will take a historical deep dive into some of the greatest teams in soccer history, why they ultimately never got the chance to meet their equals and what might have happened if they had.
We started with the Uruguay and Austria national teams of the early 1930s. Next up: Argentina's River Plate and Italy's Torino in the 1940s.
RIVER PLATE
There is no team so revered in Argentina as La Máquina, the great River Plate side of around 1941 to 1947. They defined not only the style of the club, but also what came to be perceived as the true Argentinian style, la nuestra. They played a rough W-M shape with an attacking center half in Néstor Rossi. The front five of–reading from right to left–Juan Carlos Muñoz, José Moreno, Adolfo Pedernera, Ángel Labruna and Félix Loustau became fabled (although they only played as a quintet 18 times over a five-year period).
Returns, rematches, powerhouses mark Champions League semifinals
Rather than the two inside-forwards withdrawing as was usual in a W-M, it was Moreno and Pedernera who dropped off into the space in front of the half line. Loustau, meanwhile, patrolled the whole of the left flank, becoming known as a 'ventilador-wing'–'fan-wing' ('puntero-ventilador' is used, but the half-English term seems more common)–because he was a winger who gave air to the midfield by doing some of their running for them.
Loustau's running meant that the left-half could shuffle across, which in turn meant the center half–first Rodolfi and then Rossi–moving right, allowing Norberto Yácono, the nominal right-half, a more defensive brief. He became known as "The Stamp" for the way he would stick to the player he was marking.
"You play against La Máquina with the intention of winning," said Ernesto Lazzatti, the Boca Juniors No. 5, "but as an admirer of football sometimes I'd rather stay in the stands and watch them play."
As befits the self-conscious romanticism of the Argentinian game at the time, though, River was not a relentless winner, lifting just four titles in those seven years.
"They called us the 'Knights of Anguish' because we didn't look for the goal," said Muñoz. "We never thought we couldn't score against our rivals. We went out on the pitch and played our way: take the ball, give it to me, a gambeta, this, that and the goal came by itself. Generally it took a long time for the goal to come and the anguish was because games were not settled quickly. Inside the box, of course, we wanted to score, but in the midfield we had fun. There was no rush. It was instinctive."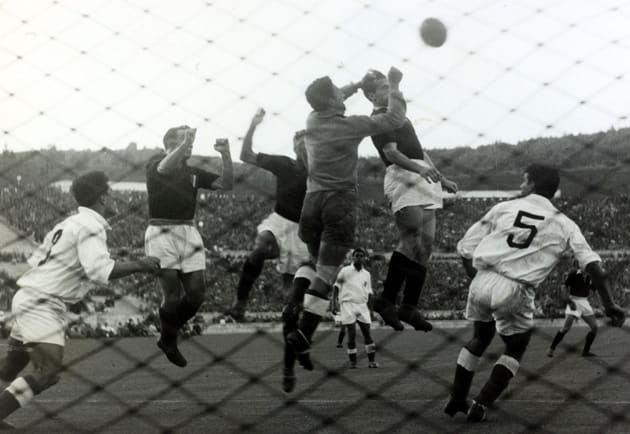 TORINO
On May 4, 1949, an airplane carrying the Torino side back from a friendly in Lisbon crashed into the monastery of Superga on a hill just north of Turin, killing all those on board and wiping out perhaps the greatest club side Italy has ever known–Il Grande Torino. With four games of the season remaining, it was already five points clear of Internazionale, its nearest rival, and was declared the champion, so completing a fifth straight league title (although there was a two-year break after the first one as football was reduced to local competitions by the war). As it turned out, its youth team went on to win those final four games anyway.
Under The Crest: Chelsea FC - What makes a world power's identity?
The coach was Egri Erbstein, a pioneering Hungarian, who had worked at the club in various capacities from 1938, aside from a spell back in Budapest during the war, when he was briefly interned in a concentration camp before escaping. It was a side written through with quality from goalkeeper Valerio Bacigalupo to the subtly gifted playmaker Valentino Mazzola. So good was that Torino that it was common for the national side to include six or seven Torino players.
On one occasion, a 3-2 win over Hungary in May 1947, there were 10 Torino players in the Italy team.
Erbstein favored a defensive center half in Mario Rigamonti, with a block of two deep-lying midfielders, Giuseppe Grezar and Emiliano Castigliani just in front of him. With Aldo Ballarin and Virgilio Maroso at fullback, that provided the platform for the former Venezia pair of Mazzola and the rapid Ezio Loik in front of them, with Romeo Menti and Pietro Ferraris wide and Guglielmo Gabetto a free-scoring center forward.
It was a balanced side, modern in its approach, but also capable of mesmerizing attacking combinations.
WHY THEY DIDN'T MEET
River Plate never played Torino for the very simple reason that they were based on opposite sides of the world. The Intercontinental Cup didn't come about until 1960, so the only way South American teams would play against European opposition was on tours. Torino did tour Brazil and Argentina in 1914, winning one and losing two games in Argentina, but the war restricted horizons and there were few trans-Atlantic tours in the 40s.
The best guide available as to how River may have fared against European opposition comes from San Lorenzo's European tour of 1946. El Ciclon, as that side became known, had won the Argentinian championship, finishing five points clear of River in third, and embarked on a tour over the (European) winter of 1946-47 and was hugely successful.
It began with a 4-2 defeat to Real Madrid, but soon hit its stride, beating a Spanish XI 7-5 in Barcelona, a game that prompted El Mundo Deportivo to praise its "excellent level in great football."
Michael Bradley maintains faith in Toronto FC despite lackluster start
Intriguingly, what stood out was not the individual ability of the Argentinians, but their mutual understanding. What made La Máquina great was clearly not restricted to River: "They all play for each other," El Mundo Deportivo enthused, "always to be found in the place where they need to be; they have such an excellent touch that they achieve with leather similar effects to a good billiards player."
San Lorezno beat another Spanish XI 6-2 and twice beat Portuguese selections: despite the "cold, snow and intense rainfall of that winter," El País said, San Lorenzo "caused a sensation."
It's not an entirely fair comparison, but Torino's last game was a 4-3 defeat away to Benfica. As Europe recovered from the war, it probably is the case that South American football was significantly stronger. Its players were better nourished, and, at a time when football was evolving rapidly, it hadn't had a hiatus in its development.
HOW IT WOULD'VE PLAYED OUT
Tactically, the shapes were not dissimilar, although the chances are that River would have used Yacono to try to pick up Mazzola, leaving Loustau to work the whole of the right flank and pick up Torino's left winger, and potentially leaving space for the speed of Loik to exploit.
That, though, is assuming Torino could have gained control of central midfield, and the probability is that with Yacono offering an extra man in that area and Mazzola tied up, the power of Rossi, supported by Jose Ramos and with Aldolfo Pedernera dropping back, would have allowed River to dominate possession.
The game would then have become a battle of River's front line against the defense of Torino, with the Italians threatening on the break, particularly down the left flank. In the end, the war would probably have been the decisive factor, and, while Torino may have had a harder edge, River would simply have outlasted Torino.
Best soccer tifos from around the world
Galatasaray fans display a sensational "Rocky" tifo ahead of their clash against rival Fenerbahce. It didn't inspire a victory, though. The Turkish rivals played to a 0-0 draw.
Borussia Dortmund fans channel their 1963 cup triumph over Benfica ahead of the teams' second leg in the Champions League round of 16 at Signal Iduna Park.
Hapoel Be'er Sheva fans turn to Moses for tifo inspiration, with his splitting the Red Sea illustrating how "impossible is nothing" in their Europa League series against Besiktas.
Fans of Tunisia's Club Africain display this pointed tifo at a friendly against PSG, whose Qatari owners have pumped millions and millions into the club.
U.S. fans in Columbus, Ohio, make a "One Nation, One Team" statement ahead of the USMNT's World Cup qualifying match against Mexico on November 11, 2016.
Germany fans display their heart for the team colors ahead of a World Cup qualifier against Czech Republic in October 2016.
Italy fans spell out their support for the Azzurri ahead of a massive World Cup qualifier vs. Spain in October 2018.
Iceland fans keep up their world-famous passion for the national team during a World Cup qualifier against Turkey in October 2016.
Fans in the United Arab Emirates set their sights on reaching the 2018 World Cup in Russia during a qualifying match vs. Australia in September 2016.
Colombia fans send a massive jersey around the stadium during a World Cup qualifier vs. Venezuela in September 2016.
Seattle Sounders fans turn to Game Of Thrones for inspiration in a game against the Cascadia rival Vancouver Whitecaps in September 2016.
Djurgardens fans go all out in Sweden for a match against AIK in September 2016.
Zulte Waregem fans prepare Kortrijk for the absolute worst in this Belgian top-flight match in September 2016.
Seattle Sounders fans turn their pop culture reference to Poltergeist in March 2016 ahead of the season home opener against Sporting Kansas City.
The Timbers Army doubles down on their Eastbound and Down theme, adding another wrinkle during the club's MLS Western Conference final first leg vs. FC Dallas on November 22, 2015 at Providence Park.
Fans make a French flag tifo at Wembley Stadium during the singing of Le Marseillaise ahead of England's friendly vs. France, which took place days after the terrorist attacks in Paris.
The Timbers Army referenced Eastbound & Down's Kenny Powers with their "Cup Bound and Down" tifo for the Portland Timbers' MLS playoff elimination game against Sporting Kansas City on October 29, 2015.
Brondby IF fans display a gladiator holding up a lion's head during the team's Danish Alka Superliga match against FC Copenhagen, whose logo is a lion's head, on September 27, 2015.
New England Revolution fans equate Jermaine Jones to Indiana Jones on their quest to capture the 2015 MLS Cup on September 26, 2015.
New England Revolution fans display a Lion King theme in honor of Orlando City FC's first visit to Gillette Stadium on September 5, 2015.
Red Bulls fans take a shot at NYCFC's two summer arrivals, 37-year-old Frank Lampard and 36-year-old Andrea Pirlo, ahead of their third MLS meeting of 2015.
Germany fans in Cologne salute their World Cup champions ahead of a friendly against the United States in June, 2015.
Real Madrid fans went all out prior to the second leg of the 2014-15 Champions League semifinal vs. Juventus.
Lazio fans display a stunning eagle tifo ahead of the Rome derby against AS Roma in their penultimate Serie A match of the 2014-15 season.
Barcelona fans bid farewell to veteran midfielder Xavi with this banner at his last league game at Camp Nou before he departs for Qatari club Al Sadd.
Fans at Anfield pay tribute to Steven Gerrard in his final home match as a Liverpool player in May 2015.
Juventus fans state their case to beat Real Madrid in the 2014-15 Champions League semifinals and reach the final in Berlin.
Fans at Benfica's Estadio da Luz remind rival Porto who the Primeira Liga reigning champion is during an April 2015 match in Portugal.
New York Red Bulls fans send a pointed message to their NYCFC counterparts prior to the teams' first MLS meeting in May, 2015.
Inter Milan's Curva Nord announces its presence ahead of the April 2015 Derby della Madonnina–the annual clashes between city rivals Inter and AC Milan.
Bayern Munich fans implore their club to (translated) "Never give up" in the Champions League quarterfinal second leg vs. Porto. Bayern then turned a 3-1 first-leg deficit into a 7-4 aggregate win and a place in the semifinals.
Dortmund fans commemorate their 1997 Champions League trophy in the club's clash vs. Juventus–the opponent on the wrong side of that title bout.
Portland Timbers fans speak out against homophobia with this tifo in a 2013 match against Chivas USA
Atletico's supporters display a banner reading "Atleti crushes" before the Spanish league match between Atletico Madrid and FC Barcelona at the Vicente Calderon stadium in Madrid,
Borussia Dortmund fans put on a remarkable display ahead of a UEFA Champions League quarterfinal second leg match.
Brondby IF fans unveil a tifo ahead of a match in Denmark against Randers FC.
FC Barcelona fans display a huge banner in memory of former head coach Tito Vilanova.
Galatasaray fans support their team during the UEFA Champions League Group D match between Borussia Dortmund and Galatasaray at the Turk Telekom Arena in Istanbul.
The American Outlaws unveil a huge tifo ahead of a 2014 World Cup send-off match between the USA and Turkey at Red Bull Arena in Harrison, N.J.
Marseille's supporters use paper sheets to create an "OM" (Olympique de Marseille) tifo at the beginning of the French L1 football match between Marseille and Genoble.
Seattle Sounders fans display their tifo that shows coach Sigi Schmid playing cards and holding a Royal Flush before a match against the Portland Timbers.
Panathinaikos Athens fans display a banner during the UEFA Europa League match against Dynamo Moscow.
Fans of the Saudi Al-Hilal team celebrate after the scoring of a goal against Uzbekistan's Bunyodkor.
Seattle Sounders fans unveil a tifo inspired from the "Build a Bonfire" chant, featuring Sounder players holding torches on horseback ahead of a game against the Portland Timbers.
Fans of Hertha BSC before the Bundesliga match between Hertha BSC and Werder Bremen in Berlin.
Sporting Kansas City fans channel their inner Mario ahead of the 2013 MLS Cup final vs. Real Salt Lake.
Thousands of Barcelona fans hold up cards to spell out "Barca! Orgull," which translates to "Barcelona pride" ahead of a Champions League clash with Bayern Munich at Camp Nou.
Fans raise a tifo celebrating "Community, Club and Country" ahead of a CONCACAF Gold Cup match between the USA and Belize in Portland, Oregon.
Vitesse fans unfurl a massive Eagle banner at the Dutch Eredivisie match against Ajax at the GelreDome.
Valencia fans drape a banner featuring a king for a Copa del Rey ("The King's Cup) match against Atletico Madrid.
Juventus fans make a statement in Turin in a match vs. Inter Milan.
Dortmund fans put on another strong display at a Bundesliga match against Mainz 05.
German fans boast the newest star earned by the national team, symbolizing its 2014 World Cup triumph, at a Euro 2016 qualifying match in Dortmund.
Real Madrid fans make a point to display the club's 10 European championships ahead of the October 2014 clash against rival Barcelona at the Bernabeu.
San Jose Earthquakes fans unleash a massive tifo to mark the opening of Avaya Stadium, MLS's newest soccer-specific venue, in March 2015.
Barcelona fans show all who the real 12th man is ahead of the March 2015 Clásico vs. Real Madrid.
Ahead of a clash with Mexican foe Monterrey, Tigres players are treated by this message by its fervent supporters.
Standard Liege fans have a pointed message for Steven Defour, who departed the club for Belgian rival Anderlecht.
Orlando City fans mark their club's inaugural MLS game vs. fellow expansion side New York City FC with a statement that the Lions' "reign begins now."
Real Madrid fans salute Ballon d'Or winner Cristiano Ronaldo after he captured the most prestigious individual prize in world soccer again.
Vitesse fans pay homage to Operation Market Garden ahead of an Eredivisie match against SC Heerenveen.
Sevilla's fans deploy a giant banner in the stands before the UEFA Europa league final match between Benfica and Sevilla.
Fans in Liverpool's Kop End at Anfield commemorate those lost in the Hillsborough disaster.
Lyon fans during a game against Saint Etienne.