Paunovic brings unique experience, style to Chicago Fire's reboot
Veljko Paunovic has a lifetime of experience, both on and off the field, that he hopes translates into turning around the Chicago Fire, writes Liviu Bird.
PORTLAND, Ore.—It's nearly eight months to the day after Veljko Paunović led Serbia to an Under-20 World Cup, its second after triumphing in 1987 as a united Yugoslavia in the last tournament for which the nation qualified. Paunović, whose playing career included stints with Partizan Belgrade, Atlético Madrid and Hannover, now sits in the press box at Providence Park after choosing another former league, Major League Soccer, as his first foray into the club coaching world.
Paunović played for the Philadelphia Union in 2011, coming out of retirement after he turned down a contract with the New York Red Bulls two years earlier. In November 2015, the Chicago Fire announced that he would be the man tasked with reversing the 28-43-31 record over the past three seasons that have seen the team miss out on the playoffs each year.
"I think that this league is expanding and very fast becoming an important league worldwide," Paunović tells SI.com. "I think that I have a lot of things to deliver to soccer in this country in order to develop and be what I think it will be in the coming years, one of the best leagues in the world."
Early indications are that he's moving in the right direction, with an undefeated preseason record of 5-0-1 leading up to the regular-season kickoff on Sunday.
Of course, it's only preseason, but the Fire clearly needed a coach who could quickly change a club culture that has produced just one playoff team in the past six years. Paunović has some experience in this area, as one of the only coaches able to harness the technical prowess and innate footballing ability of a country from the war-torn Balkan region and turn it into an international trophy.
His champion U-20s, who beat the United States in a shootout and prevailed either in extra time or penalties in every knockout match, looked a lot like Yugoslav teams of the 1980s and '90s, just before the country's breakup. Their possession style wasn't far off from what you'd expect to see from Spanish-speaking nations, but their mentality was decidedly Eastern European: confident and unwavering.
"Serbia and the whole ex-Yugoslavian region always had great, great talent," Paunović says. "I believe that only the mentality and belief—the faith—was an issue."
Ethnic wars in the aftermath of the Cold War left the region in ruins as intra-national relations deteriorated. Every corner of Yugoslavia and its major cities were hit hard, but out of the strife rose a younger generation of citizens—and footballers—who weren't alive during the dark period.
Their parents' survivalist mentality remains, but it's now coupled with the kind of hope that saw Bosnia-Herzegovina qualify for the 2014 World Cup at the top of its group.
"The new generations are coming with a different energy," Paunović, 38, says. "They believe they can be good; you just have to give them the positive influence and guide them in that way that they can really achieve everything that they want, on the individual level or on the level of the club or the national team."
That's what Paunović brings to a Chicago team that hasn't felt much hope in recent seasons. It's nowhere near what war brings, but it's the kind of mentality that needs a high-energy, intelligent coach to be reversed.
Critiquing the 2016 MLS uniforms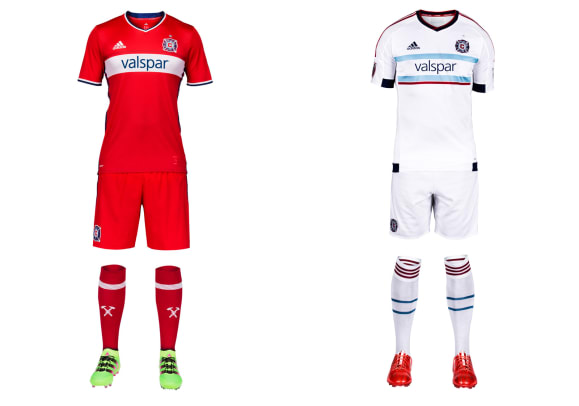 After the Fire score in the first five minutes against the Vancouver Whitecaps on Feb. 21, the opponent puts away two chances to lead at halftime, 2-1. Despite a 14-4 shot advantage, it takes two penalties for the Fire to eventually come out on top, 3-2.
Understandably, Paunović is most happy with his team's willingness to claw back two goals in a situation where it would have been easy to fold. Because it's preseason, results don't mean much—unless you're looking for a sign that this year will be different than the disappointments in the recent past.
"It's everything about what you think or what you believe," Paunović says. "We had to push the game, to go and believe that we can win this game. … This is a very good moment and maybe a critical moment to understand that we are capable of everything."
Paunović's attitude toward training and his modern approach also offer refreshing changes for a team that hardly seemed to be in control of games in 2014 and 2015. Now, Chicago breaks from its staunch 4-4-1-1 defensive block into a patient style of ball circulation that leads to goalscoring chances as players identify a path to goal.
"Everything is trainable; the only thing is that you have to open that talent output that every player has and build that trust that what we are doing is really for good and something that will help us to win games," Paunović says. "What we always told our players is, we're working on everything, so it has to be a global concept integrated in pieces—in parts."
Minnesota unveils renderings for future MLS stadium
​Paunović is quick to point out that he doesn't think his style is necessarily more correct than any other, but it's how he wants his team express itself on the field.
"Everyone has a different style, and what I can just tell you is that everyone's style can be—can be—successful," he says. "It depends on a lot of things, but I think that's why soccer is great, why we love it as a game. There are different styles, and they all may be successful. It's just how you identify."
That's why it's no surprise that Paunović's teams opt for a type of game that requires careful thought and a high level of dedication. His brain never seems to stop turning as he talks about football; the more detailed the topic, the more animated he becomes.
The SI Extra Newsletter Get the best of Sports Illustrated delivered right to your inbox
Subscribe
"At the same time, we work on mentality, physical, technical and tactical aspects. Why? Because we believe the mentality propels physical strength, physical strength is the support for your technical and tactical abilities, and technique is our tool for creativity," Paunović says. "In order to be a good soccer player, you have to be prepared on all those levels. Our method is an integrated method where in every session, you have to be very creative to work all these things."
That first goal against the Whitecaps, in the fifth minute, comes as Matt Polster picks the ball off Pedro Morales just outside Vancouver's penalty area. His touch falls to trialist forward John Goossens, who finishes. It's a transition moment worked to perfection, as Vancouver can't react quickly enough to losing possession in such a vulnerable area.
Paunović speaks with his hands, his voice rising in volume and intensity as he builds to his thesis. He snaps his fingers, and moments of the game come to life as if you're on field level and you're one of his players, listening to a coaching point.
"When the game comes to that transitional phase, which happens very often during the game, we have to be prepared," he says. "It gives us awareness of what we have to do now. So [snap] this is what's happening, [snap] this is what we did; this is how we prepared for this situation, and this is how we're going to put it under control. This is how we can use it as a weapon in order to be determined and score goals."
He doesn't shy away from the man-management side of the job, either.
As part of the squad overhaul since the disastrous 2015 season, Chicago traded homegrown player and fan favorite Harry Shipp to the Montreal Impact on Feb. 13. In a letter he posted on Twitter, Shipp wrote, "This is the hardest thing I've ever had to put in words. … I know this is a business and nothing is personal, but this is inherently personal for me."
Says Paunović: "Sometimes, you will have to take some decisions that are not popular but are necessary—or at least, we believe are necessary—and it's just part of the job. I can tell you that I also love that part of the job because it's something that is not easy, and not everyone can do it, but you have to be ready for that. If you're not ready, this is not the job for you."
For Paunović, it was as simple as having what he considered a good deal on the table for a player who would struggle to find playing time in the team's new system. As Shipp acknowledged, business is business, especially for a team trying to rebuild—as brutal as that may be.
"That was a situation where we had to decide. So obviously, we had an offer from the club that was very interested in Harry," Paunović says. "For him and for us—in order that he can play and enjoy playing and everything that he was expecting that he could get here—we believed that that was the best solution. He's a great, great human being, and we really appreciate Harry, everything that he did for Chicago Fire, and I can tell you also that we root for him to be successful."
Paunović counts his father, Blagoje, as his greatest influence in his coaching career. Blagoje Paunović also played for Partizan Belgrade before moving to Utrecht in the Netherlands. He played one season for the Oakland Stompers of the old North American Soccer League, under the name Paki Paunović.
Blagoje also managed five teams after his playing career finished, including in Partizan's academy and lowly La Liga side Logroñés.
"As time goes by, I can see that everything he told me from the coaching point of view is absolutely right," Veljko says. "He was great."
As a player, Blagoje made 39 appearances for Yugoslavia as a center back. He won a silver medal at the 1968 European Championship, losing 2-0 in a replay against host nation Italy after a 1-1 draw in the initial final in controversial circumstances with some questionable refereeing.
However, the most famous game Blagoje played in was Pelé's final international with Brazil in 1971 at the Maracanã. Veljko didn't see his father play even once during his career, as match broadcasts were extremely rare in Yugoslavia at the time.
For Veljko's 30th birthday in 2007, his father asked him what he wanted, and Veljko said he wanted a copy of Pelé's final match. His father found one for him, and Veljko keeps it on his laptop now, ready to watch at any time.
"That's the only game, and I keep that," Veljko says. "That's the only game that I saw, and I believe [it was] the most valuable game in his career, too."
After all that the game has given him, especially in recent months as a coach, Paunović doesn't find it hard to smile. Chicago is hoping for a turnaround season, off the back of two of its most difficult for a team that won MLS Cup in its inaugural year, and the Fire's new coach seems determined to return the franchise to the top of the league.
"I would say that I'm very grateful to soccer," Paunović says. "I just love what I'm doing. I love where I am, and I'm just focused on Chicago Fire and making this team successful and a champion."