7. Tragedy strikes Brazilian club Chapecoense
"Some people think football is a matter of life and death. I don't like that attitude. I can assure them it is much more serious than that." 
Bill Shankly, legendary manager of Liverpool from 1959–74, said that. It's a quote often repeated by soccer fans to this day, with the purpose of inflating the worth of what is essentially a simple game played by people in shorts. It's mostly used in jest, of course. But in 2016 the soccer world dealt with a tragedy that made that quote look downright ridiculous. 
Chapecoense, once a Cinderella story of Brazilian soccer, is now a club decimated after 19 players, the entire coaching staff, and all but one traveling journalist were killed as the plane carrying them to the Copa Sudamericana final ran out of fuel, suffered electrical failure, and crashed on a hillside on the outskirts of Medellin, Colombia. Just six people (three players, two members of the flight crew, and the journalist) survived. Tragedies in soccer aren't necessarily rare, but tragedies that engulf an entire team in one fell swoop are. In an instant, Chapecoense joined the ranks of 1949's Torino FC, 1958's Manchester United, 1969's The Strongest, and the 1993 Zambia national team; all squads that suffered devastating losses due to plane crashes. 
The world's tributes to Chapecoense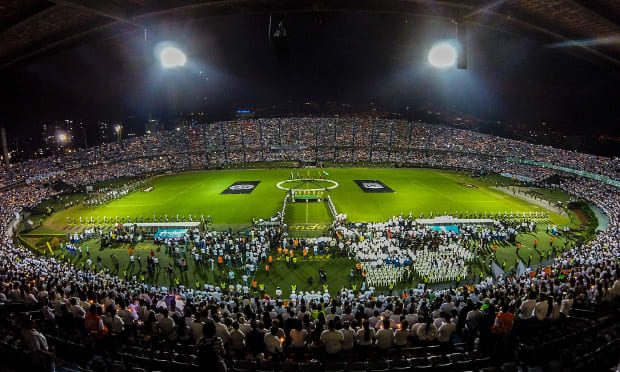 And it's a shame, because Chapecoense could and should have been known for more than that. Eight years ago the team was toiling in The Brazilian Serie D, before starting a remarkable rise that saw them promoted the to the top-flight Serie A in 2014 for the first time since 1979. Not only did they qualify for the Copa Sudamericana, they made it all the way to the final. They were on their way to Medellin for the first leg of that final, undoubtedly the biggest game in club history, when the crash occurred.
The tributes poured in from all over the globe. Moments of silence were observed. And The Copa Sudamericana itself was awarded to Chapecoense, at the request of their opponents Atlético Nacional. Soccer, it turns out, has nothing on life and death.