Carlo Ancelotti's Firing a Strike Against Complacency Threatening Bayern Munich's Reign
Overreaction or an indication of wider discontent? Bayern Munich is moving on after firing veteran manager Carlo Ancelotti.
From the outside, it doesn't look like much of a crisis, but this is Bayern Munich, and at a modern superclub what appears to be a gentle blip can feel on the inside like a seismic convulsion.
Carlo Ancelotti was sacked on Thursday in response to Wednesday's 3-0 defeat at Paris Saint-Germain, but in truth the discontent has been building for some time.
Bayern was abject in Paris: slow, sluggish and disorganized. Under Pep Guardiola, there were many at the club–players and other staff–who complained of how intense everything was all the time. Ancelotti was initially welcomed as a slackening of the reins. Everybody at Saberner Strasse, it seemed, breathed a little more easily. But after a time it became apparent that this wasn't Ancelotti giving his players a break, it was just how he was: relaxed to the point of decadence.
Rout a Statement About Both PSG and Bayern; Chelsea Stuns Atletico in UCL
Of course, Ancelotti still won the league title last season, but given Bayern's financial advantages, plus the injury problems that undermined Borussia Dortmund, which should have been the closest challenger, it would have taken some effort not to. This season, Bayern has already lost at Hoffenheim (where it also lost last season), and let a two-goal lead slip to draw against Wolfsburg. It sits third in the table, three points behind the early leader Dortmund. At this same stage of Guardiola's second season, Bayern had only one more point. In the Champions League, Bayern had begun with a 3-0 win over Anderlecht. In no normal sense of the term is this a crisis.
But these are not normal circumstances. Such are the financial imbalances in German football that Bayern no longer asks itself whether it will win. What matters is how it wins. It's legitimate to point out that for Guardiola to win three Bundesliga titles in itself means little about his status as one of the greatest coaches of all time. What's less legitimate is to pretend that the style with which he did it doesn't deserve respect. Bayern has won five Bundesliga titles in a row. In terms of how it was won, last season's was the least of those successes.
In that sense, what happened in Paris was the confirmation of a worrying trend. The mood at Bayern has been turning against Ancelotti for several months now. Under Guardiola, Bayern could realistically argue it was at or at least somewhere near the cutting edge of the game. Since he was a player at Milan, Ancelotti has never been near the tactical vanguard.
Soccer Managers: When they were players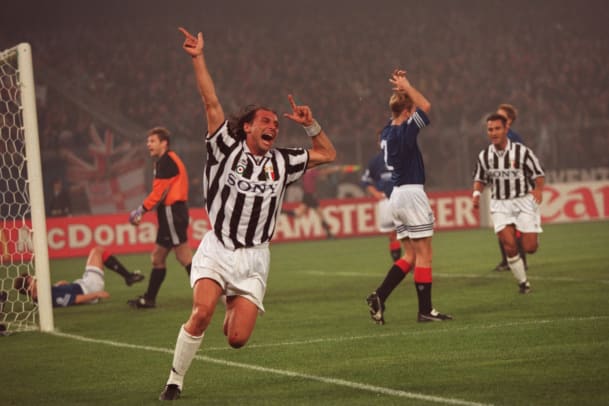 Not that there's necessarily anything wrong with that, it's just that Bayern needs more than to win. Last season was only the fourth league title of Ancelotti's career, a remarkable figure given he has spent two decades managing the biggest clubs in Europe. He's the Real Madrid manager who finished behind Atletico; the PSG manager who finished behind Montpellier. And yet he's also one of only two managers to win the European Cup/Champions League three times.
That apparent contradiction, though, is readily explained. Ancelotti is an astute politician, good at managing upwards, good at juggling the ego of players, but he lacks the hunger and the fire to drive players through a league season, to get them giving their all every week, every game. The nature of the modern Champions League is that if you're rich enough, you'll get to the quarterfinals, and, in the years without an outstanding team, it them becomes essentially a game of pass the parcel among the elite. The absence of that relentless fury, of course, is probably why he is more clubbable than most managers, more easily relatable, nicer even.
Retired Midfield Legend Xabi Alonso Confirms He'll Move into Management
"What we've seen tonight was not Bayern Munich," the club's CEO, Karl-Heinz Rummenigge, said after the defeat in Paris, but it may be that Ancelotti fulfills the role of useful scapegoat. When Robert Lewandowski earlier in the month complained about the lack of big-name signings, he was highlighting what is obvious: Bayern, despite its vast wealth, is not competing for the brightest talent. There has been a preference for weakening Bundesliga rivals by snapping up its best talent, guaranteeing domestic titles without making progress against the European elite.
The Bundesliga, generally, is having a poor season in European terms, so bad that it's slipped from second to fourth in the UEFA coefficient table. This, perhaps, is the consequence of the league's financial imbalances: once the majority of teams cannot compete, the one at the top isn't challenged and inevitably slides back.
Sacking Ancelotti is a strike against that built-in complacency. It's a message to players and beyond that the standards of this season are not acceptable, even if Bayern is still likely to win the league, still likely to progress to the last 16–and perhaps beyond–of the Champions League. Players who grumbled about Guardiola's intensity have grumbled even more about Ancelotti's lack of it. Sacking the manager answers their complaints but is also a challenge to them. But if Bayern is to be a serious challenger for the Champions League again, if it is to drag itself once more into the very forefront of the European elite, there will also have to be improvements at the boardroom level. There may even have to be a recognition that German football, with its present economic model, is damaging itself.