Australian Open leaves memories, conversation starters for new season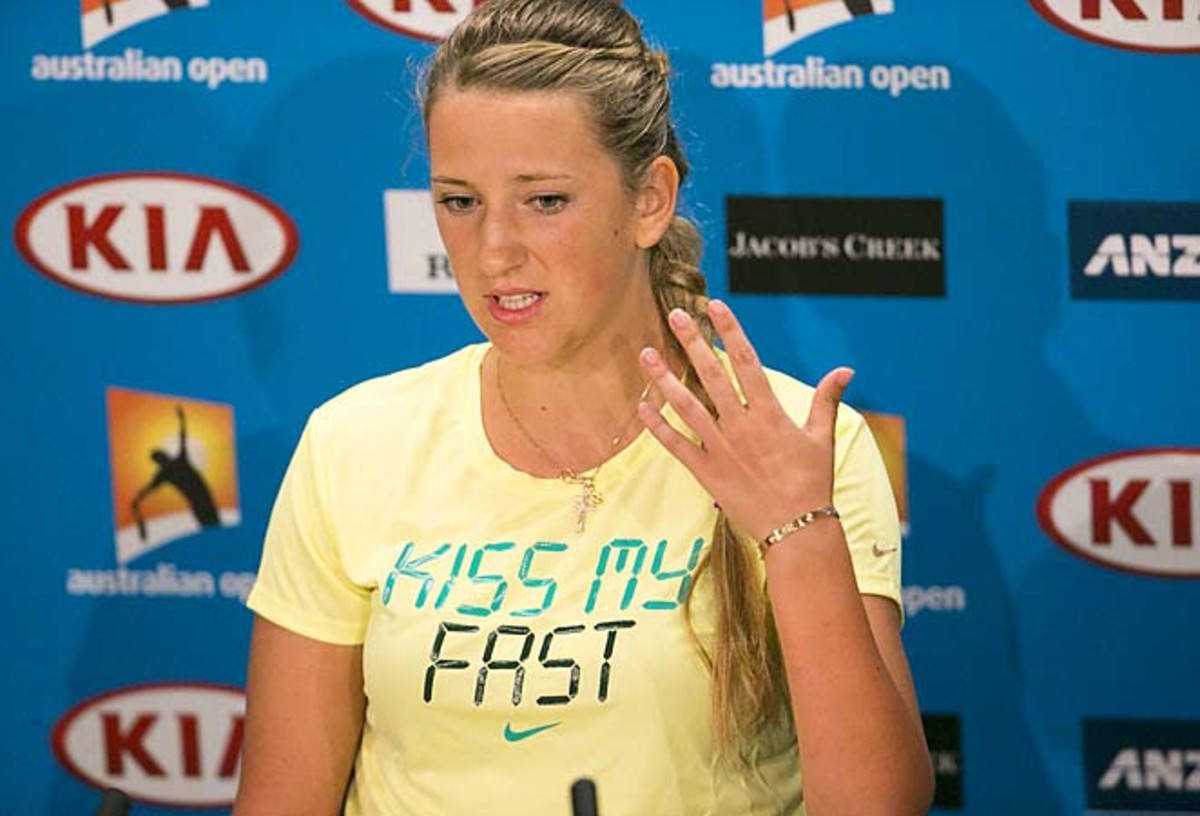 Reviewing a memorable Australian Open in three parts:
We grow accustomed to the striking contrasts in personality and crowd appeal among the world's best players, but the different-strokes theme reached a peak in Melbourne as Novak Djokovic and Victoria Azarenka made the first bold statements of the Grand Slam season.
Djokovic cruised into the tournament with a clear head and extensive rest. Azarenka withdrew from a highly anticipated Brisbane semifinal against Serena Williams because of a botched pedicure.
Djokovic feasted on unbridled adulation during each match, a consummate entertainer in his element. Azarenka, hoodie-enshrouded and transported to a separate world through earphones, seemed to wish she were invisible.
Djokovic enthralled the Rod Laver Arena crowd with his four-set victory over Andy Murray, a performance that grew more astonishing by the minute. Azarenka encountered a bitterly skeptical audience, annoyed by her incessant shrieking and disgusted by her mental fragility (that's how it will be remembered) in the semifinal against Sloane Stephens.
Out of nowhere, during a Legends doubles match, Djokovic resurrected his gift for pantomime by donning a medic's outfit and performing "treatment" on the fallen Henri Leconte; you couldn't keep him off the court. Azarenka will forever be remembered, grimly, for leaving the court during such a crucial stage against Stephens.
Djokovic soaked up a thunderous ovation, flashed his winning smile, passed out chocolates to the media and showed off his trophy to a crowd of adoring Serbian fans in Melbourne Park. Azarenka, overwhelmed by a torrent of mixed emotions, broke out in tears.
What matters most with these two champions, though, is the scoresheet. They are linked in historic achievement, and what it took to get there. Each lost the first set of the final, and each battled back through determination and relentless self-confidence. Not everyone savored the final tally, but there are no flukes in Grand Slam tennis; the right people win.
Ideally, in the season's first major, there isn't even a hint of closure. It's all about the big matches and disparate surfaces to come. As such, wouldn't everyone love to see Djokovic pursue his first French Open title in a match against Rafael Nadal? The Williams-Azarenka confrontation will take place eventually, perhaps as soon as Miami in March. Big-time tennis is back, and conversation fills the room.
WERTHEIM: 50 thoughts from Melbourne
-------------------------------
Here's the really bothersome part about Azarenka's 10-minute disappearance from the semifinal: It's common practice in tennis, and it's been a blight on the sport for years. In the 2005 U.S. Open semifinals, after losing the first set to Elena Dementieva, Mary Pierce called for a trainer and took two consecutive injury timeouts to receive what amounted to a full-body massage. After 12 minutes, she returned to the court like a spring colt and dominated the next two sets.
Three years ago, in the Australian Open final, Williams fled to the locker room after the second set, and Justine Henin figured, what the heck, I'll take a break, as well. Now there wasn't a sign of either player.
Mary Carillo called it "the most abused rule in tennis," and Stephens didn't seem at all bothered by Azarenka's maneuver, calling it "trendy." Mary Joe Fernandez, while critical of Azarenka on the ESPN telecast, also called it "a veteran move."
It's clear that the "medical timeout" cannot be removed from the game, but physically abandoning the court is inexcusable under any circumstances. It immediately suggests gamesmanship, a devious bit of strategy; a true sportsman would never even consider such a thing. I'd like to see all treatment administered either during changeovers or, as we saw when Li Na hit the deck so hard, in the immediate aftermath.
Both the players and WTA executives have to realize that people are watching and making judgments, perhaps even writing off tennis as a well-governed sport. Nobody had a problem with Li's crisis, for her pain was evident for all to see. Who had even the slightest clue what Azarenka was doing? She revealed a bit of leg pain early in the second set, but on the points preceding her timeout, there were no signs of injury.
I say good for Patrick McEnroe, downright vitriolic in his ESPN criticism of Azarenka. Maybe he went over the top, but he expressed what everyone was thinking, as in "What the hell?" And good for the Melbourne spectators, turning so demonstrably on Azarenka. Australians are the most fair-minded sports fans in the world, but you can't pull a lame stunt like that in the semifinals of a major -- or anywhere, for that matter -- then come back to the court all spry and refreshed. You just can't.
NGUYEN: Australian Open Report Card
------------------------------------
So many shots to remember, on both sides of the draw, but two stand out. In the fourth set of the men's final, Murray sent Djokovic sprinting to his left with a rocket-like groundstroke. Sliding across cement as only he can, Djokovic answered with a desperate backhand stab -- the essence of a defensive lob. But it carried, and carried, and finally landed about an inch inside the baseline. Djokovic didn't just get himself back on even terms, he was suddenly in charge. A great example of how, in Andre Agassi's words to The New York Times, Djokovic "creates his own set of rules out there."
In the women's quarterfinals, Williams was up a set and 2-0 on Stephens, the match quickly turning into a rout. Stephens held serve, then faced a 40-30 point on Williams' serve. Serena uncorked a huge cross-court forehand, a definitive finisher against most players, but as Stephens scrambled well off the court, she answered with a forehand so forceful, Williams was forced to hit a relatively weak, defensive backhand. With a champion's instinct, Stephens raced to the net behind a huge backhand and finished off the point with a nice backhand volley winner, eventually leading to a break for 2-all.
Stephens doesn't always play so aggressively. There are times when "passive" is a better description. Watch her seize the moment by charging to the net, as she did against Williams, and you realize how she has set herself apart from the other up-and-coming U.S. women. Her progress will be must-see viewing in the coming months.
Daily Bagel: Tomic's latest run-in will cost him his license