Serena-Azarenka has potential, despite head-to-head record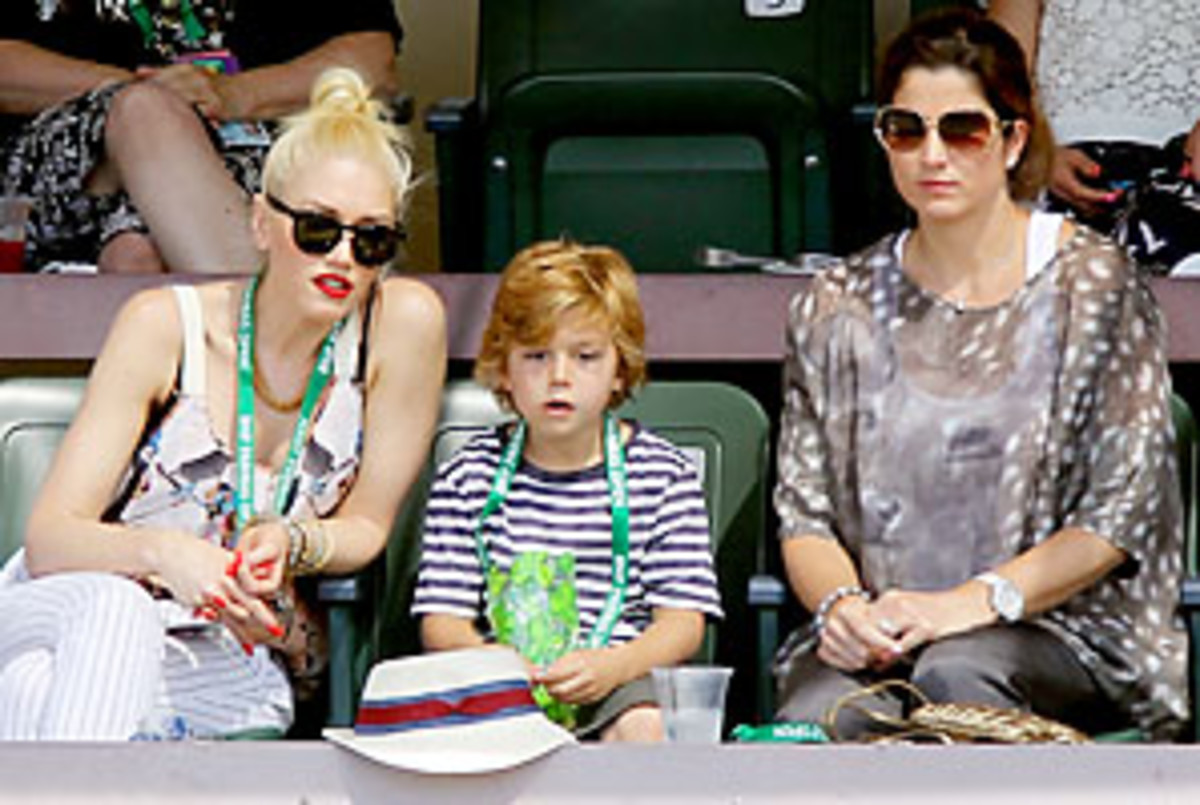 A sick Serena Williams lost to a healthy Victoria Azarenka in the Doha final. Talk to us when she has no cold or flu. Serena had the game on her racket but did not have the push to make an ace. And it went downhill. Maria Sharapova and Azarenka are no match for Serena, and I would not call either one a rival for a healthy Serena. And, really, Sharapova is irrelevant.-- Carol, New York
• This was fairly representative of a lot of the mail last week. Williams rules over Sharapova and Azarenka the way the Globetrotters rule over the Generals. Azarenka scores one lousy win, and suddenly we're ready to declare it a rivalry?
Let's leave Sharapova out of this. Yes, Williams' head-to-head with Azarenka, well, speaks for itself.
But, for a variety of reasons, Williams-Azarenka has tantalizing rivalry potential. (And Lord knows the WTA could use a rivalry.) Their games match up nicely. At least over the past eight months, they are clearly the two best practitioners in the business. Though expressed in different ways, they are both fierce competitors. Their personalities, ages, backgrounds and sensibilities create contrasts. So perhaps we nudge a bit.
Serena would skip Dubai if snubbed like Kuznetsova
The players must take control [of doping]. Oh, yeah, solution for the ages. I think we should replace all judges with criminals, too. You are assuming innocence. The American way. It just won't work.-- Steve Perry, Santa Rosa, Calif.
• I think something got lost in translation because a few of you had this response to my column last week on doping. Just to be clear: No one is suggesting that the players administer the testing, that Andy Murray snaps on surgical gloves and draws a blood sample from Rafael Nadal. (Or vice versa.)
My point is that, in the absence of leadership, the players need to take the lead and demand that the ITF ramps up the testing. More extensive testing. More expensive testing. Close the loopholes. Increase the frequency. Here is the latest complaint.
It sounds counterintuitive. In most sports, it's the players' unions that retard testing or use it as a bargaining chip. (You want HGH testing? OK, but it's in exchange for something else.) But tennis is different. There is no real union. The tours handed off anti-doping years ago. The individual tournaments have no say. And the ITF, which administers the testing, has no real incentive to a) ramp up funding and b) catch more cheaters. In this funhouse mirror sport, it falls on the players to play the role of adult. In part, this is to weed out the bad guys. But it's also to diminish the perception that any extraordinary feat must be the result of illegal rocket fuel
Lisa Raymond and Sam Stosur playing doubles together again -- just a one-time thing, or do we have more to look forward to?-- Helen, Philadelphia
• Raymond and Stosur will play Indian Wells and Miami and then assess whether to continue the reunion tour.
After watching and listening to Roger Federer at Rotterdam, I could not help but notice that just a bit of the competitive fire may have ebbed from the Maestro. His play losing to Julien Benneteau was subdued, and the "hate to lose undercurrent" was missing from his presser. Age aside, do you think the worldwide adulation lovefest tours Federer is making, coupled with his ever-growing media commitments, may have dampened (finally) his motivation?-- Fernando, Valencia, Spain
• Let's look at this realistically. Federer has won everything there is to win, short of a Best Cinematography Oscar. He is playing a lower-level event in Rotterdam, three months before the next major, on in indoor surface. No one is accusing him of tanking, but you can see why, at this stage of his career, his motivation might not be at its apex. It came off a bit clumsy, but I think his post-match remarks revealed a lot: At this stage and at these kinds of events, there is an element of "I saw Springsteen" to his appearances.
With the WTA's decision to not fine or reprimand Caroline Wozniacki's father, Piotr, for his behavior in Doha, has a slippery precedent been set? -- Mike, Ft. Lauderdale, Fla.
• Yeah, this was a bad look, as the kids say, for all parties involved, actively and passively. For Caroline Wozniacki, for permitting her father to berate an official. For the official, for not having the gumption to tell the guy to shut up. (Someone introduce these chair umpires to the ghost of Earl Strom.) For the WTA, for the image of the overbearing tennis dad. Most of all, for Piotr. Time for the Yuri Sharapov treatment?
Wozniacki: I lost motivation when No. 1
Regarding why U.S. athletes don't relocate to avoid taxes: They do. Fewer and fewer tennis players in California, and more and more in Florida, where income tax is zero. (Andy Roddick lives in Texas, where the state income tax rate is also zero.) -- Benjamin Hansen, Eugene, Ore.
• Surprised how many of you took an interest in this topic. This recent piece might be of interest.
Here's a question we'll never have to answer: Had she lost to Petra Kvitova in the Doha quarterfinals, would Serena have entered Indian Wells to try to get the No. 1 ranking?-- Robert, Washington, D.C.
• We tend to stay away from hypotheticals. This one we'll answer: No.
Does Novak Djokovic really get only a limp handshake for having four Australian Opens among his six Slams? I've never seen an asterisk next to Andre Agassi, and he won the same amount (of, granted eight Slams). And instead of beating Rafael Nadal, Federer (twice) and Andy Murray (three times), he (remarkably!), overcame Yevgeny Kafelnikov, Arnaud Clement and Rainer Schuettler. Wimbledon must carry more prestige, but since outgrowing its awkward stage a few decades ago, the Australian seems indistinguishable from the other majors in determining who's on top.-- Paul Treacy, Washington, D.C.
• This was less a statement about Australia than a statement about the lack of proportionality. I'd say the same about Nadal and his French Opens (which make up seven of his 11 major titles), though it's leavened by the fact that he won a career Slam. I think the judges like to see as much variety as possible.
While pondering Nadal's future as a high-level tennis player -- long may it last -- I got to thinking about who had/has the highest average number of singles titles per year over the course of their career, however long it was.-- James Smith, Uxbridge, Ontario
• You would think that would be easy to find. And were this any other sport, we could get an answer with a few keystrokes. But this is tennis. Jimmy Connors won 109 titles. But a) his career spanned more than 20 years and b) he played in the days when you might enter 25 tournaments. (A more meaningful metric might be: singles titles and a percentage of events entered.)
For all the apples and oranges and judgment calls -- what do we do about shamateurism? -- someone with the time, interest and technological enterprise will enrich us all by creating tennis' version of baseball-reference.com.
I know Gavin Rossdale is a good playerand has even hit with Roger Federer. I wonder if his wife, Gwen Stefani, plays as well?-- Charles, Los Angeles
• She's just a girl in the world. That's all that we'll let her be.
Seriously, I don't know the answer to that. Anyone else have some insight? Lindsay D. want to help out?
Esther Vergeer calls it a career. Surely she makes it into the Tennis Hall of Fame ... right?-- Jon, Philadelphia
• It's the old tennis adage: Go a decade without losing a match, and, yes, you help your Hall of Fame candidacy.
Shots, Miscellany
• Barbora Zahlavova Strýcová tested positive for sibutramine, a stimulant, and was suspended six months.
• Marco Keller and Simon Graf have just finished Years of Glory -- the Golden Age of Swiss Tennis. It is available in English, French and German.
• That Nadal smartphone app from Vstrator. One of the principals in the company developing it is former ATP doubles player Donald Johnson. Told it's being sold on iTunes.
• Stephen P. of Lexington, Va.: "In light of the continuing discussion regarding medical timeouts, I was wondering how difficult it would be for the WTA or ATP to institute an 'objective' policy, such as one point per minute delay. This could include certain provisions, i.e.:
(a) If it takes place during a game, the 'clock' starts immediately and the points accumulate accordingly.
(b) If it takes place during a changeover, the player is not penalized for the time used for assessment or treatment.
(c) Any treatment longer than xx minutes results in one set lost.
The non-treated player could also confer with their coach during this time. To me, this allows players to weigh the costs of treatment versus continuing to play. If the average assessment and treatment takes, say, ~10 minutes, players would realize they'd be sacrificing ~one-third of a set, which seems to be about consistent with the length of a 6-4 set, give or take a few minutes.
The tours could obviously play with assessment time being not penalized, etc., but to me this seems like a clean way to allow treatment and not punish healthy athletes."
• Big thanks to Daniel M. of Kingston, Jamaica: "In response to your question about the inability of middle-tier players to challenge the top-tier players, I did a little spreadsheet charting the win percentages of the top-10 players against each other. This doesn't give any historical context (which may have been the thrust of question), but it did produce a mildly interesting line graph of each player's win percentage vs. the Big Four, vs. the rest of the top 10 and vs. players outside the top 10.
Here are what I considered the most interesting points:
1. Against the Big Four, there were three clear groups: Rafael Nadal wins 63 percent of those matches; Andy Murray, Novak Djokovic and Roger Federer between 40-50 percent and everyone else below 30 percent (all between 21-27 percent, except Richard Gasquet at 16 percent).
2. Federer, despite being only third best against the Big Four, is No. 1 against the rest of the top 10, just ahead of Nadal. That might explain Federer's amazing success reaching Grand Slam semifinals. They're the only two players over 80 percent.
3. David Ferrer is very interesting because he's only eighth best against the Big Four but is tied with Djokovic for third against the rest of the top 10 at 76 percent. That's ahead of Murray and Juan Martin del Potro, who are tied at 65 percent. After that, everyone else is between 32-41 percent, so there are two big clumps in this category.
4. Against non-top-10 players, the results are mostly as you'd expect, except that Ferrer takes a tumble back to the middle of the pack, and Jo-Wilfried Tsonga and Del Potro shoot up right alongside the Big Four. There are no big separations, except I guess Janko Tipsarevic is at 60 percent, and everyone else is above 69 percent."
• Michael Cassidy of Canoga Park, Calif., has lookalikes: Julien Benneteau and Matthew McConaughey, and Gilles Simon and Joaquin Phoenix.
JENKINS: Disappearing state of U.S. men's tennis