Best of Three: Kvitova offers reminder sans Serena, Azarenka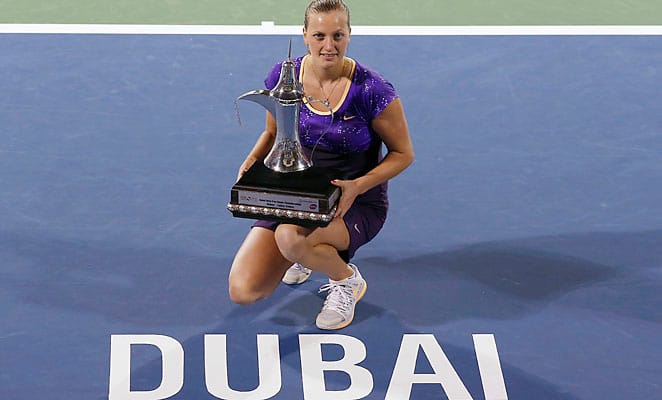 1. Dubai Casting Call. If some of us seem a bit, um, enthusiastic to see Serena Williams and Victoria Azarenka become foils for each other, well, forgive us. Rivalries are essential to individual sports, and the WTA has been a bit light here in recent years. Too often players have reached the No. 1 ranking or won a major only to retreat. Too seldom have the best players faced off in the most meaningful matches.
While we were deprived another Williams-Azarenka clash in Dubai last week -- both pulled out on successive days -- we were reminded that there are other talented players in the WTA cast. Perhaps chief among them is Petra Kvitova. The erratic 2011 Wimbledon winner reminded us how it is she reached No. 2 in the world. Kvitova brought her lefty power to bear and cruised through the Dubai draw, capped by a three-set victory against Sara Errani to win her 10th career title and first of the year. She will move up to No. 7 now. But the truth is, she's simply too good not to inhabit the top five.
2. Selection Sunday. In keeping with Kvitova's title, most of the other winners this week were "bubble" players, who make a nice name and living but aren't quite stars. Will these titles fire them with confidence going forward? David Ferrer beat Stan Wawrinka in Buenos Aires, shoring up his bona fides as the ATP's No. 4 player. In Marseille, Jo-Wilfried Tsonga survived a match point and beat top seed Tomas Berdych in the final. Former No. 1 Jelena Jankovic won her first title in almost three years, taking the Bogota event. Kei Nishikori, the highest-ranked Japanese player ever, won in Memphis to move up to No. 16. And Marina Erakovic became the first Kiwi woman to win a WTA singles title since Belinda Cordwell in 1989.
Daily Bagel: Murray buys hotel; Clijsters' reveals big family news
3. American Dreams. These are not exactly flush times for American tennis, especially on the men's side. Andy Roddick is retired. My colleague Bruce Jenkins paints a grim picture of the other Americans here. Last week, at an event that calls itself the "U.S. National Indoor Championships," there were abundant Americans in the draw, but the four players advancing to the semifinals hailed from Japan, Australia, Uzbekistan and Spain.
Still, we got at least a sliver of optimism thanks to Jack Sock. The hard-hitting Midwesterner beat James Blake and then took down Milos Raonic last week, marking the best win for an American this year. Sock lost his next match to Feliciano Lopez.
Clearly there remains work to be done before we toggle the settings on the hype machine and start in on the Roddick comparisons again. Nevertheless, with Ryan Harrison stalling, John Isner off to a dispiriting start and Mardy Fish's future cloudy, the 20-year-old might represent the best U.S. prospect for the foreseeable future. Sock, who reached the Memphis doubles final as well, will be a player to watch in Indian Wells and Miami.
Volleys
? WTA CEO Stacey Allaster is scheduled to be in Singapore this week visiting one of the three cities in the running to host the 2014 WTA Championships. The other candidates are Tianjin, China, and Monterrey, Mexico.
? Usually you like to see tennis penetrate the mainstream news. Not this time.
? Nice to see Taylor Townsend get a wild card into Indian Wells.
? Doubles winners: Bethanie Mattek-Sands/Sania Mirza in Dubai. Bob Bryan/Mike Bryan in Memphis. Simone Bolelli and Fabio Fognini in Buenos Aires. Timea Babos and Mandy Minella in Bogota.
? Second-seeded Kenyon needed almost six hours, but the Lords eventually pulled off the 5-4 upset of top seed Emory on Sunday in the final of the ITA Division III National Men's Team Indoor Championship on the campus of Gustavus Adolphus College.
Watch List: Djokovic, Federer in Dubai; Nadal in Acapulco