Mailbag: Serena Williams' conduct, assessing Kvitova, Raonic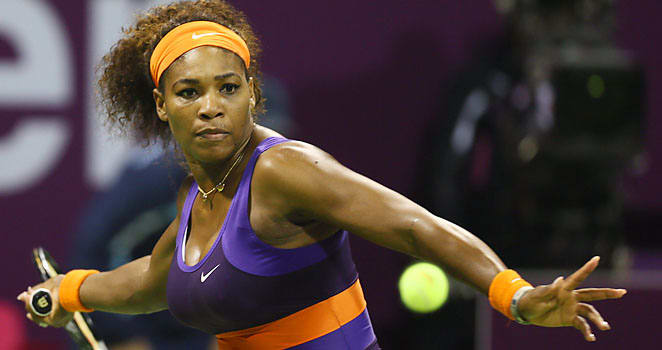 Once upon a time, you were objective when writing about Serena Williams, and then of course you became a total apologist. Once upon a time, I was very biased against her but told myself she will also mellow and I need to be less judgmental. And then Serena, after becoming the oldest No. 1, proceeds to lose to Victoria Azarenka and says, "I have to be able to pick up my game, and I wasn't able to do that today. I stayed at a two out of a 10, and I can't play that low."-- Murali Balasubramanyam, Pittsburgh
? Once upon a time I was put off by Serena's lack of tact, especially in defeat. She had done the hard part, winning all those Slams. Why would she undercut it by behaving so poorly? The foot-fault meltdowns. The dubious withdrawals. Especially, the lack of grace in defeat. Williams wouldn't lose much, but when she did, she'd promptly assess her performance as "an F-minus" or "40 percent" and go light on her praise of the opponent. Why?
Williams, though, kept winning. And a rotation of WTA colleagues would achieve something and then backslide. Or prove themselves wholly incapable of handling pressure. Or appear content to be top-10 players, living the life, cashing nice checks and playing matches as though shot with a tranquilizer gun. They were "nice girls," we were told. The implication: They may not win big matches, but they sure are pleasant to have around.
And it struck me: In a perfect world, Williams would coalesce her results with the demeanor or Roger Federer, of Andre Agassi, or her own sister. But in the end, she is there to win tennis matches, not congeniality prizes. Give me her record -- replete with a few unfortunate lapses in decorum -- over the nice girls whose results were so unreliable.
And while I was reconciling all this, something else happened. Williams stopped with the volcanic eruptions. And she improved in her post-defeat demeanor. You call her unsporting after the loss to Azarenka. I point to this: "I always respect Victoria. ... I think she's a really good player. It's nice to always play someone and go home and you're like, 'OK, I didn't do great, but let me work harder.' I think that she inspires a lot of people to work harder, and definitely me."
The older she gets, the more likable she becomes. Or maybe it's this: The older I get, the harder time I have summoning outrage for someone who, on balance, has been so good for the sport.
Why aren't you doing mailbags every Wednesday anymore? If you are too busy I will answer the mailbag for you. ... Question: If you told Milos Raonic that he could have a career as good as David Ferrer's (No. 4 in the world, 20 titles, no majors) or roll the dice and see if he could exceed that on his own, should he take the Ferrer career or door No. 2?-- Stephen B., Toronto
? We've done mailbags every Wednesday since, like, before Taylor Townsend was born.
One unmistakable trend in tennis: The Slams keep getting bigger. Bigger venues. Bigger revenues. Bigger purses. Bigger prestige. There are a lot of consequences. It diminishes the other events on the calendar. It impels the players to ask for more money. What it also means: Winning majors are the coins of the realm. Bless David Ferrer, but a No. 4 ranking, tons of smaller titles, but no Slams doesn't get you much. If this is "deal or no deal," you're better off betting big on a Slam.
Headline on SI.com tennis page: "Jack Sock re-emerges with Memphis run." Really? Two wins at a small tournament is considered a run these days? Is U.S. tennis that desperate for a positive storyline? I don't want to take away from a hard-fought win over MilosRaonic, which he backed up by advancing one more round, but two wins is not a run. He showed what he is capable of, which is fantastic, and as I said to a colleague, he did to Raonic what Raonic did to a few others this time three years ago as he was starting to emerge. To use your stock trading analogy, I'm not buying stock in Sock, but he is on my watch list.-- Rob Dixon, Toronto
? I don't disagree that, inadvertently, it says a lot about the state of U.S. tennis that two wins -- one over a player who, for all his upside, has never been beyond the quarters of a major -- and we're breaking out the Moet. On the other hand, this was a big win for a big prospect. Cut us some slack. As for Raonic, I would load up. By the time he "emerges," the market will have accounted for price.
Daily Bagel: Djokovic parties with a hawk in Dubai
Great to see Jelena Jankovic win a title again. Do you think this is the start of a comeback for her or an anomaly? -- Scott, Jacksonville, Fla.
? Define comeback. A return to the top, say, eight? Unlikely -- the combination of some pretty bald tire treads and some pretty threadbare confidence. A comeback to the 11-16 range where she belongs? Sure.
You guys just don't cut Petra Kvitova much slack. She has won 10 titles in a few years. She is the only woman born in 1990 or later who holds a Slam title and a WTA Championship. Seven of her 10 were won at Premier events. One at Wimbledon. Hardly a "bubble" player, as you seem to think. She has beaten the pants off VictoriaAzarenka four times in a row, and has beaten everyone of note except Serena Williams. And that is coming. She was close in Doha and one point away from running away with the match at Wimbledon last year. -- Jim Lumpkin, Denver
? Agree and disagree. I think the general regard for Kvitova is quite high. Even the casual observer has to come away impressed with her power, clean ball-striking and left-handed look. When she won Wimbledon in 2011, the response in the salon wasn't, "What a fluke!" It was, "This will be the first of many."
If there's a lack of slack, it represents a frustration that a player with so much talent can lose to the likes of Kristina Mladenovic and Laura Robson and Dominika Cibulkova (6-1, 6-1) and Anastasia Pavlyuchenkova -- as Kvitova has this year. And that she hasn't made another Slam final since her Wimbledon breakthrough and has been beyond the quarters only twice. And that she has let a lot of winnable matches slip through her fingers. Martina Navratilova, a Kvitova advocate, often says, "She needs to tighten up her game." Amen.
Again, Kvitova looked like a world beater in Dubai, taking out three top-eight players to win her biggest title in more than a year. One hopes this is the new normal.
Are there any other sports -- besides tennis -- where you can win "the big prize" four times in any year? Baseball has the World Series, football the Super Bowl, hockey has the Stanley Cup -- all these are once-a-year chances at greatness.-- Marina, Dallas
? Golf is the quick and easy answer. And if there are too many "big prizes," they become diluted. But, yes, the four majors -- the sense that each is a mini Super Bowl and you're never more than four months from another crest -- is a unique virtue of tennis.
Do you see Raonic as a Sampras-lite? -- Bob B., Toronto
? Is it me or is "lite" a curse? Lite FM. Lite beer. Lite salad dressing. Just feels off-brand. By definition, never as good as the original. Where were we? Oh, right. Raonic. I think the Sampras comparisons a) set him up for failure and b) only take us so far.
In haiku form:
Unique, game, thinker Can-nuck the ball around, eh? Still needs: Slam results
JENKINS: Raonic leads class of 'Occasionally Magnificent'
Where was Julien Benneteau hiding untilnow? Great talent. But is it too late at 31? Do you see him in the top 10 in the near future, before he has to wind up his career?-- Raj Sonak, Potomac Falls, Va.
? He was behind the door the whole time. That never fails as a hiding spot.
NGUYEN: Who is best ATP player without a title?
Shots, Miscellany
? Despite recent withdrawals and rumors, we're assured that the four headliners for Monday's exhibition at Madison Square Garden in New York -- Rafael Nadal, Juan Martin del Potro, Serena Williams and Victoria Azarenka -- are still expected to appear.
Nadal's camp denies report about skipping Indian Wells, Miami
? Thanks, Joseph Epstein (and Sharon of Alexandria, Va.), now, I will never be able to look at Marcos Baghdatis and not think "Fiat mechanic."
? The Sarasota Open has decided to name the women's tournament after ...
? John Dugan of Memphis: "I was at the Sock-Raonic match and had a few observations. First, Sock's dedication to fitness is paying off. I saw him lose to Ryan Harrison last year in Memphis, largely because he had nothing in the tank for the third set. This year, he looked to have energy to spare. Second, while this was a nice win for Sock, the loss was squarely on Raonic's racket (and head). Raonic couldn't find the court with his forehand all night, and he didn't start playing more conservatively until the 18th(!) game."
? Colleen of Texas: "The other week someone emailed you about whether Federer's five-set record was somehow a negative on him. I recently found this 2008 USA Today quote from John McEnroe on Federer: 'If he goes five sets, he's playing way below par. He's so good that he doesn't have to go five sets.' "
? Tickets for the Davis Cup quarterfinal between the U.S. and Serbia in Boise, Idaho, on April 5 went on sale Wednesday here and at 888-484-8782. U.S. Open Series tickets go on sale Tuesday at 10 a.m. ET here.
? Haven't run these in a while, but lest people think the grunting issue has diminished ... Zack Perry, Larkspur, Calif.: "I'm sure you have heard this before and it won't make the bag but ... tried to watch Serena and Azarenka, but the grunting forced me to turn it off. My 3-year-old daughter innocently asked what was wrong with the person on TV. I would love to watch the match, but the sound drives me crazy."
? Blake Redabaugh of Denver has long-lost siblings: Stan Wawrinka and Oscars host Seth MacFarlane. And Scott Graham of Oakland offers up Dinara Safina and MMA star Ronda Rousey.
PHOTOS: Sharapova at Vanity Fair Oscars party