U.S. still faces uphill clay battle despite recent trends in its favor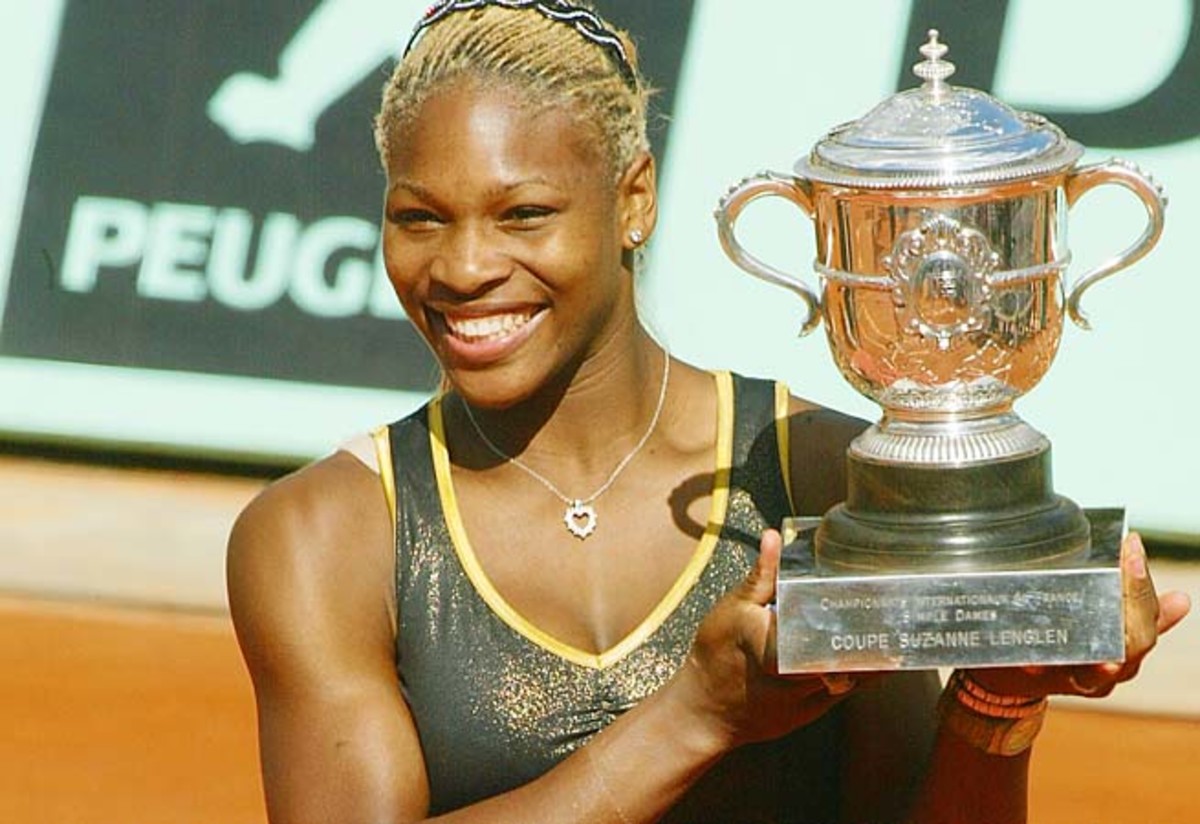 The most imaginative tennis writer I've ever come across, Rex Bellamy, was enamored with the French Open and its flamboyant cast of characters. The Englishman especially revered Adriano Panatta, the only man to beat Bjorn Borg at Roland Garros (he did it twice), and wrote this of the Italian virtuoso in his book, Love Thirty:
"Panatta was most at ease when using the drop-and-lob routine to design leisurely, almost languid patterns across sunlit clay courts. On such occasions he should have been accompanied by the soft strains of some Roman ballad played on a mandolin. He believed that nothing was worth doing unless it could be done with style. The game was a means of expression, a form of communion with the ghosts of Michelangelo and Leonardo Da Vinci."
When it comes to the history of American tennis on clay, it's safe to say that no player has been described in that manner. Style had no place in the discussion, and you'd substitute the mandolin for anything that makes a repetitive, grinding sound.
Bellamy's prose hardly explains the Americans' well-documented futility on this surface, but to me, there's a sort of abstract connection. At its best, particularly on the men's side, clay-court tennis is a dance, executed with a flourish, with more than a hint of romance. We are no longer in Houston or Cincinnati, but rather Paris or Monte Carlo, and the heartiest applause goes to the artists, from Rafael Nadal and Gustavo Kuerten to Manolo Santana and Nicola Pietrangeli. They won't always win (although Nadal gives one pause), but with their natural flair and panache, they define this segment of the tennis calendar.
I don't need to be reminded how easily this fantasy falls apart. On the grandest clay-court stage of them all, Roland Garros, the U.S. has scored some historic victories: Don Budge during his Grand Slam year of 1938; the impressive back-to-back titles by Tony Trabert (1954-55) and Jim Courier (1991-92); Andre Agassi breaking through with his first French Open title in 1999; Jennifer Capriati with the finishing touches of her 2001 comeback; and Serena Williams launching the "Serena Slam" in 2002.
Still, it's a grind-it-out affair when Americans take to this surface, accompanied by skepticism and doubt among fans, media and fellow players. Harold Solomon, probably the most underrated clay-court player of his time, was dubbed "The Human Grindstone" by Bud Collins (speaking of great tennis writers). When Jimmy Connors engaged Guillermo Vilas in the 1977 U.S. Open final -- the last of three years in which Forest Hills was contested on clay -- Collins described Vilas' victory as "a match of brutish grace." Then there was the cramping, staggering Michael Chang in 1989, somehow getting past Ivan Lendl in the fourth round and even tapping an underhanded serve at one point (Chang, then 17, went on to defeat Stefan Edberg in the final).
From the very beginning, U.S. players have gone to Europe knowing they can't match the experience or technical know-how of players who grew up on clay. The great Bill Tilden, while dominating the U.S. Championships throughout the 1920s, made three trips to the French Open before turning pro and came up short, twice losing the final. John McEnroe, Connors and Pete Sampras never won that tournament. The Williams sisters have just that one title between them.
To call this an all-encompassing crisis over time, however, would be quite erroneous. The U.S. men posed a constant French Open threat in the 1970s, producing semifinalists in Cliff Richey, Tom Gorman, Dick Stockton, Eddie Dibbs (twice), Brian Gottfried (lost the '77 final to Vilas) and Solomon (three times, lost the '76 final to Panatta). Connors and Vitas Gerulaitis were semifinalists in 1979, then faced off in a semifinal the following year (Gerulaitis scored one of his greatest victories, before losing to Borg in the final).
Report Card: Grading early clay winners
On the women's side, meanwhile, "French Open futility" is an outright myth. This was well before Europe and South America began producing great female players in such remarkable numbers, but Helen Wills Moody won the tournament four times (1928-30, 1932) and there was outright dominance in the late '40s and mid-'50s with the likes of Margaret Osborne, Patricia Canning Dodd, Doris Hart, Shirley Fry, Maureen Connolly and Althea Gibson -- each a winner at least once.
Then there's Chris Evert, merely the most accomplished woman in French Open history with her seven titles and an overall clay-court winning streak (125) that most likely will never be broken. (For purposes of this article, I'm excluding Monica Seles and Martina Navratilova, who grew up and learned the game in Eastern Europe; that puts them in an entirely separate category from U.S.-developed players.)
Come to think of it, two of tennis' all-time greatest comebacks were achieved by Americans on the Roland Garros clay. Mary Joe Fernandez was dead and gone, down 6-1, 5-1 against Gabriela Sabatini in the 1993 quarterfinals, yet came back to win 10-8 in the third. Two years later, Chanda Rubin came from 5-0, 40-love down in the third set of her third-rounder against Jana Novotna and somehow prevailed, surviving nine match points along the way.
Why is it, then, that we seem to remember the flip side? The mere act of going to Paris was a recurring issue for many American stars. Billie Jean King won the 1972 French but played it only six other times during her Grand Slam career (1967-83). Arthur Ashe was absent from 1959 through '68 and never got past the quarterfinals. Tracy Austin played it just twice (each time a quarterfinalist) during her seven-year prime, and Lindsey Davenport reached the semifinals once in 11 appearances.
Clay-court discussions are never complete without the travails of McEnroe and Connors, largely because both men remained troubled by such an alarming gap in their career résumés. McEnroe still can't get over the fact that that he had a complete meltdown in the 1984 final against Lendl, blowing a two-set lead and turning the crowd against him with his stormy, ongoing belligerence. Connors was actually in Paris, ready to compete in the 1974 tournament, and he won each of the other three majors that year. But he was banned by the French federation for his commitment to World Team Tennis (a ludicrous ruling, but typical of the political chaos that prevailed in that era), and he took it hard, not returning to the tournament until 1979.
Deep down, McEnroe and Connors know they could have won the French, several times. That was hardly the case with Sampras, in his twilight years, or Andy Roddick, who took seven losses in the first or second round in 10 appearances, reaching the fourth round only once. That's when "we can't win on clay" became a prevailing theme in American men's tennis, largely because it was true. Confidence is everything in sports -- and in life, for that matter -- and once a player feels he's battling long odds, with a feeling it will not end well, the results can become rather predictable.
By 2010, there wasn't a single American man who had made it past the fourth round of the French at any stage of his career -- and there hadn't been one since Agassi, seven years earlier. The women's final had become the province of Europeans, notably Justine Henin, and Francesca Schiavone's 2010 title represented the very finest in style, athleticism and elegant showmanship.
Now, with the clay-court season in its early stages, we find several key components in play. The courts are significantly faster (translation: lower bounces) than they were during Borg's epic run, or even when Nadal won his first French Open title, in 2005. This makes the adjustment a little easier for players most comfortable on hard courts or grass. Under the direction of head coach Jose Higueras, himself a fine clay-court player, the USTA has taught perseverance and point construction on newly installed clay courts for players in the development stages.
Still, this battle is waged strictly uphill. Nadal, like Borg before him, has been so overwhelmingly brilliant, no American could realistically fancy an upset on clay. Europe and South America continue to churn out elite players, particularly on this surface. The trend toward all-baseline tennis should be helping the U.S. cause, but this is a worst-in-history drought for American men at the elite level. John Isner has had sporadic success on clay, including an impressive win at the U.S. Clay Court Championships in Houston over the weekend, but he and Sam Querrey are simply too inconsistent, particularly in Europe. And it's strictly guesswork trying to pinpoint a future clay-court great among Sloane Stephens, Madison Keys, Christina McHale, Jamie Hampton and the other young U.S. women.
Everything is in place, in other words, except players to carry out the mission.