France continues to wait for men's champ, 30 years after Noah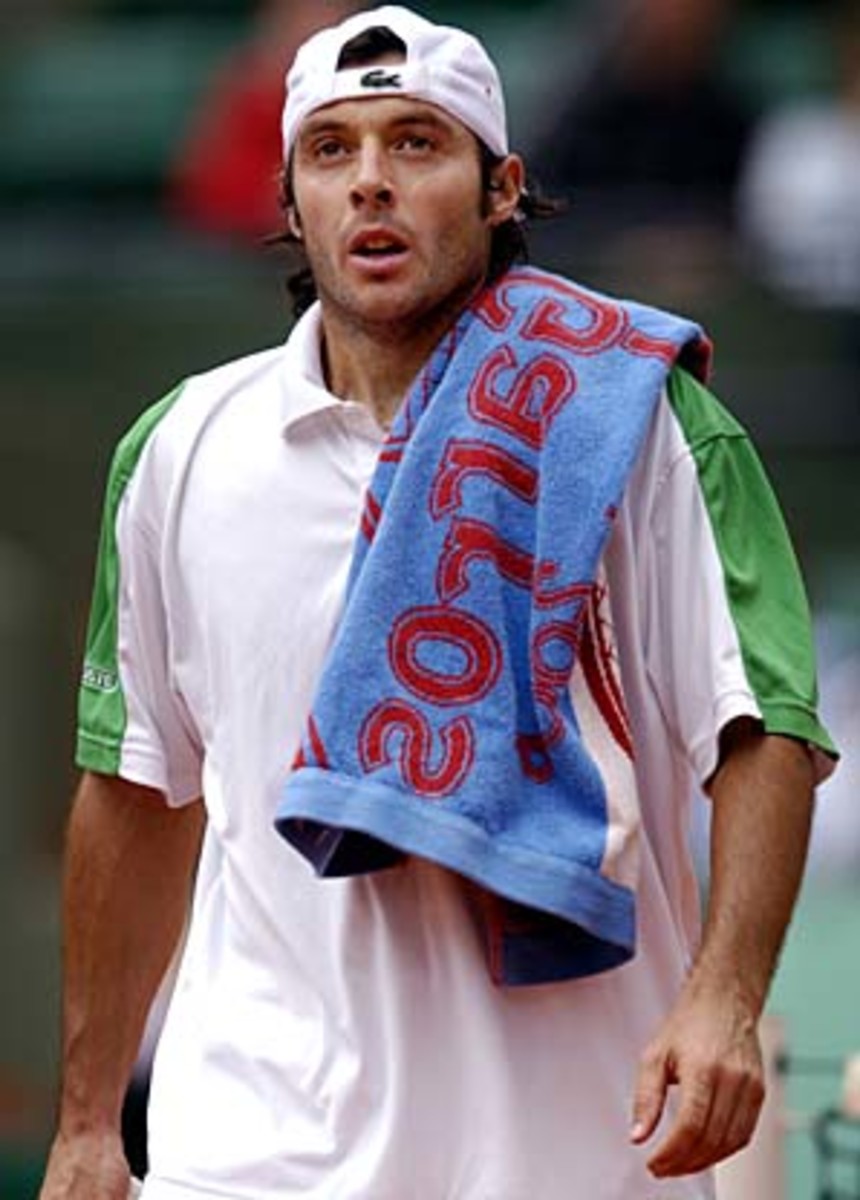 It wasn't quite a mob scene, but in the austere sport of tennis, it came close. Yannick Noah had just won the 1983 French Open and was greeted by a crowd of friends, family and admirers, right there in the middle of the court. Thirty years later, that moment seems as stirring and relevant as ever, and a little bit surreal.
French men simply do not win this event. And when such a sporting miracle does occur, expect decades to pass before the encore.
As the current edition unfolds, conversation inevitably shifts to the rather depressing fact that Noah is the only French citizen to win the men's tournament in 67 years. It's never a matter of style, originality or entertainment value; the French have epitomized those values since the 1920s, when the showy Suzanne Lenglen sipped brandy at the changeovers and the "Four Musketeers" -- Jean Borotra, Rene Lacoste, Henri Cochet and Jacques Brugnon -- ruled the landscape with such flourish. There's always a flicker of hope, perhaps even unabashed optimism, but it never seems to end well.
One wonders, too, if there's even a ray of light. If any contemporary player has the goods, or there's a hot-shot kid on the horizon, he isn't getting much play from Parisian insiders. One of the sport's most talented players, ninth-ranked Richard Gasquet, recently told reporters, "If we don't win a Grand Slam in the next couple of years, we'll wait 10 more years at least."
"Yes, it's been 30 years since a Frenchman won here," national technical director Patrice Hagelauer told Reuters. "But we haven't had a player capable of winning big titles in 30 years."
Ex-tennis player launches VH1 TV show
Or as Noah put it, in an interview with the Le Monde, "Not now. Not this generation. It's not that I think they are no good. It's just that the guys ahead of them -- (Rafael) Nadal, (Roger) Federer, (Novak) Djokovic -- are just better."
That's what people need to remember when addressing this issue. The plight of French tennis doesn't equate to John McEnroe or Jimmy Connors going winless at Roland Garros. It doesn't measure up to the impact of Pete Sampras, Martina Hingis, Venus Williams or, currently, Djokovic coming up empty. Henri Leconte, Cedric Pioline, Sebastian Grosjean and so many others fell short because they simply weren't good enough -- not when it came down to that final weekend against the best in the world.
What set Noah apart was the unique nature of his background, his phenomenal athleticism and the state of tennis at the time.
Noah was born in Sedan, northern France, to a French mother and a Cameroonian father, Zacharie, who immigrated to France as a child and became a renowned professional soccer player. Yannick spent much of his childhood in his father's homeland, fiddling around with a tennis "racket" shaped out of a wooden board, and his life changed at age 11, when Arthur Ashe visited Cameroon on a U.S. State Department goodwill tour. Ashe noticed the kid's promise and set the wheels in motion for professional training. The result was a player who combined elegant groundstrokes with madcap rushes to the net, blending discipline into his unbridled joy for the game.
Player tweets iPhone pic of disputed mark
Noah was a highly successful player on the eve of the 1983 French, and the No. 6 seed, but he had yet to win a major.
"I often felt I had to fight a mindset that didn't suit me," he told L'Equipe in 2006. "French sport at that time lacked a lot of imagination. It was very rigid and traditional. There were people who would have liked me to be like Ivan Lendl -- a monk-soldier of tennis, obsessed and sad."
As it happened, Lendl would represent the biggest obstacle to Noah's historic run. He had an easy run to the quarterfinals, defeating Anders Jarryd, Victor Pecci, Pat Du Pre and John Alexander, and then came Lendl, then contesting his sixth French Open without a win (he would make amends the following year, defeating McEnroe after losing the first two sets).
"Unlike today, I didn't have guys ahead of me that were stronger," Noah said. "Back then, a door opened up for me. There was one guy to beat, Lendl, and I crushed him (in the quarters, 6-0 in the fourth)."
It was plainly shocking to see a pair of Frenchmen squaring off in a semifinal: Noah against Christophe Roger-Vasselin, who had knocked off Connors in the year's biggest upset. Noah sailed through with ease, and although his final opponent was Mats Wilander, the defending champion, Noah felt he was home free.
"At that time, I had no problems with Mats," he said. "I was able to dominate him with my game."
The score was 6-2, 7-5, 7-6, and it was Yannick's father, Zacharie, who first greeted him on court. The two shared a warm embrace in the culmination of a remarkable climb through the ranks, and what an historical landmark: As Bud Collins notes in his "History of Tennis," Noah was the last man to win a major with a wooden racket.
Noah's victory changed everything in French tennis. Money was spent, facilities built, fans magnetically drawn to the spectacle. And there were some decent results at Roland Garros. French men reached at least the quarterfinals seven times over the next nine years (1984-92), including three semifinal appearances by Leconte. But Leconte's great run in '88, losing the championship match to Wilander, marked the last time a French man reached the final. And the last winner before Noah? Marcel Bernard, a 32-year-old doubles specialist who only entered the singles draw when another player pulled out, in 1946.
Style? That was hardly an issue. Leconte embellished his talent with wild, whimsical touches, always good for a laugh. There hasn't been a more inventive player in the game's history than Fabrice Santoro. Arnaud Clement once wore a different-colored headband for each of the five sets he played one day, just to fend off any notion of boredom. Gasquet's one-handed backhand is an aesthetic mainstay of today's game. Michael Llodra clings to the serve-and-volley ethic, a soothing tonic to baseline monotony. Noted eccentric Benoit Paire is likely to do anything, or hit any kind of crazy shot, at any time. And Jo-Wilfried Tsonga, the best of them all these days, brings a big-man's athleticism in the manner of basketball's LeBron James.
Medina Garrigues mentions Sharapova in umpire spat
The French has often been a haven for pure stylists, including champions Nicola Pietrangeli, Manuel Santana, Ilie Nastase, Adriano Panatta, Guillermo Vilas and Gustavo Kuerten. There's an element to clay-court play that brings out the best of a man's natural flair. None of the French players, however, have had the ability and crunch-time nerve to finish the job. And with the likes of Nadal and Bjorn Borg across the net (13 titles combined), they were hardly expected to do so.
In stark contrast to the Serbian landscape during the youthful rise of Djokovic, Ana Ivanovic and Jelena Jankovic, facilities haven't been an issue in France. If anything, there's a feeling that young players are treated too well.
"You have almost nothing to pay, you practice for free, you have the courts, you have the balls," said Hagelauer of the nation's clubs, regional academies and national training centers. "There isn't that in other countries."
It might be the excess of perks, some claim, that diminish a player's killer instinct. A recent trend has demanded more independence among the top players, but "It's much too late to do that when they are 22," said Patrick Mouratoglou, who runs a private academy and has coached Serena Williams, among others, of late. "You have to do it when they're 10."
Then again, French Open director Gilbert Ysern told Reuters, "We have no influence in what makes them a champion. They have it inside of them or they don't. They lack the little extra technical skills or physical power. And when you listen to them, the problem is mental."
Negativity is a difficult thing to overcome, and it hovers over French tennis like a stormcloud. Gael Monfils is one of the few players who savors the raucous Roland Garros atmosphere and tends to be at his spectacular, uninhibited best there. His contemporaries, though, seem to fear the worst from the very outset.
Gasquet has called the pressure "ridiculous -- I never felt that lonely on a court." Before last year's event, Tsonga stunned everyone by declaring, "Let's be clear -- there is no chance that a Frenchman will win Roland Garros. No one would place a bet on one of us winning. Next year we'll have the same question, and we'll have the same answers."
Perhaps the best and most knowledgeable of all French tennis journalists, now-retired Philippe Bouin, studied this predicament for decades, never coming up with a cheery outlook.
"The problem with the French players, generally, is that they are very gifted, but not fighters," he told Grantland last year. "For instance, Spanish players have not really been appreciated by the French -- not because they are Spaniards, but because they are fighters. The French crowd prefers attacking, gifted players, for sure. But they would rather have a guy who could win, at least once."
Bouin went on to say, "The problem in France is that ambition is not a compliment. It's almost a bad word. 'Ha, look, he's ambitious.' So that's a very difficult situation for an athlete: as soon as you try to be ambitious, you have people mocking you. For instance, we would never have made the war in Iraq. On the other hand, we may never win anything."
That's 30 years and counting, an awfully long time since Noah threw a French Open party on court. The images linger, uninterrupted by progress.