The uniqueness of Serena Williams
Serena Williams is one of a kind, even in a sport that's been fueled by complicated stars.
NEW YORK -- It's not clear when, exactly, Serena Williams decided to create a grown human being. But for some five weeks, a period that encompassed a disastrous loss at the French Open and her bizarre breakdown during a Wimbledon doubles match in July, Williams kept herself busy assembling a woman. Gorgeous. Tan. Part Latina, maybe. She named her Heidi. Williams worked up a Facebook page, complete with bio and photos, and even provided Heidi with her own French phone number.
Then she attacked. Carefully. Knowing that her hitting partner and "brother" of eight years, Sascha Bajin, would recognize her texting style, Williams made sure to tap out flirty messages with non-Serena-like spelling and phrases. And suddenly Bajin's phone was filling up with texts from "Heidi," who somehow got his number from "a friend" and yearned to meet him, go to dinner, anything. "Oh, my God. This went on for almost a month and a half. It was so detailed," Bajin says. "I mean, there was some serious master planning."
He told Williams about this new woman, the texts, the Facebook page. Serena never cracked. And Heidi looked good. If Bajin hadn't dialed Heidi's phone and heard it vibrate in Serena's bag, his catfishing might have never ended. Williams had planned a fake rendezvous, more trickery. "Take pictures of him and then I was going to send them to him," Serena laughs. "It was getting really sick, dangerous."
And well out of character -- or at least the public character that we've come to believe we know. Serena's image, after all, boils down to the simplest of complexities: She's a walking contradiction. Her features alternate between curvaceously feminine and fiercely macho. One minute she's playing with a visceral "hate," the next she's sweetly telling a crowd how much she loves it. One day she's an unstoppable physical force, glowering, screaming and rolling opponents like a cyclone, the next Williams' body betrays her in some new, befuddling way.
Was Serena's odd Wimbledon a sign of final fade or fuel for resurgence?
On the face of it, so jarring a mix undermines the perception of Williams' public regard. Though she entered Friday's U.S. Open semifinal against Ekaterina Makarova just two victories from tying Chris Evert and Martina Navratilova with 18 major titles, the sense remains that she inspires more respect than love. On Thursday a reporter asked the 32-year-old lone American hope, "Do you feel you are as appreciated in this game for all these Grand Slam titles -- or is there a sense of being underappreciated to some degree?" That a Brit would ask the same of Andy Murray at Wimbledon is unthinkable.
It's even more curious when you consider that Williams is only the latest in a long line. Vexing contradictions have long fueled the Open era; polarizing personalities fill seats and juice ratings. The tension between John McEnroe's beauteous game and ugly antics, between Andre Agassi's punkish and near-saintly sensibilities, between Justine Henin's gamine appearance and titanic backhand, made them compelling in a way monochromes like Michael Chang, Ivan Lendl or Kim Clijsters could never be. Federer fans, wallowing as they do in Roger's "class," turn a blind eye to his flashes of temper or arrogance, but those qualities best reveal the roiling competitor within.
Still, Serena remains a unique case, even after accounting for her Hall of Fame sister, Venus, and the thought that a longtime "white" sport may still be coming to terms with the most dominant black player in history. Because while McEnroe, say, unspooled his neuroses before thousands, Williams' soft side has never been as obvious as her hard. Reflex volleys like Wednesday's quip, when asked what the number 18 means to her ("It means legal to do some things," Williams said. "It also means legendary"), pass largely unnoticed. But no one forgets her disingenuous offer, after threatening to shove a ball down a lineswoman's throat following a foot-fault call in the 2009 U.S. Open semis, of "a big old hug," and her off-court, freak injuries and illnesses sparked as much speculation as sympathy.
Yet all that will begin to fade -- and faster than you can imagine if Williams starts, as early as Sunday, piling up Grand Slam titles again. And if her "viral illness" at Wimbledon proves to be a one-off, if her body only breaks down from here on out in conventional fashion, Serena might yet be appreciated as a champion with nuance. "She's very complicated," says Patrick Mouratoglou, whose presence in her camp as reportedly her former paramour and current coach alone proves the point. "She really has some extra in different areas that makes her who she is, for sure. She thinks different."
Classic Photos of Serena Williams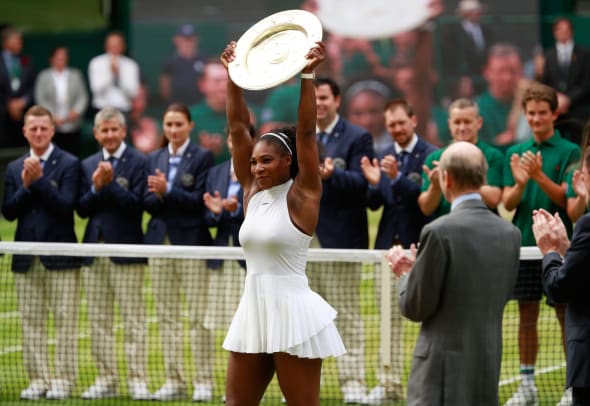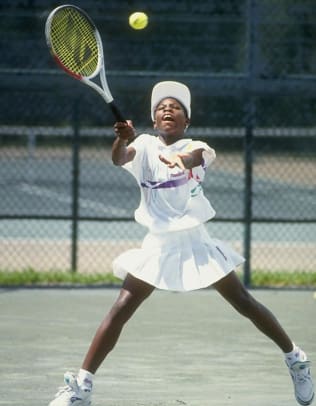 Says filmmaker Maiken Baird: "There are so many elements to Serena, it's hard to know where to begin."
Let's start with race. The sisters' stand on never returning to Indian Wells -- after their father claimed to hear racial slurs during the raucous, boo-filled final there between Serena and Clijsters in 2001 -- has its detractors, and it has long overshadowed her snap decision, in 2000, to become the first athlete to boycott playing in South Carolina while the Confederate flag flew over the statehouse. Yet, like Venus, Serena has been strikingly careful about a subject that her parents have never been shy in addressing.
While filming more than 450 hours for their documentary, Venus and Serena, directors Baird and Michelle Major raised the issue repeatedly, only to have Venus say, "Look, race is not a winning topic." And they were hardly the first to be rebuffed. Over the years many reporters have received a rote or bland answer. The sisters won't go there, not casually anyway. "That's how they feel: Only on their terms, they'll be drawn into it," Baird says. "But they won't just be drawn into it at all times."
Meanwhile, Serena has built two schools in Africa -- with a third to come. Her foundation has financed college educations in the U.S. for four now-graduated youths, with four more currently attending. She has a home in Paris. Her entourage features a Serb-German hitting partner, a Korean-Canadian physio, a French coach, a white female American agent and a white male fitness trainer pushing 60. "Team Serena," she calls it. The idea of being pigeonholed by skin color alone never held much appeal.
"I feel more proud than you can ever imagine that I am black and I am in this sport," Serena says. "I feel great about it. At the same time, I'm human. I'm woman. I'm powerful. I'm minority. I'm not only black. I'm playing for women. We fight for equal prize money, we fight for equal rights. I mean, I'm not just fighting one war here. It's much bigger than that. And that's what I'm proud to be a part of -- not just for one group of people."
There are some who will cock an eyebrow at just about anything Serena says, doubt her every explanation about Wimbledon doubles and Indian Wells and all those early, awkward matches against Venus. So be it. The honesty of her game, her need to dominate and win, has never been in question. Bajin feels it whenever they hit, and especially when the stakes start to rise.
"I don't know what her secret is, how she keeps the competitiveness in her mind," Bajin says. "Trust me, I keep my body in shape to set an example for her. But after a certain round -- let's say quarters, semis, finals of a tournament -- she somehow raises that pressure and makes my court seem so much bigger than her side. That's something that can't be taught: how she mentally forces her will on you.
"This is my eighth year now, but I still feel it and there's nothing I can do about the pressure. So I can only know how these girls feel on the other side. Her court for some reason seems to start shrinking and my court seems endless. And mentally that pressure is there from the moment she walks on the court."
It has been a down year for Williams so far. She says she feels no pressure at the Open, but a title would salvage the season. Here she finally, and so easily, made it past the fourth round of a major for the first time in 2014, and make no mistake: She feels revitalized. She wants to stay "on this roller coaster as long as I can," and sees no end to the ride just yet. Who does? She's still No. 1.
"I am and always will be, 'til the day I die, the most passionate person you'll ever meet, maybe," Williams says. Then, of course, she contradicts herself. "I'm sure there are other people who might be more passionate -- I take that back. But for me I live and die. It's more than my job; it's my life. It's my career. It's me. Tennis has given me more opportunities than I would have ever dreamed of, than I would have ever hoped for, than I would have even asked for.
"It's incredible. Yeah, I've had a couple bumps. It makes for a better tale, you know? I've appreciated every bump because if you don't learn then you'll never grow. I'm still growing. I'm still learning. Every day."
Five weeks ago, that would've been hard to believe. Williams seemed almost lost. Now her coach, hitting partner and opponents had best be on guard. She's capable, again, of just about anything.