Mailbag: What makes a successful player-coach partnership?
First a programming note, we vowed to discuss tennis and doping in a coming Mailbag. Here's some preliminary reading that put the topic "top of mind" as they in corporate America. But, this week, as the ATP's culminating event plays out, we'll hold off. And note your chance to vote on the Hall of Fame below.
Let's go right to some questions.
Mailbag
What gives with Simona Halep and her coaches? Last year she fired her coach who turned her into a top ten player. This year she fired a coach who got her into a Slam final, the WTA Finals and a ranking as high as second in the world (now third). She had two super successful coaches and fired them both. What is she looking for, a losing coach? Someone needs to tell her that it is the winning coaches that are hard to find and she should think about keeping them. Do you have any insight as to what is going on? Personality clashes or schedule conflicts or something that would make sense of this strange situation? 
-- Randy Mayes, Arizona
•  I've heard two versions here. And while I want more confirmation before accepting either, both of them suggest that Halep is as demanding of her coaches and a coach might be of a player. What's more, her agent, Virginia Ruzici, is a former player of great distinction (French Open Champion, 1978) which adds to the mix. And there are also cultural, linguistic and logistic issues when a player is based in one country and the coach in another (Romania and Belgium in this case).
Simona Halep opens up about split from coach Wim Fissette
Over the past year alone, we've seen some personnel moves that, on their faces, appear strange. Maria Sharapova parts with Jimmy Connors after one event. Novak Djokovic kinda-sorta has two coaches. Ivan Lendl and Andy Murray go splitsville -- within months of Murray winning Wimbledon -- and then Murray hires Amelie Mauresmo. Ana Ivanovic, thoroughly pleasant in "real" life, continues cycling through coaches as if she's George Steinbrenner.
All this reinforces this point: this is both a professional relationship and an intensely personal relationship. In the case of Halep, she retrained Wim Fissette after Australia. In a few months, she had played deep into two majors, become No. 2 in the world and lodged herself in the upper ranks. It seems like the coach more than exceeded reasonable expectation. But if the chemistry isn't there, the results become irrelevant. And if there are other forces in the circle whispering in the player's ear -- psssst, you need a Romanian! -- the situation can become untenable.
I also believe that Serena's very public friendship with the ever-smiling and friendly Caroline Wozniacki and her aid to Wozniacki after McElroy so crudely dumped her has definitely changed and broadened people's perception of Serena Williams in a positive way, as she has shown a completely different side. For years we've heard of "guilt by association" and this appears be a case (fairly or unfairly) of "goodness by association."  What I find ironic is that a couple of years ago people were jumping all over Wozniacki for her harmless impression of a big-busted Serena during an exhibition, even though Wozniacki was the only player to visit Serena in the hospital during her pulmonary embolism scare a few years back. Wozniacki caught hell for that, and it was obviously completely unwarranted as she was only having fun imitating her friend, not mocking her with malice. 
-- Franklyn
Besties Off the Court: Serena Williams and Caroline Wozniacki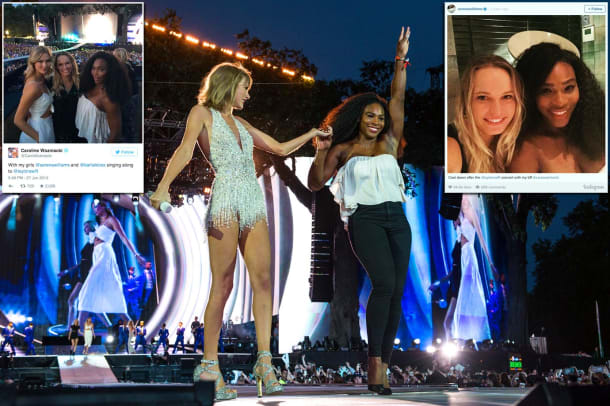 • I alluded to this in an oblique way last week and I'll try and be a little more direct. This friendship is pleasant, social and speaks well to a certain sororal collegiality we don't often see on the WTA tour. But -- to me anyway -- there's something a little icky. Serena has had this athletic quintessence for 15 years now. She's pushed boundaries, including the boundaries of possibility. She's gathered major titles as if shopping in bulk at Costco. Why has it taken her friendship with a colleague -- candor: a white, blond, unthreatening colleague -- to endear herself to so many? It's just something to think about. Again, don't misunderstand: the friendship between Serena and Wozniacki is a source of pleasure and fun for many. That they are not shy about memorializing their various date nights on Instagram heads to the appeal. But I would be careful overplaying the "goodness by association" trope.
Daily Bagel: Serena and Wozniacki continue their NYC romp
To Franklyn's point, it is good for both players for cultivating this friendship. And good for Serena for charitably overlooking Wozniacki's unfavorable (though in no way mean-spirited) impersonation several years ago and, in turn, defusing a situation that could have gotten quite ugly. (Sidebar: I always thought that was an interesting bit of sociology. Wozniacki clearly meant no harm and did not realize the unfortunate optics, nor that she was tapping into an area of great sensitivity to so many. At one point do we expect Person A to have knowledge of another culture and history?)
Grigor Dimitrov's refusal to be an alternate at the Word Tour Finals is wrong and shows a selfish disregard for the fans who are entitled to tennis if a starter cannot play.  The fans who watch tennis matches are responsible for his charmed life as a professional tennis player. The ATP should have something to say. Where are they on this?
-- Jose, Houston
• I'm reminded of the theater program inserts that announce the understudy: the lead actor has taken ill and the lead role of Jean Valjean will be performed tonight by Michael Llodr. 
Daily Bagel: Dimitrov explored London with Sharapova and the ATP noticed
I know a lot of you were outraged by this, but I go libertarian here. Dimitrov sets a goal of reaching the World Tour Finals. He doesn't make it. Then we have to add his humiliation by making him delay his vacation and show up as alternate? Imagine him at this photo shoot:
Photographer: "Let's get Grigor in here!"

Grigor (sheepishly): "No, that's okay. It should just be the eight guys who made it."

Federer: "No, come in, Grigor. Move over Milos. Make space for Grigor."

Djokovic: "Yeah, c'mon! Without Nadal here, we need all the good looking guys we can get! Where's Feliciano, anyway?"

Dimitrov: "No, it should just you guys. I'll be nine and the symmetry will be off."

Federer: "Are you sure? We can go giga-pan."

Dimitrov: "Yeah, I'm—…."

Photographer: "I know what we'll do. We'll do one take with all nine of you. Then we'll do another with just the eight guys who qualified."
Yick.
If the ATP and the organizers can make the alternate role financially worthwhile for a player from a labor-leisure tradeoff perspective -- great. I'm sure there are players who would be happy to make $80,000 hanging out in London for week, prepared to take center stage if need be. But if Dimitrov decides otherwise, he shouldn't be forced to attend.
I was just reading your mailbag and the question from Donald Marhefka about the World Tour Finals and whether it should be counted as one of the majors.  Because of the set up -- round robin, best of three sets, eight players versus 128 -- I agree with you that it is a different kind of tournament. But on the "importance" scale, I agree with Donald that it is very close, if not on par. Points-wise, at 1500, it is darn near a major if you go undefeated. Yes, there are only eight players, but they are the eight best players in the world and you are going to play five of them if you want to win. If the draw works out for you in a major, you can win the title without playing anyone in the Top Ten! That can't happen at the World Tour Finals. So even though I'm okay with it not being quite on par with majors, it's definitely second only to majors. I agree that it shouldn't be 23 "majors" for Federer. But his 17 majors and six WTFs looks a lot better than Nadal's 14 majors and zero WTFs. 
-- CM Taylor
Mailbag: Wozniacki swaps racket for sneakers in impressive feat for tennis
• This ends up biting tennis in the butt. But the one-and-done nature of the tournament is really key. The San Francisco Giants can lose three games in the World Series and still get the victory parade on Market Street. Tiger Woods can implode on Friday, still make the cut, and then win a golf tournament. But one lousy day at the office -- one match played in a shroud of torpor; one hot opponent unwilling to leave the zone; one dinner of bad oysters -- and a player is out a Grand Slam. To me, the fact that a player can lose a match at the WTA or ATP Finals and still recover to take the trophy is a big differentiator between winning these events and winning a Slam.
Shots, Miscellany
• The other day, our friends at Dunlop sent me a new racket. Ethically, I'm not comfortable keeping it. But I'd rather give it to one of you guys than send it back. So here's a contest: in, say, 250 words or fewer, send me your best encounter-with-a-pro-player story to this address. Winner gets a new customized Dunlop iDapt racquet. Just don't tell Dunlop.
• More interaction: Once again this year, we'll cast our International Tennis Hall of Fame ballot in accordance with your cumulative votes. The candidates this year: Mary Pierce, AmelieMauresmo, YevgenyKafelnikov and SergiBruguera. Vote for any and all. In order to avoid mailbox congestion, please send via @jon_wertheim rather than email.
Caroline Wozniacki welcomes the challenge of the NYC Marathon
• John McEnroe and Jim Courier kicked off the new tennis offerings at the Casa de Campo Resort by competing a special exhibition match. Courier came away with the win.
• Under the rubric "turnabout is fair play," here's Brooke Shields hurling some flames in the direction of Agassi Agassi.  
• The International Tennis Hall of Fame and International Tennis Federation honored the Czech Republic's Helena Sukova with the 2014 Fed Cup Award of Excellence.
• Virginia's Julia Elbaba and North Carolina's Brayden Schnur completed an ACC sweep of singles titles on Sunday at the 2014 USTA/ITA National Indoor Intercollegiate Championships. In doubles, USC's Yannick Hanfmann and Roberto Quiroz won the men's doubles title, while UCLA's Catherine Harrison and Kyle McPhillips captured the women's doubles trophy in a Pac-12 sweep.
ATP World Tour Finals Elite Eight talk tennis, family and the 2014 season
​• A brand-new online mobile app for wheelchair tennis participants worldwide titled "Wheelchair Tennis Community" has launched for iPhone, iPad and Android devices.
• Audi has become the official car of the BNP Paribas Open.
• Bob and Mike Bryan and Feliciano Lopez have committed to play in the 2015 Fayez Sarofim & Co. U.S. Men's Clay Court Championship.
• This week's LLS: David Ferrer and Shrek's Lord Farquaad