Wertheim's Year-End Awards
​From marquee matches to feisty feuds, to major meltdowns and the tennis Twitter, and all of fashion faux-pas and sexy, skillful shots in between, SI Tennis' Year-End Awards have the entire span of the 2014 tennis season covered. Check back throughout the month of December to see the best and worst of the season. 
Li Na began the year winning the Australian Open and ended the year in retirement. Serena Williams went the first nine months of 2014 without making it to the second week of a major and then—as if simply toggling a light switch— she decided it was time to resume her dominating ways. Another 33-year-old, Roger Federer, did a convincing impersonation of, well, Roger Federer. Rafael Nadal inched ever closer to catching Federer in the Career Slams Derby, but played sparingly in the second half of the season due to health issues.  
The four Grand Slams yielded four male winners and four female winners. Two WTA stars—Genie Bouchard and Simona Halep—punched above their weight, reached Slam finals and pierced the top ten; then they both fired their coaches. One of the fiercest tennis feuds featured Swiss-on-Swiss action. Newly single, Caroline Wozniacki ran 26.2 miles. Ernests Gulbis confused umpires with vampires. Bernard Tomic thought this was good idea.
SI.com's 2014 #TennisYearOnTwitter
Otherwise, it was standard year in tennis: drama, melodrama, an aging field, conflicts of interest; the best offering in the Kingdom of Sports. Tennis continued to expand globally, land a few sponsors and, as ever, succeed in spite of itself. So it goes.
Because "tennis offseason" might be the biggest oxymoron this side of "anxious patient," we have only a few hours to squeeze in these 2014 honors. First, the cut and paste from years past: Before dispensing gifts to our winners, a detour into sappiness. If you get half as much pleasure (guilty to be sure) from reading this column as I get from writing it, we're all doing pretty well. Your questions and observations are, reliable, thoughtful, informed and passionate, and please know that every last one -- even the ones wishing me incurable athlete's foot -- are read. Think of this as a sincere invitation to belly up to the bar in 2015 and we'll do it again. And we have vowed to start up some podcasts.
The envelopes, please...
Men's Player of the Year:
Yes, it was a year that saw four different players win each of the four majors. But Novak Djokovic is ranked No.1 for a reason. Apart from winning Wimbledon and reaching the final of the French Open, he took multiple Masters Series titles and (in hollow fashion) the ATP World Tour Final. Plus he stayed healthy. Ole, Nole.
Women's Player of the Year:
As a wise soul once said: Yes, it was a year that saw four different players win each of the four Majors…But how do you not pick Serena Williams? She salvaged her season by taking the U.S. Open and then she ran the table at the year-end finals in Singapore, reminding the world that, at 33, she ain't done. Far from it.
Men's Most Improved Player:
Lots of choices. We'll take Kei Nishikori: An injury plagued player on the fringes of the top ten, Nishikori is embedded in the top five. Runner-up: Roberto Bautist Agut, who will be a top 16 seed at the Australian Open.
2014 MVPs: The players we couldn't stop talking about this year
Women's Most improved Player:
It's Simona Halep in a romp. In barely a year, the Romanian went from a fringe player to a player ranked as high as No. 3 in the world.
Men's Comeback Player of the Year:
A year ago, the buzzards were hovering around Federer's career. With a new coach, racket and clean bill of health in 2014, he played deep into three of the four majors and won a Master Series title along the way. And—because he needed to pad his resume—led the Swiss to Davis Cup glory. (Federer also wins return of the year: Who else puts a 142 mph serve back in play as if it's propped on a tee?
Women's Comeback Player of the Year:
At Wimbledon, Serena's career was in shambles. We need not rehash the specifics. By the U.S. Open, she was back on her trajectory as the greatest ever. Ironically, Venus Williams—now in the top 20—might be the runner-up here.
Men's Newcomer of the Year:
It's always hard to draw lines of demarcation here, as there aren't true "rookie seasons" in tennis. But this year, there's an "I" in Team…Dominic Thiem. The Austrian is 21-years-old and his ranking isn't much behind. Plus he gets bonus points for a one handed backhand.
Best offbeat tennis photos of 2014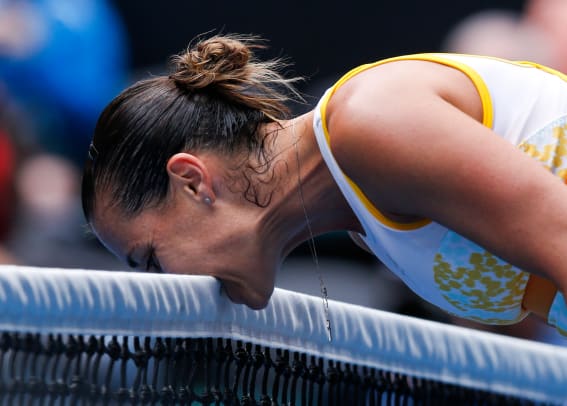 Women's Newcomer of the Year:
As transitions go, Belinda Bencic has been seamless going from the juniors to the pros—where she's currently firmly in the top 40. Runner up: Singapore as host of a tennis tournament.
Men's Doubles team of the Year:
Much as we'd like to tip the team of Jack Sock and Pospisil—two ascending singles players partnering to win Wimbledon—the Bryans, Bob and Mike, take the prize again. Like Serena Williams, they saved their season at the U.S. Open, the only Slam they won. It's troubling to consider the fate of doubles once these guys retire. But for now, be thankful for their dual presence.
Women's Doubles team of the Year:
The Italians, Sara Errani and Roberta Vinci. Brava, brava, brava.
Men's Coach of the Year:
Best shots and points from the 2014 ATP season
Never mind Ivan Lendl, Boris Becker and Stefan Edberg: it was the one-time Slam winners of the last generation who made the biggest marks in 2014 coaching. When Cilic beat Nishikori in the U.S. Open final, it enabled Goran Ivanisevic to sneak past Michael Chang in this category.
Women's Coach of the Year:
Think of this as a lifetime achievement award for Carlos Rodriguez, who coached Li Na to the Aussie Open final but also served as a tremendous motivator and coaching mind. Lucky is the player who can coax him out of quasi-retirement and retain his services in 2015.
Men's Match of the Year:
Wimbledon final: Novak Djokovic d. Roger Federer 6-7 (7), 6-4, 7-6 (4), 5-7, 6-4.
Women's Match of the Year:
U.S. Open fourth round: Caroline Wozniacki d. Maria Sharapova, 6-4, 2-6, 6-2.
Point of the Year:
Angelique Kerber and Jelena Jankovic
[youtube=http://youtu.be/6yf1iEnr9MQ]
Men's Shot of the Year:
Kyrgios against Nadal on Centre Court
[youtube=http://youtu.be/7DJgHwseiDI]
Runner-Up.
Gael Monfils, of course. The Monfils abracadabra collection:
[youtube=http://youtu.be/pYl2TBwBap0]
Women's Shot of the Year:
Agnieszka Radwanska at Rogers Cup. Note the score.
Rout of the year: 
ATP Players versus Masters 1000s event: The tournaments wanted to hold the line and only agree to marginal prize money increases—so much so they hired an outside negotiator. The result? Cumulative financial increases of 69% from 2014 to 2018. Ouch.
Men's Disappointment of the Year:
Because of injuries, not because of personal failures. But Juan Martin del Potro—a Grand Slam winner, still only 26—can't stay off the DL. He's currently ranked No. 138 and hasn't played a match in 10 months.
Women's Disappointment of the Year:
Sloane Stephens. On the plus side, she is a frontrunner for 2015 Comeback Player of the Year.
Rough Day at the Office Award:
Paula Ormaechea, lost 6-0, 6-0 to Sharapova at the French Open AND was subsequently fined $3,000 for coaching.
Women's These Kids Today Award:
Barbora Zahlavova Strycova explaining to (torridly talented) Elina Svitolina how a proper handshake is executed.
Men's These Kids Today Award:
Kyrgios defeating Nadal and then chastising his mother for picking against him.
Quote of the Year:
"We evolved on the high plains of Africa chasing antelope for eight hours under these conditions…There will be some players who complain and no-one is saying it is terribly comfortable to play out there, but, from a medical perspective, we know that man is well adapted to exercising in the heat. Whether it is humane or not is a whole other issue."
-- Tim Wood chief medical officer of the Australian Open, defending the decision to continue play despite temperatures in excess of 40-degrees Celsius.
Quote of the Year, runner-up:
"I was dizzy from the middle of the first set and then I saw Snoopy and I thought, 'Wow Snoopy, that's weird.' I couldn't keep my balance anymore and I leaned over the fence and when I woke up people were all around me."
-- Frank Dancevic, after succumbing to aforementioned Australian Heat.
WTA's top matches of the season
The "Funny, The Eiffel Tower was There When I Left the House" Award:
Pauline Parmentier fell to Garbine Muguruza at the French Open and then remarked: "She was playing with a lot of intensity. I didn't find my landmarks."
So long farewell:
Li Na, Andy Ram, Michael Llodra the singles player, Tim Curry at the USTA, Pat McEnroe at the USTA, the U.S. Open on CBS, Louis-Philippe Dorais at the Coupe Rogers. Plus more 2014 retirees: Nikolay Davydenko, Olivier Rochus
Evgeny Korolev, Ross Hutchins, Paul Hanley, Rik de Voest, Iveta Melzer, Yvonne Meusburger, Kristina Barrois, Catalina Castaño, Anne Kremer, Mallory Burdette and Ashleigh Barty.
And we remember a far too early departure for Elena Baltacha, who lost her battle with liver cancer in May.
Lookalikes of the Year (hat tip, Rachael Wong):
Roger Federer & Stan Wawrinka and Frodo and Sam, Lord of the Rings
​
On that note, happy holidays and see you in 2015!