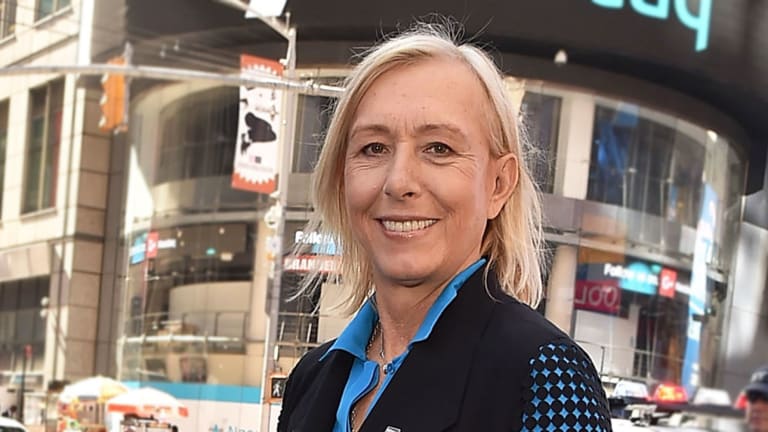 Podcast: Glenn Greenwald Discusses Forthcoming Martina Navratilova Documentary
On this week's episode, host Jon Wertheim talks with Glenn Greenwald about his Martina Navratilova documentary, Tennys Sandgren and more.
On the Beyond the Baseline Podcast, Sports Illustrated executive editor, Tennis Channel commentator and host Jon Wertheim takes fans between the lines with tennis commentary and exclusive interviews with the top players and newsmakers on the ATP and WTA tours.
On the latest edition of the Beyond the Baseline Podcast, host Jon Wertheim talks with Glenn Greenwald.
• Never miss an episode of Beyond the Baseline. Click here to subscribe.
Greenwald discusses his forthcoming feature-length documentary about tennis legend Martina Navratilova, which is being created in conjunction with Reese Witherspoon's Hello Sunshine and Suzanne Gilbert. 
"It is a documentary but it is not a traditional documentary in the sense that we are doing a biography of Martina's life," Greenwald says on the podcast. "The narrative anchor is going to be: I'm meeting my childhood hero for the first time and we are going to explore all of these issues together."
The documentary, which Greenwald estimates will take about nine months to a year to complete, is "intended to dig a lot deeper into what made Martina a singularly unique and compelling figure—not on the court, but off the court." Says Greenwald about the aim of the documentary: "[We are using] the ways in which she influenced people around the world as a springboard to understand things like marginalization, how we experience being ostracized as children and adolescents, what we search for in role models, the sense of possibility that people can create."
Also on the podcast, Greenwald talks about the state of Brazilian tennis, his conversations and time spent with Tennys Sandgren and more.
Listen below and subscribe to the podcast on iTunes or on Stitcher.​​​​
Check back next week for another episode of Beyond the Baseline.