Dr. Surena Namdari on Manny Pacquiao's injury, surgery and rehab
SI.com spoke with Dr. Surena Namdari of the Rothman Institute about Manny Pacquiao and the general nature of rotator cuff injuries. 
After the hyped clash between Floyd Mayweather and Manny Pacquiao failed to live up to "fight of the century" expectations on Saturday night, reports surfaced on Monday that Pacquiao fought through a torn rotator cuff in his right shoulder that will require surgery. SI.com spoke with Dr. SurenaNamdari of the Rothman Institute about the general nature of rotator cuff tears and Pacquiao's specific injury.
SI.com: Let's forget about professional athletes for a moment. How would a rotator cuff injury impact the daily life of an average person?
Dr. Namdari: It actually affects patients significantly. Rotator cuff injuries cause pain in very regular, daily activities, and patients with rotator cuff injuries most commonly complain of difficulty sleeping at night or excessive pain while moving around in bed. If people feel that pain during such regular activities like sleeping, you can imagine how difficult it would be to deal with that pain during high-level activities like boxing.
After the fight, Freddie Roach, his trainer, said Pacquiao sustained the injury in April. Do you suppose it is more likely Pacquiao was injured during a sparring session, or is this an injury that can develop over time?
Dr. Namdari: There are two kinds of rotator cuff tears: The type that occurs over time, which is called degeneration, and is most commonly found in older patients and in younger patients, tears are typically acute traumatic injuries, caused by lifting something heavy or experiencing an abnormal torque. I would suspect Pacquiao's was some of a combination of both. For Manny Pacquiao, boxing for so many number of years, over time, the tendon may have experienced a gradual wear and tear. A lot of times in athletes it's a combination of wear and tear and specific impact events."
Mayweather vs Pacquiao: SI's Best Photos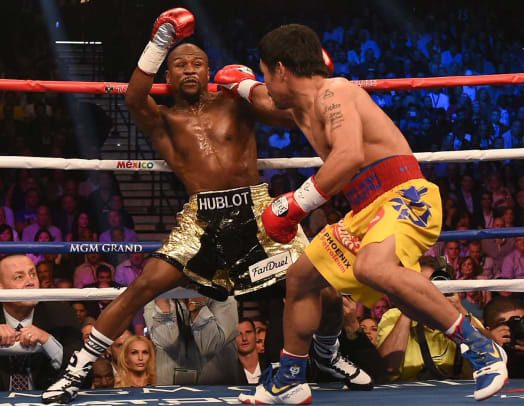 ​Often with significant lower body injuries like a torn achilles or ACL, athletes' awareness of their injuries seem to vary. Sometimes we'll see someone in agony following an ACL tear. It's also not uncommon for athletes to finish games—even multiple additional games—before realizing the magnitude of the injury. Can a rotator cuff injury be similar?
Dr. Namdari: People will generally notice the injury upon sustaining it. I definitely suspect his injury occurred during his training. Then, a person's ability to overcome the pain depends on their discipline as well as their strength and conditioning in other areas of their body for which they can overcompensate for the injury.
In terms of overcoming the pain, how much of an impact did Pacquiao's injury realistically have on the fight, in your opinion?
Dr. Namdari: If someone told me before the fight that Manny Pacquiao was experiencing a full thickness rotator cuff tear, I would tell you he'd have a really difficult time being able to land accurate punches with significant power. If he indeed asked for an injection prior to the fight, that would also tip me that he was experiencing significant symptoms of the rotator cuff tear as well."
Pacquiao is expected to undergo surgery later this week. Los Angeles orthopedic surgeon Dr. Neal ElAttrache said the surgery usually requires nine to 12 months of recovery time. What can we expect from Pacquiao's rehabilitation, especially with Mayweather reportedly being open to a rematch next year before he retires.
Dr. Namdari: For full thickness, which is a complete detachment of the tendon from the bone, that almost always requires surgery. The procedure is fairly routine and fairly simple: it only takes about an hour to an hour and a half by a trained surgeon with skilled hands. However, the recovery is not simple. The recovery time is at least 6 months before a rehabilitation process can occur and I would expect for someone at Manny Pacquiao's age of 36, it would require up to 12 months for a full recovery to optimum strength and conditioning for elite athletic performance. That would definitely put a potential rematch in jeopardy.
Surena Namdari an orthopedic surgeon at The Rothman Institute. is an assistant professor of orthopedic surgery at Thomas Jefferson University. He specializes in the arthroscopic and open treatment of all conditions of the shoulder and elbow, including arthritis, tendon disorders, fractures and instability.