A court-storming and the player who saved the man in a wheelchair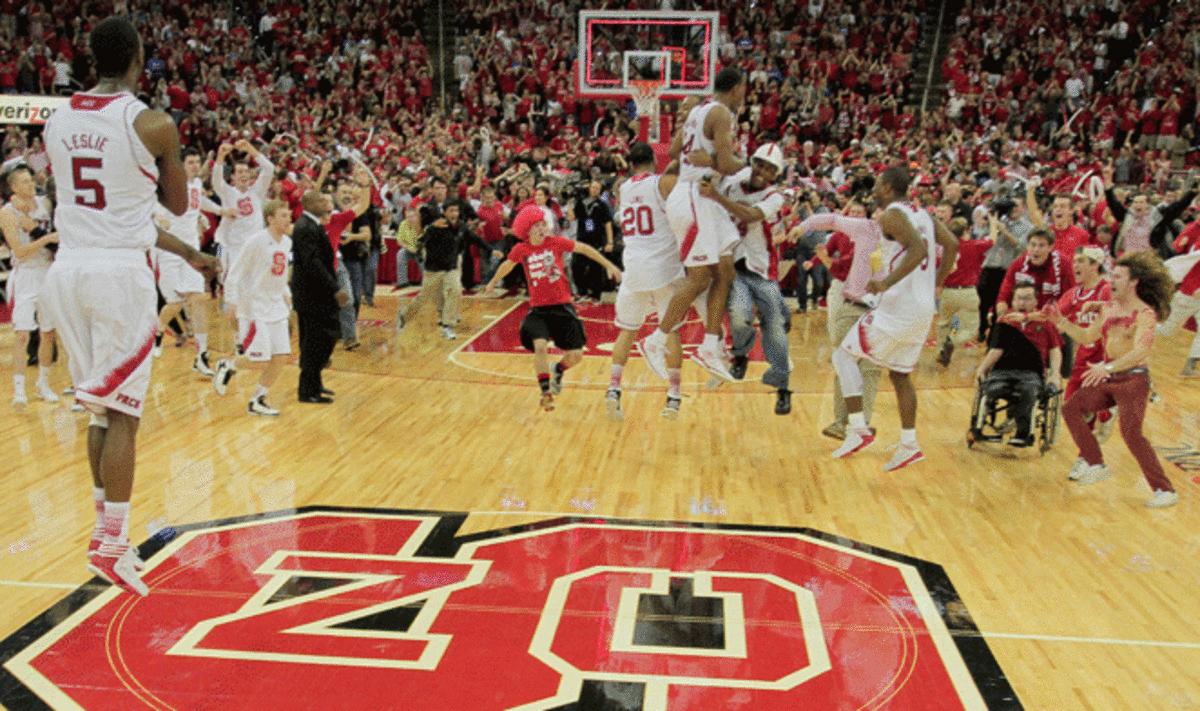 RALEIGH, N.C. -- Will Privette, a pretty good dancer who was born with no right shinbone, went to bed early the night before the Duke game. Early meaning 1 a.m., three or four hours before his normal Friday bedtime. But he couldn't sleep. It was like the night before Christmas. Duke was 15-0, ranked No. 1 in the nation, the most hated team in college basketball, and later that day they would visit PNC Arena to face the N.C. State Wolfpack, supported by Privette and their howling fans.
As Privette tossed and turned in his apartment just south of campus, his red-clad compatriots lined up in the misty dark. If you're an N.C. State student, there's no trick to getting a great seat for a Wolfpack game. You just try to show up first. By 2 a.m. Jan. 12, 10 hours before tipoff, a sizable crowd had gathered outside the arena. The students played cards and ate biscuits from Bojangles. Someone cranked up "Wagon Wheel," by Old Crow Medicine Show, on a portable sound system, and the Wolfpack faithful sang along: And if I die in Raleigh/At least I will die free.
Andy Walsh, the student body president, arrived around 7:30. At age 22 he already looks like a U.S. senator, and probably will be one day. As a freshman he decided the Wolfpack should have an actual wolf mascot, and then he set to work making it happen. It's hard to acquire a wolf, especially on the right side of the law, but Walsh was undeterred. He discovered a rare breed of dog from Finland, the Tamaskan, that looks positively wolflike. And so came Tuffy, the official live mascot of N.C. State, a wolf-dog that prances in the end zone after Wolfpack touchdowns.
Walsh has accomplished many things in his four years at N.C. State, but he knows he'll be remembered most for what he did after the Duke game. Which is all right. The college now sells a T-shirt for $18.99 that commemorates the incident. It says "ROLL PACK," and it bears two gray stick-figure icons. The one in the wheelchair is Will Privette. The one pushing the wheelchair: Andy Walsh.
Will got out of bed and selected a game-day shirt. He has four or five in heavy rotation, and today he chose a red-and-black Lacoste polo. His best friend, Kyle Strickland, had been allowed to sleep over at the apartment despite his unforgivable loyalty to Duke. Will climbed into his wheelchair, a Quickie 2 Lite model that actually glows in the dark, and rolled outside to his modified Buick Terraza minivan. With the push of a button, a door slid open and a ramp folded out. Will rolled up the ramp and parked the chair behind the driver's seat and hopped out of the chair and sort of knee-walked around the corner and got in the driver's seat. Some folks with wheelchairs need hand controls to drive, but Will gets by with pedal extensions and his left foot.
Will and Kyle arrived at PNC Arena around 10:30 a.m. and parked in a handicapped-only space. Quite a lot had been happening. Weston Suggs, a junior communications major wearing a red toga on his body and English ivy in his hair, decided the crowd needed a speech. He thought the speech would be more effective if delivered on horseback. In the absence of horses, piggyback would suffice. He found a strong-backed young man, Tucker Cummings, who, given his red-striped overalls and mullet wig, seemed likely to agree to anything. Sure enough, Tucker Cummings gave him a piggyback ride, and Weston Suggs brandished a foam sword from Target as he gave his speech.
"As brothers and sisters of this great university," he said, "we have accepted mediocrity, for 20-plus years, as the red-headed stepchild of Duke and Carolina. TODAY THAT ENDS!"
Amid the yipping and howling, some guy ran up next to them and chugged a can of beer. This was met with general approval.
"They might come to our arena," Weston Suggs cried, "but THEY WILL NEVER TAKE OUR STATE!"
The fans roared, and then chanted: "WOLF! PACK! WOLF! PACK! WOLF! PACK!" Around the world, sports fans have their chants and their gestures and their fine traditions. But for simplicity and symbolic effect, it's hard to beat Wolf Hands. You curl your two interior fingers down against your outstretched thumb to make the shape of a wolf's face. You raise your pinkie and your index finger to make the wolf's pointy ears. There you go. Wolf Hands. Will Privette probably makes them in his sleep.
Will and Kyle got inside and set up on a special wheelchair platform near one of the baskets. Walsh attended a pregame reception with major donors and Raleigh City Council members and N.C. State Chancellor Randy Woodson. At that reception, the topic of court-storming came up.
You see it a lot on television, of course. In college football or basketball, the home team beats the highly-ranked, heavily-favored visiting team, and students pour onto the field or the court and turn it into a sort of giant celebratory mosh pit. It looks like a spontaneous act, a riotous destruction of the barrier between players and fans, as if thousands of people are getting away with something. But that's not always the case. The campus had been buzzing for weeks about a possible court-storm in the event of a victory over Duke, and Andy Walsh had spoken with arena officials about it. The consensus was this: Let them storm if they like, but try to make sure they do it safely. No jumping over tables. No trampling. If someone falls, stop and help them up. If you fall, cover your head. Et cetera.
This all sounds good in theory. But a real stampede is an ungovernable force. You might as well ask the ocean to mind its manners.
Near the end of the game, when it became clear that State would pull the upset, Andy Walsh found Will Privette and gave him the standard admonishment about safety. Will dismissed it.
"Andy, this isn't my first time at the rodeo," he said, recalling another court-storm after another win over Duke, three years earlier. That time he'd gone on the court but stayed on the fringes of the crowd, and everything turned out fine.
Andy wasn't about to stop Will from storming the court. But when he saw the crowd gathering behind them, he feared it would sweep over Will like a tidal wave. He got an idea: He would help Will outrun that tidal wave -- outrun it all the way to midcourt.
"Will," he said, "Do you want me to push you?"
This is a bad idea, Will thought, but he said yes. He had always gotten a thrill from taking risks. At a talent show in middle school, he took the stage and danced like Justin Timberlake.
As the clock counted down toward zero, Andy stood at the edge of the hardwood and gripped the handles of Will's Quickie 2 Lite. This is the motto of Quickie Wheelchairs: "Nothing Beats a Quickie." Andy began running before time expired. He wanted to hit the baseline at zero with some good momentum, and he did exactly that.
Will held in his hands his most valuable possession: his iPhone 5. Rare is the moment when he's not talking, or texting, or checking Twitter, or checking Facebook, or maybe two or three at once. Right then he had 312 Twitter followers. Within five days he would have nearly 2,000.
The iPhone captured video of Will's face as Andy pushed him toward midcourt. For a moment it showed both their faces, their mouths wide and oval-shaped as they shouted with all their breath, and then the iPhone spun wildly. The white lights made trails across the screen. Neither face remained visible. Briefly, the camera looked straight up, as if from the floor, at the giant scoreboard overhead. Will's face re-appeared for an instant. Then the iPhone spun again, more wildly this time, and the picture went black.
Watch the video here and here.
From their bedroom in Zebulon, N.C., about 30 miles east, Will's parents watched the game on ESPN. Will's father, a retired home-builder with the same first name, lay in bed, feeling weak from a rare and incurable disease called systemic mastocytosis.
"Let the party begin in Raleigh," ESPN's Dan Shulman said. The final score flashed on the screen: N.C. State 84, Duke 76. Fans streamed toward midcourt, led by Andy and Will. Then came the unmistakable voice of commentator Dick Vitale.
"It has begu -- oh, watch the young guy with the wheelchair. Oh, they got a wheelchair out there."
The red wave had reached midcourt, engulfing Andy and Will.
"Unbelievable," Vitale said. "Did you see that? Oh, my heart goes out."
Will's mother, Debbie, stood up.
Oh my goodness, she said. That's Will.
Will, youngest of their four children, born without a pulmonary valve or a right tibia.
Will, survivor of 13 surgeries.
Will, who spent 52 days in the hospital at age 3 as doctors repaired the holes in his heart.
Will, who patted his mother's hand after the ventilator came out and told her, in a raspy whisper, "I love you."
Will, who still calls his mother every day.
"I hope he's okay," Vitale said. "I hope he's okay."
The picture cut away from the scene at midcourt. Debbie held her breath.
Inside PNC Arena, the chaos was so great that even people a few feet away from Will and Andy had no idea what happened until they heard about it later.
This, apparently, is what happened.
As the crowd pressed in around the players and the fans, Rodney Purvis, a freshman guard for the Wolfpack, was knocked against Will's wheelchair. The wheelchair tipped over. Will's phone fell from his hand and his glasses fell off his face and his wallet fell out of his pocket. Andy fell over too. He reached for Rodney with one hand and for Will with the other. People surged around and above them. They were trapped on the floor.
With them in the mass of bodies was C.J. Leslie, a 6-foot-9, 200-pound junior, the second-tallest player on the team. He had played all but two minutes of the game and scored a game-high 25 points. At some point he looked down and noticed Will on the floor. He called to the other students, telling them to get back, get back, and then he reached down and picked up Will Privette, 110 pounds, and held him in his arms.
Later, on the Today show, C.J. said he intended to pick up Will and put him right down in his chair. But something changed his mind. Will made the Wolf Hands. The party would go on. And C.J. just held him there, way up high above the crowd, in the center of the raging Wolfpack, for what seemed like a very long time. Someone handed him his glasses and his wallet. Andy was still on the floor, looking up at Will. Things had almost gone horribly wrong. Andy Walsh, student body president, one of 13 voting members of the N.C. State Board of Trustees, advocate of court-storming safety, had nearly led a handicapped student to his doom. And now it was all right, and all Andy felt was deliriously happy for Will. From the floor it looked like Will was floating.
The crowd dispersed. No injuries were reported. Someone handed Will his phone, intact except for a hairline fracture in the screen, and he used it to call his mother. He told her he had fallen, and that C.J. Leslie had picked him up. His shirt was drenched, and he couldn't figure out why, and then he knew: it was the sweat of the man who had just led the Wolfpack to victory over the Duke Blue Devils. And Will Privette kept that shirt on for hours.