Order restored: Syracuse gets back on track vs. Notre Dame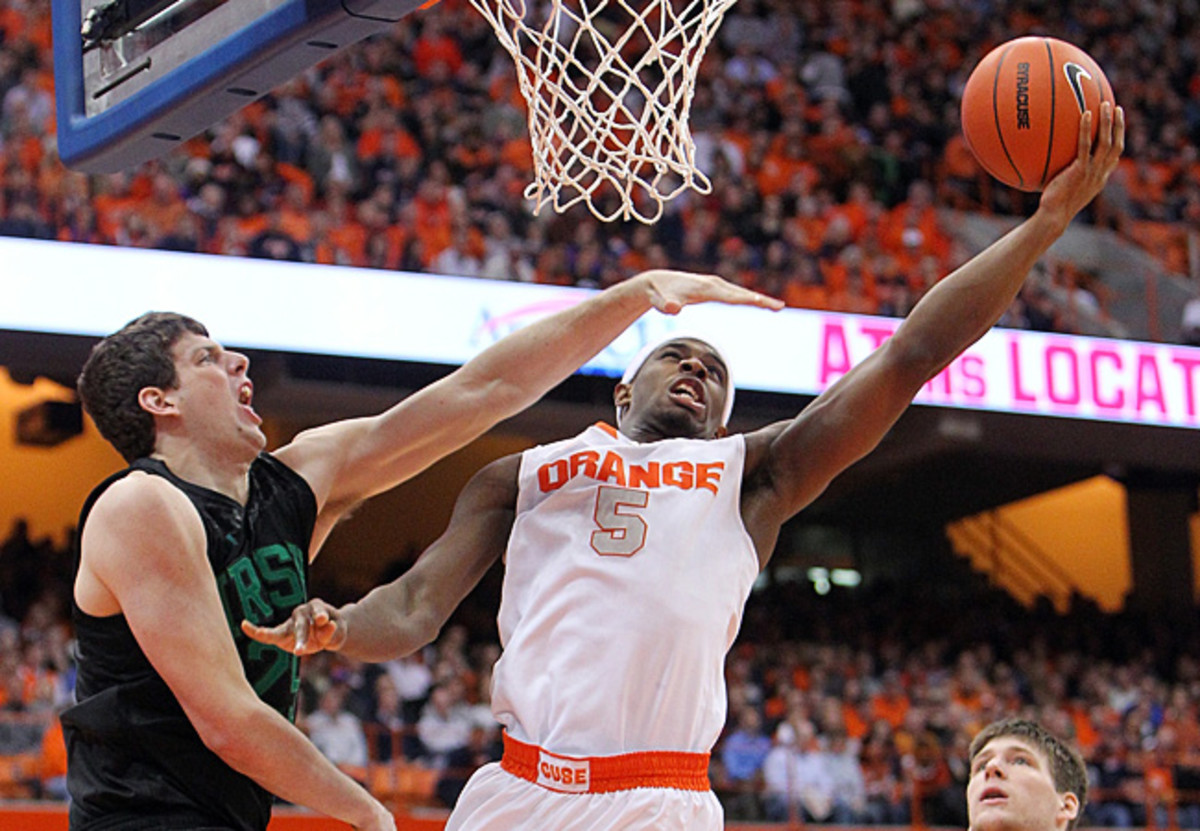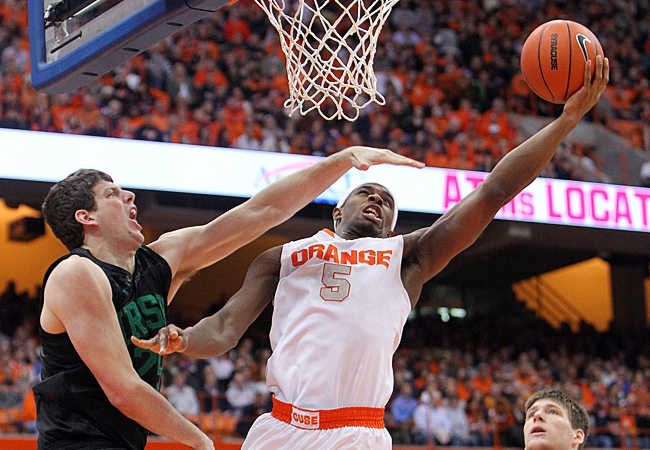 SYRACUSE, N.Y. -- Looking energized and grinning, James Southerland made his way from teammate to Syracuse teammate at halftime on Monday, slapping hands in whatever preordained pattern they were to be slapped, then yanking each player into a quick embrace. A couple moments later, a basketball bounced to his feet. He picked it up, took a step in, and drained a long three-pointer with his angular frame tilted slightly back.
Now all the senior forward needed were clothes alterations. He did all this wearing a long-sleeve V-neck shirt and Levi's tucked into a pair of brown boots laced all the way up. When the Orange huddled under the rim before the second half began against Notre Dame, Southerland merely lingered on the perimeter, reaching one fist in for the breakdown. Near the bench, he turned to a familiar voice shouting for his attention from the student section, then broke into a wide smile.
"You saw that?" Southerland asked.
Truthfully, by Monday, plenty of Syracuse fans had seen enough of Southerland all dressed up with nowhere to go. Two consecutive games were lost and more than a lone voice of panic had risen up before a rugged-but-percussive 63-47 defeat of Notre Dame at the Carrier Dome reestablished order, if not just yet reinstating the Orange as a bonafide national title contender -- though that may happen as soon as Southerland trades in designer denim for gym shorts. These are the caprices of a midseason reinvention. Horror and bliss separated by maybe 48 hours, depending on the favor of the week.
"That was a bump in the road, two losses," guard Brandon Triche said. "The way the Big East is right now, with us down James and DaJuan (Coleman), you figure there are going to be bumps. We played against two tough teams that always play us tough, teams that play man to man and get up in you. Those are the toughest teams. With Notre Dame playing a little softer, we were able to have space. But with that said, to get a win, it definitely means a lot. You lose a few, you start to question yourself. But we won. So we don't have to worry about that."
Syracuse wasn't exactly lost, but it was searching. Southerland, a senior averaging 13.6 points per game, was out due to reported academic questions, which may be resolved one way or another in a matter of days. Coleman, the 288-pound Moai statue of a freshman center, was out for about a month after surgery on his meniscus. All of that meant a thorough recalibration on the fly, in January, a team's midlife crisis. It's no easy feat, especially when part of the solution is inserting a moderately used freshman into the starting lineup, and especially when back-to-back road losses at Villanova and Pittsburgh are involved.
"When you lose two in a row in this league, you get nervous," Syracuse coach Jim Boeheim said. "Everyone does."
The Orange looked flawless in transition Monday. Syracuse's defense more or less willed Notre Dame into doing whatever it wanted -- basically having anyone but bulwark Irish center Jack Cooley shoot. Offensively, it ran a triple option. Triche and Michael Carter-Williams, averaging nearly a combined 29 points, hit three shots between them. But C.J. Fair scored 18, and first-year forward Jerami Grant, who as recently as Jan. 9 logged two minutes of game action, hit 6-of-8 shots for 14 points. Rakeem Christmas, who took zero shots in a 10-point loss at Pittsburgh last weekend, shot 6-of-9 for 12 points against Notre Dame.
Reinvention is tricky business, because figuratively and literally, there's often no telling where everyone is in their game for a good amount of time. "It's very challenging," Triche said. "You're used to a player being in one spot, and now he's not there. I can speak for that for James -- coming off a screen, you know he's going to be trailing, and a lot of times that's where he got his shots. Now Jerami, he's not going to be trailing as much, he's a guy that's going to be cutting to the basket. It's getting used to it. You can practice all you want, but in a game, people are going to be in different spots, they're going to play you a little tougher."
Carter-Williams, the dynamic sophomore point guard, didn't actively discuss the Pittsburgh game turning into a Christmas break. But the 6-foot-9-inch sophomore got a touch on Syracuse's second possession Monday, and delivered a score at the rim to set at least a personal tone for the evening. "There were no specific conversations," Carter-Williams said. "But I think we both knew that I needed to get him the ball more, so he could have a chance to be a presence down low, and he was. That's just part of learning that I'm going through. I have to get him the ball more and he's doing a great job finishing."
Really, the perils of midseason transformation just caught up with the other side Monday. Notre Dame had won three straight before shooting 34.6 percent and matching its season-low scoring output, and while there were many reasons for that, getting nothing out of the spot vacated by sixth-year senior Scott Martin and his balky knee loomed significantly. The Irish probably don't win with Martin playing. But they may have a four-man more adept at quick decisions in the high post against Syracuse's zone, and that may have produced a couple more open long-range looks, and that may have kept this competitive.
'It's the one night since we've been playing without him that I looked down and thought, man, it would have been nice to have him out there," Notre Dame coach Mike Brey said.
Now, on a six-day respite from the conference grind, Syracuse looks like it has nice problems to have. Grant emerged out of sheer necessity with Southerland's absence, but he is blooming into a force that demonstrated an adept mid-range game Monday while adding six rebounds and sending a Cooley shot three or four rows into the crowd late in the blowout win. He also played 40 minutes for the second straight game, a fact brought to Boeheim's attention, who then brought his team's plight to everyone's attention as a response.
"We had no one else," Boeheim said. "What am I going to do? It's not a hard decision. It's not a decision."
Maybe it won't be a hard decision to mesh Southerland and Grant upon the veteran's return. Maybe there's another round of reinvention. Or maybe it's un-invention. Whatever it is, Syracuse seems giddy to figure it out. "If he comes back, I think we'll be a lot better," Grant said. "I'm going to keep playing the same way I'm playing now. I feel like it'll be a big help for the team."
As time wound down Monday, Grant stood at mid-court with his arms wide open. He waited for his older brother, Jerian, Notre Dame's second-leading scorer, his childhood tormentor and present-day confidant. It was in late December that Jerami, on the verge of tears in his dorm room, texted Jerian about frustrations with a lack of minutes. Jerian, who sat out his freshman year with the Irish, told his brother to keep working. His time would come.
As the Carrier Dome cleared out, the pair exchanged a handshake and then a hug. Jerami told his older brother that he finally got him, and this time it wasn't luck. A few moments later he retreated to a once-more buoyant locker room, where at least for a night, figuring out what Syracuse would do next didn't seem so worrisome anymore.