Knee injury shouldn't cost Kentucky's Noel in NBA Draft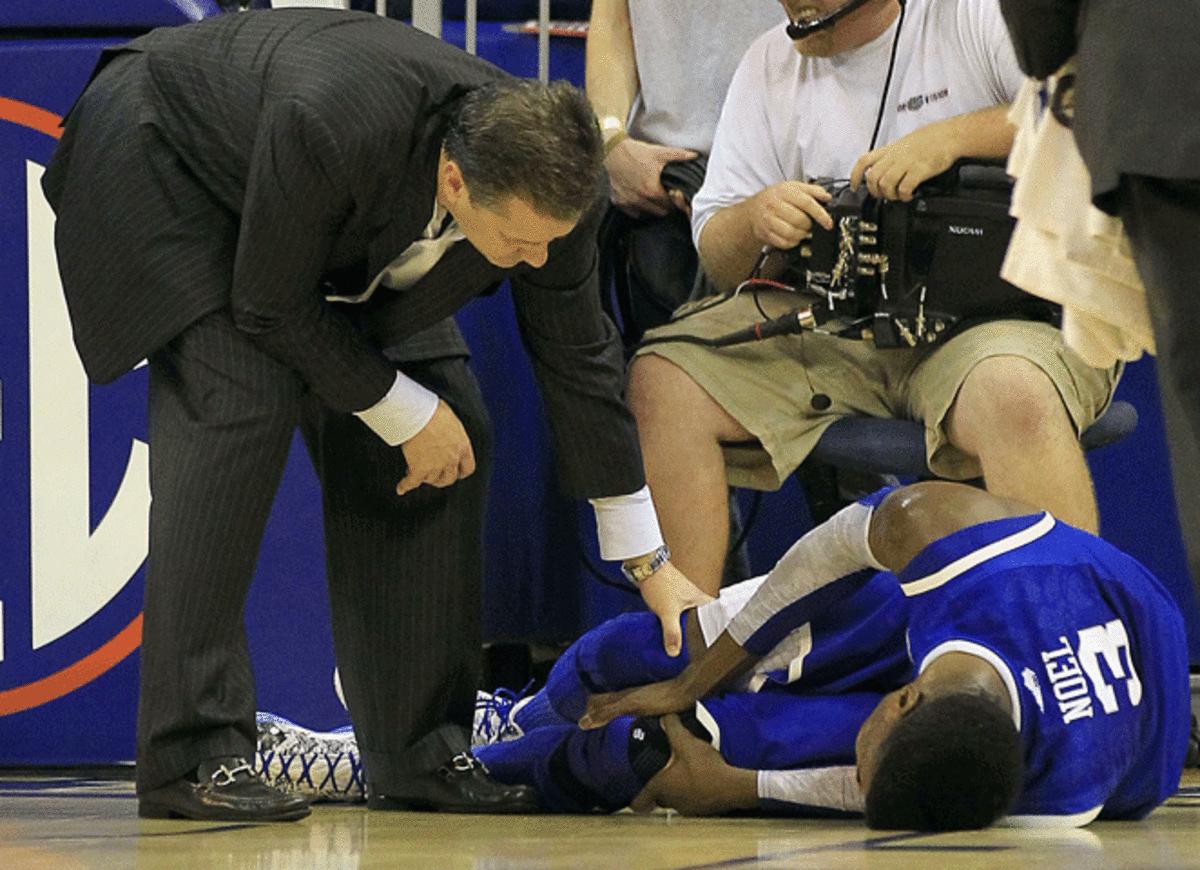 There are certain moments in sports that make you cringe, and Wednesday night, Nerlens Noel's knee injury became one of them. As a general rule, you don't want the word "gruesome" attached to anything in your life. This is especially true if we're talking about your lunch, your attempts to kiss somebody, or an injury.
So when Noel's injury was described as gruesome, I didn't have to see the video. I knew. I imagine he knew. We all knew.
Noel, the Kentucky freshman, tore the anterior cruciate ligament in his left knee. And this has inevitably led to anger about the NBA's no-high-schoolers draft policy, and well-intentioned concern that the policy and the injury have conspired to cost Noel millions of dollars.
Well, save it. Because when it comes to Noel's draft status, the simple truth about his injury is this:
It probably won't affect him at all.
Before the injury, he was going to be a top-five pick in this year's draft.
After the injury ... same deal.
The injury will cost him a chance to play in the NCAA tournament, and that's too bad. (It may also cost Kentucky a chance to play in the NCAA tournament.)
But Noel can still turn pro, and surely he will. Guys who are going to be top-five picks tend to leave, and Noel will still go that high. He will still make millions. The only difference is that he might need crutches to walk over and shake David Stern's hand.
Why? First, NBA teams have already seen enough of Noel. They know how good he is. They know he will be a defensive menace in the NBA, and that his offensive game is raw. In some years, that would make him the No. 10 pick. In this draft, which is weak, Noel is both one of the safest choices, and one with the most potential. Worst case, you get a shot-blocker and rebounder. Best case, you get an All-Star.
Noel has only played 765 minutes at Kentucky, but you know what? In the one-and-done era, that's enough. Kyrie Irving only played 303 minutes at Duke because of a toe injury, and the Cavaliers chose him No. 1 overall. Enes Kanter didn't play at Kentucky at all because he was ineligible, but the Jazz took him No. 3. (Kanter did practice with Kentucky, so scouts got to see him then.)
With the advances in modern medicine, knee injuries aren't what they used to be. There was a time when the only way to get back on the court after tearing an ACL was as a coach. But Adrian Peterson tore his ACL in December 2011, returned in September and won the NFL's MVP award. Derrick Rose tore his ACL last April and started practicing in December. (Rose still hasn't returned, and it may take him a while to get back to his old self. But his rehab is still far ahead of where it would have been a decade ago.)
The NBA draft is a gamble in so many ways. Teams are gambling on a player's ability, his work ethic, his chances of handling the NBA lifestyle, and his health. Noel's health is a risk. But as long as doctors say this is a typical ACL tear, and not indicative of a chronic problem, his health is probably not even his biggest risk. I'd be more concerned that he never learns a post-up move.
NBA teams will have their doctors examine Noel, but by the time that happens, he will be into his rehab. If they see something unusual, then sure, he'll drop in the draft. It is far more likely that they will still rate him as a top pick, right up there with Kansas's Ben McLemore and UCLA's Shabazz Muhammad.
Noel misses the chance to impress NBA scouts in March, but the way Kentucky has played, what is he really missing? The Wildcats look nothing like a Final Four team. And if Kentucky fades and misses the NCAA tournament, that will just make Noel seem even more valuable. If the Wildcats go down, his stock goes up.
So yeah, it was gruesome. I wouldn't wish that injury on anybody's knee, even if that knee hit me in the groin six times. I feel for Noel and for Kentucky, and I still hate the NBA rule -- I think if high schoolers are good enough to get drafted, they should be allowed to go. That rule has cost some players millions of dollars. Nerlens Noel will not be one of them.