A flurry of mistakes was difference as Indiana knocked off Michigan St.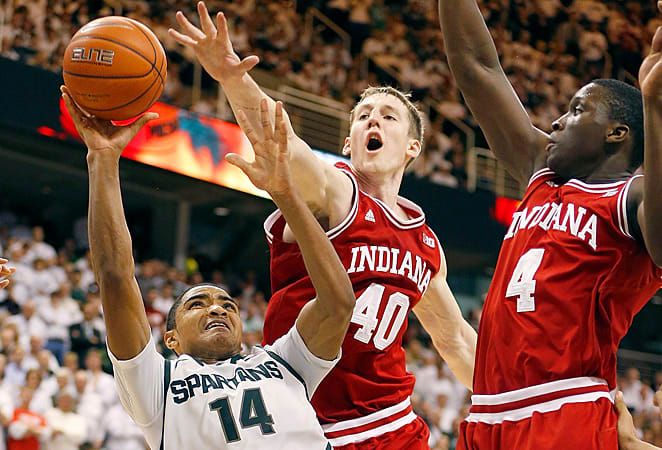 In a famous profile of reclusive chess genius Bobby Fischer, legendary sportswriter William Nack included an anecdote from Greek grandmaster Peter Biyiasis, who had hosted Fischer in his San Francisco home for four months in the summer of 1981. During Fischer's stay, the duo played 17 matches, and Fischer won every one of them before Biyiasis finally gave up. Biyiasis recounted the experience to Nack in a bemused way, saying: "I was getting beaten, and it wasn't clear to me why. It wasn't like I made this mistake or that mistake. It was like I was being gradually outplayed, from the start."
Sports narrative typically centers around big moments: The game-winning shot, the backbreaking steal, the inexplicable dribble off a foot. They are easily identifiable, easy to cobble together as part of a larger story, easy to bounce off a colleague around the water cooler and look well-versed. When elite competitors get together, though, successes and failures rarely come from big moments. The margins for error are so thin, a series of slight errors over the course of the contest can become insurmountable.
As Tuesday night's excellent Indiana-Michigan State showdown unfolded, I found myself thinking about that scene from Nack's piece. The Spartans, typically the team that exploits opponents in those slim margins, the group that grinds out results when games are there for the taking, were the team that was making those modest errors. And over 40 well-contested, tense minutes, against a team as good as No. 1 Indiana, those subtle mistakes are what ultimately cost the Spartans the game as the Hoosiers gutted out a 72-68 win.
Early in the second half, Michigan State bobbled two easy defensive rebounds out of bounds to extend Indiana possessions. The first one culminated in a long jumper from Cody Zeller. The second, after a held ball scramble that gave Indiana a third shot, ended loudly when Jordan Hulls ripped a three. Those two errors just by themselves cost the Spartans five points in a game they ended up losing by four.
When Michigan State finally reclaimed the second-half lead at 49-48, its next offensive possession ended in an out-of-control charge from Keith Appling. Appling, who had a second poor game against the Hoosiers this season, was the perpetrator the next time, as well, turning it over with the Spartans up 60-59. Three seconds later, Victor Oladipo threw down a dunk and the Hoosiers had the lead again.
The Spartans, in key moments, lacked poise. Disjointed possessions that weren't helped by awkwardly timed timeouts. Derrick Nix decided that just when the Spartans seemingly had seized momentum was a good time to revenge-tap Zeller's jewels. That transgression went unpunished, but Gary Harris' late clank of a free throw after earning a very dicey three-shot foul didn't.
The counter to this was Indiana's performance. The Hoosiers were far from their scintillating offensive best, but they made a lot of big jumpers to stem runs, to stretch out leads, to keep the frenzied Breslin crowd at bay for another possession. They defended with purpose and passion. And when the chips were down, their best player made plays. Victor Oladipo, topping off a virtuoso performance not fully represented by his stuffed stat line, scored on a go-ahead tip, then threw down a dunk off a long outlet pass, and then grabbed the decisive defensive rebound and made two free throws to close things out.
Maybe this is what the giveaway loss at Illinois has borne in these Hoosiers, who are looking more and more like the team to beat heading into the NCAA tournament. In the span of 10 days and two very impressive road wins, they have grabbed control at the top of the Big Ten and are arrowing directly toward the Indianapolis regional that has loomed all season as their prize for sustained excellence. December's Butler epic aside, Indiana is going to be very, very tough to stop in that environment. The Hoosiers will not compete in a more hostile environment than the Breslin Center the rest of the way, and the fact that they were able to take care of all the details is a very good sign.
Maybe the Spartans will learn a similar lesson. These teams will be in different regions, so another date in Atlanta seems possible. In order to get there, though, Michigan State will have to internalize the same kind of realization Peter Biyiasis did more than 30 years ago. Everyone at the elite level can play, and the difference between excellence and true greatness lies in the smallest of things.