Mike Krzyzewski reverses course, considering return to USA Basketball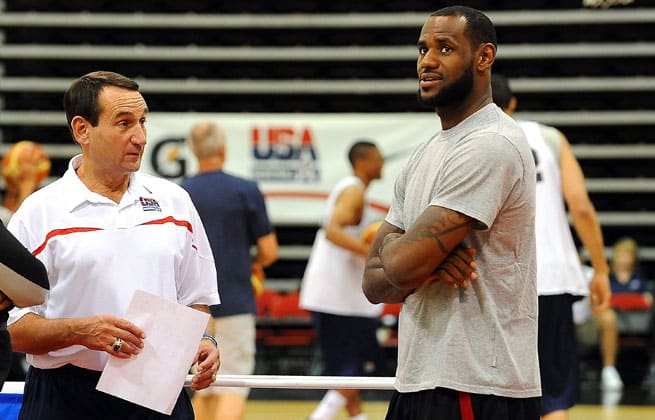 Duke Coach Mike Krzyzewski acknowledged in a phone interview Saturday that he's in discussions to return as head coach of USA Basketball through the 2016 Olympics.
"There's a chance," Krzyzewski said. "That's correct."
Krzyzewski said he hasn't made a final decision, but his openness to the position represents a significant change. For eight months, Krzyzewski has maintained he's not returning as USA Basketball's head coach.
On Saturday, Krzyzewski said he and USA Basketball Chairman Jerry Colangelo have been talking about his return "quite a bit."
Colangelo said Saturday he and Krzyzewski have been discussing his return "in installments."
"I think it's very close to being resolved," Colangelo said. "That's all I can say for sure."
He added: "Give it another week and it should be resolved."
Since winning the gold medal in the 2012 London Olympics, Krzyzewski consistently insisted he would not return to coach USA Basketball. As recently as February, he publicly dismissed the notion in an ESPN Radio interview saying his "stance hasn't changed."
While his return isn't final, there's a strong feeling in basketball circles Krzyzewski will come back for a final run with USA Basketball that will include the 2014 World Championships in Madrid and the 2016 Olympics in Rio De Janeiro.
Krzyzewski has overhauled the entire image of USA Basketball since taking over in 2005. He's gone 62-1 in that time, a run that includes gold medal Olympic victories in Beijing in 2008 and London in 2012. He also led USA Basketball to the gold medal in the 2010 World Championships in Istanbul and a bronze medal at the 2006 World Championships in Japan. (His lone loss came to Greece in that tournament.)
Perhaps most importantly, Krzyzewski and Colangelo have built a culture where the country's top players want to compete for spots on the national team, something that didn't exist previously.
Colangelo planned on naming a coach by the start of the calendar year, but deviated from that plan in an attempt to convince Krzyzewski to come back. (He did not want to bother him during Duke's season.) A coach needs to be in place by the first USA basketball minicamp in July.
Colangelo said he hasn't approached any other candidates. (The candidates widely speculated were Boston Celtics coach Doc Rivers, San Antonio Spurs coach Gregg Popovich and former Philadelphia 76ers coach Doug Collins.)
"I would never do that," Colangelo said about talking to other candidates. "I've said that from the beginning, for what he's invested in USA Basketball, he's entitled to make his decision before anyone."
If Krzyzewski turns down the opportunity, Colangelo said he's "more than prepared to move forward."
Colangelo said there would likely be changes to the USA Basketball staff if Krzyzewski did return. The 2012 staff included Los Angeles Lakers coach Mike D'Antoni, former Portland Trail Blazers coach Nate McMillan and Syracuse Orange coach Jim Boeheim. Colangelo said it's likely Boeheim would again be part of the staff if Krzyzewski returned.
"I would think that's probable," Boeheim said Saturday. "I think so."
Boeheim stressed Krzyzewski hasn't made a final decision, but acknowledged there's "some on-going talk."
"I know that he's probably thinking about it," Boeheim said. "I don't know if he's really going to do it or not, honestly."