Does Rutgers even know how to run an athletic department?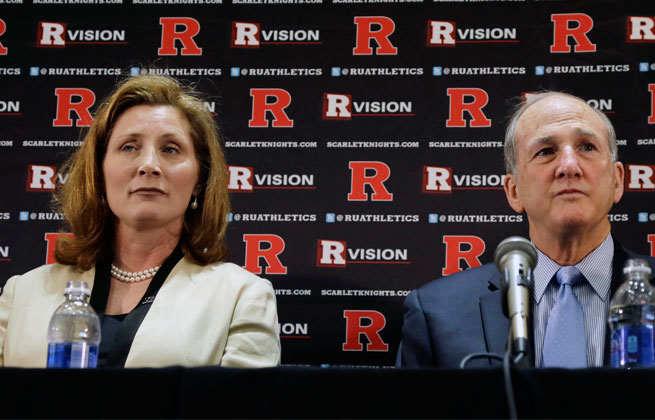 Rutgers has embarrassed itself repeatedly lately, but that is a small price to pay for all those near-wins.
Until recently, the Rutgers athletic department was known mostly for existing. The school was very rarely in any national title conversations and most of those occurred in the offseason, among Rutgers alumni who had been drinking.
Well, the reputation has changed. Rutgers is now the nation's leader in botched public relations and clueless decision-making. You call it incompetence, I call it branding.
In the last few months, Rutgers:
1. Kept basketball coach Mike Rice after a video surfaced of him throwing basketballs at players and calling them offensive names.
2. Fired Rice when that video went public.
3. Fired athletic director Tim Pernetti for keeping Rice in the first place, even though president Robert Barchi was aware of the video and approved Rice's suspension.
4. Hired Rutgers graduate Eddie Jordan to replace Rice, only to discover Jordan is not a "graduate" in the sense of, you know, graduating. But he did play basketball there!
5. Hired Julie Hermann as its new athletic director. Hermann was highly regarded at Louisville, but if she had any more red flags, she could challenge every call in an NFL game.
The Newark Star-Ledger has since reported Hermann quit as Tennessee's volleyball coach after every player on the team complained she called players "whores, alcoholics and learning disabled." They signed a letter saying, "It has been unanimously decided that this is an irreconcilable issue."
The Star-Ledger also reported Hermann had to pay $150,000 when former assistant coach Ginger Hineline sued her. Hineline says Hermann told her not to have a child. In a video taken at the wedding, Hermann ... told Hineline not to have a child. Then Monday, the New York Times reported Hermann was at the center of a sex-discrimination suit in 2008.
People make mistakes. People change. And hey, if everything you say in a wedding toast or video is taken seriously in a court of law, I know a few people who can sue the bejeezus out of me.
Unfortunately, Rutgers and Hermann don't have the guts for an honest conversation. If you had to pay a former colleague $150,000 in a lawsuit, wouldn't you remember the details? If you had to quit a plum job because your subordinates said you treated them terribly, wouldn't that sit with you?
If Hermann had just said she was too intense as a young coach, and should have watched her language, and she learned from it, this would pass. But when she tells the Star-Ledger, "I never heard any of this, never name-calling them or anything like that whatsoever," she sounds like a liar. Players say they read her the letter at a meeting and then she quit. How could she not remember that?
And you would think after the Rice debacle, and the Pernetti fallout, Rutgers would have been especially rigorous in researching the employment history of its new athletic director. Instead, Rutgers seems to have let Hermann conduct her own background check.
Rutgers is a terrific school. Its students, faculty and alumni deserve better than this. But Rutgers has been pretending to know how an athletic department operates for years.
The ruse apparently worked on Big Ten commissioner Jim Delany, who recently added Rutgers to his collection of television properties. To the Big Ten, the Scarlet Knights are just a vehicle to get into the New York/New Jersey television market. The idea is fans in the New York area will clamor for the Big Ten Network in their cable package so they can watch their favorite team, once Delany informs them their favorite team is Rutgers. The Scarlet Knights are getting paid to bring in business. Rutgers is more of a Big Ten middleman than a member.
Will it work? Well, I've never met anybody who got rich betting against Delany. So don't doubt him.
Besides, Delany may have found the perfect addition. Rutgers can add revenue, let the rest of the league win championships, and teach everybody a valuable lesson: how an athletic department should not be run. After all, this is about education, right?