Where are They Now: Former UConn star Doron Sheffer
It was 20 years ago that they were the starting backcourt in a three-guard lineup, pillars in triplicate of UConn's transformation into a college basketball powerhouse. Ray Allen was the silky two guard, equally capable of attacking the rim and unfurling what would become perhaps the truest jumper in all of basketball. Kevin Ollie was the human rash, all persistence and annoyance, a ­natural-born ­leader whose ­defense and quietly firm presence prefigured his career in coaching. And Doron Shef­fer was the playmaker who brought a symphony of skills to bear. In each of their three overlapping seasons, in the mid‑1990s, the Huskies won the Big East title. They went 89–13 as the program continued to build momentum.
Last April 7, the night of the NCAA champion­ship game in Dallas, the trio held a reunion of sorts. Ollie, of course, was on the UConn bench, having replaced Jim Calhoun as coach. That night he presided over the Huskies' victory over Kentucky and became one of the hottest coaching commodities in the country. Allen, on a rare day off from the NBA job he's held since 1996, had jetted to AT&T Stadium, taking a break from the Miami Heat, where he was helping the Heat try to win a third straight NBA title. As for Shef­fer, well, he was there in spirit.
Physically Sheffer was half a world away, at his mountainside home in northern Israel, overlooking the Sea of Galilee. He'd woken up early that morning, as he always does, just as the game was tipping off. He was thrilled that Connecticut had reached the final, but he didn't want to break his routine. So instead of watching hoops on TV, he wrapped tefillin around his arms, placed a yarmulke on his head and walked around his property before going to pray and study Torah.
Though he sports a light beard, the 42‑year‑old Sheffer looks much as he did when he wore number 11 for the Huskies. At 6' 5" he weighs less than he did in college, and his brown hair shows little sign of graying or thinning. He lives with his wife, Talia, and four children on a moshav, a self-sustaining agricultural community near the half-court mark of the Kin­neret region, an hour or so from the Mediterranean. He is close to his daughter from his first marriage and hasn't ruled out having more kids. ("In basketball, the sixth man is so important," he says. "Maybe in life, too.") He eats almost exclusively organic foods.
As for his occupation, he is a motivational speaker and life coach. Sheffer recently wrote a memoir titled Annani, which is Hebrew for The Answer.
But those are just material details. Sheffer is on a spiritual quest that has taken him from gurus in Indian ashrams to shamans in the Amazon to holy men in the Middle East. He has attended religious ceremonies in South America, Australia and Costa Rica. As he puts it, "I am going with my heart, flowing in the river of life."
Sheffer is an Orthodox Jew, but he resists ­labels. His spirituality is self-styled; its source material is everything from the Torah to Buddhist teaching to astrology to a religious experience he says he had while watching Michael Jordan play at the United Center. Sheffer often speaks abstractly and in aphorisms, sounding like a cross between a wise and gentle rabbi and Tony Robbins. But he is not out to convert anyone, and he's the opposite of dogmatic.
"For me the goal and the key, the candle that shows me the way, is being a mensch, being a better person -- more humble, more patient, more peaceful, more with myself, my wife, my neighbors," he says with an ever-present­ smile. "That's, for me, being religious, being close to God."
*****
If life is, as the mystics suggest, just a series of fortuitous and random events, Doron Shef­fer expe­­rienced a big one late in his adolescence. Raised in a secular home in suburban Tel Aviv—his ­father was a diamond dealer; his mother a ­lawyer -- he fell hard for basketball. He quickly learned the necessary skill set. He had the physique and the native athleticism. But what really seduced him was the dynamic of hoops, the overlay of individual and team, of rigid preparation and free-flowing improvisation.
In his late teens and early 20s, Shef­fer served his mandatory stint in Israel's army (three years for single men), but he was able to moonlight as a basketball player in the Israeli league. At 21, after helping his team, Hapoel Galil Elyon, topple powerhouse Maccabi Tel Aviv, he decided to play college ball in the U.S. with the hope of advancing to the NBA. He ended up at UConn three seasons after another Israeli player, Nadav Henefeld, had thrived in Calhoun's system.
In Storrs, Sheffer adjusted quickly. ("I'm a Pisces," he says. "Pisces get to flow, find their way.") He roomed with Travis Knight, the team's center, but had a special kinship with Allen. The two would stretch each other out before practices, during which time they would have a sort of cultural exchange, swapping philosophies. "You could see something unique and positive in Ray, in the way he handled himself," recalls Sheffer.
The affinity was mutual. "Doron was so poised," says Allen. "He had a lot of control over his game and his life, and we learned from him."
Where Are They Now: Catching up with Cubs legend Ernie Banks
Though Sheffer felt that he had to sublimate his game to fit into the team construct, he still dazzled, beating out Allen for Big East freshman of the year. "Remember, he was a thoughtful guy to start with, and he was 21 as a freshman," says Calhoun. "There was such a maturity there."
Nicknamed, inevitably, the Jewish Jordan, Sheffer became a star on two continents. Because of him, UConn games were some of the most popular sports programming in Israel. Sidney Frankel, a kosher butcher living in Waterbury, Conn., was conscripted to moonlight for the largest Israeli newspaper covering the Sheffer beat and attending every Huskies home game.
At UConn, Sheffer wasn't particularly religious, but, Ollie says, he was regarded as the team's philosopher king. He told his teammates how different the Huskies faithful were from Israeli fans, who once spat on him during a game. "I remember one [UConn] game after we lost and I played bad," he says. "The fans said, 'Great job, Doron.' Same intonation, same words. I said, 'Something doesn't sound right for me.' Then I understood that it was not from the heart. It was almost automatic. At that point I say, I miss Israel in the sense [that Israelis are] warm -- sometimes too warm; they become violent -- but [honest]. Life is balance. Life is the middle. For me, it was good to see both sides."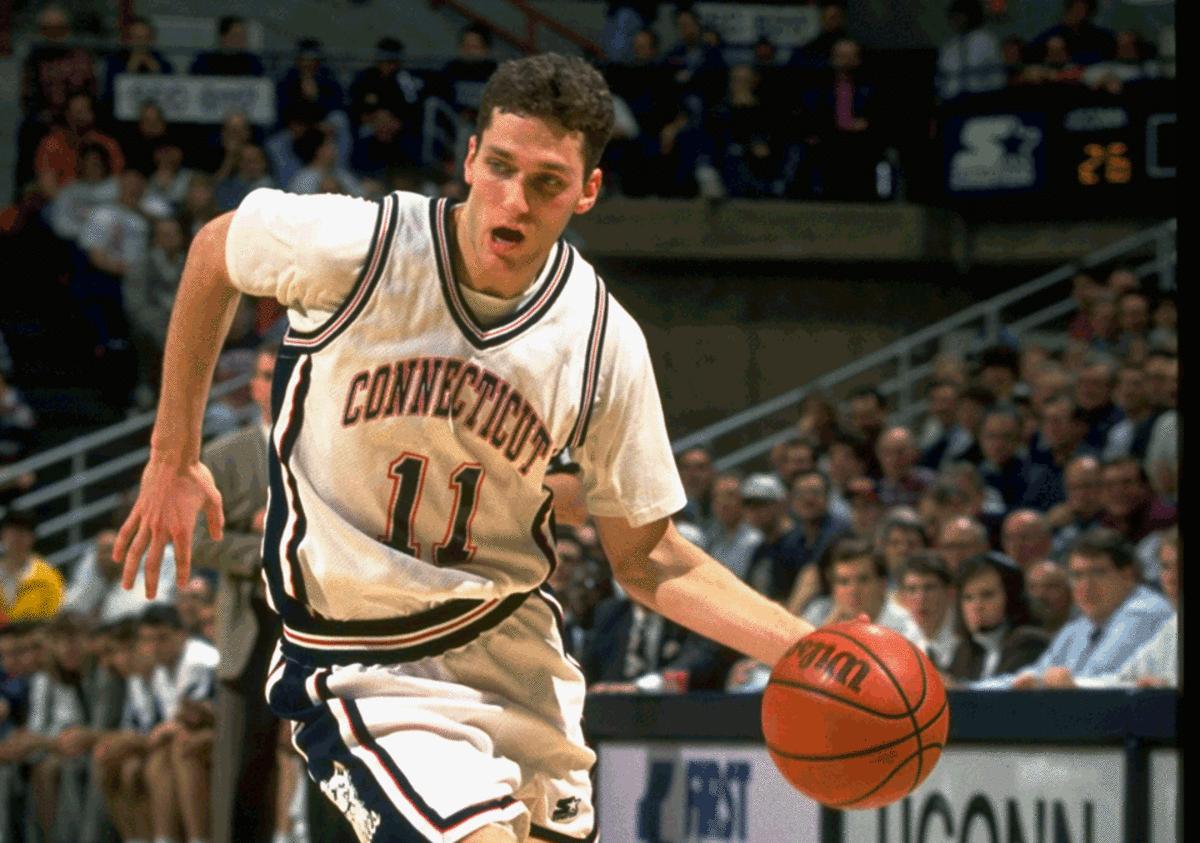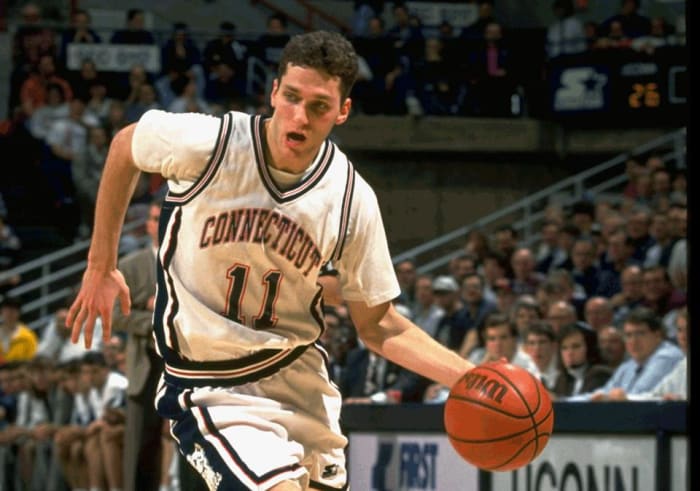 During his junior year Sheffer turned 24 and used up his eligibility. Still, he left as the first UConn player to have at least 1,300 points, 500 assists and 400 rebounds. (Shabazz ­Napier became the second, last season.) In the 1996 NBA draft, Allen was picked fifth by the Timber­wolves. Shef­fer was selected early in the second round by the Clippers.
Back in the motherland, there was great hope that Sheffer would become the first Israeli in the NBA. He recalls hearing the broadcaster Al McGuire once say in an interview, This young man will be an NBA ballplayer, if he decides to. " 'Decides to' was the key," says Sheffer. "I didn't make all the effort." He showed up at Clippers camp; bristled when he was yelled at by the team's cantankerous coach, Bill Fitch; and hightailed it home, signing with Maccabi. ­(Israelis would have to wait until Omri Casspi in 2009 to have a homegrown NBA player.) "[Doron] was a player I thought would play 10 years in the NBA," says Allen. "He was that talented."
Instead Sheffer was the best player in the Israeli league, leading Maccabi to four straight championships. And then he was gone. At age 28 -- at the peak of his powers, in the middle of a seven-figure contract, against the advice of everyone, including his father -- he quit. "I felt my soul was wanting to spread wings and fly," he says. "I couldn't do it with basketball."
He traveled the world. He read. He studied. He had a spiritual awakening. There was no single epiphany. Sheffer puts it like this: "It's like somebody who tries to stop smoking. He tries for years and years. He goes to treatment, stops for three months, then comes back. Then one day, poof! it's no longer there. But before, there's 20 years of trying."
Why Judaism? Sheffer says, "One of my rabbis said it's like driving a car. If you take a car that drives on 95 [octane], it will drive on diesel, but not as good. If you put in 95 and it is exactly what it needs, it will drive better. There's a lot of wisdom in all religions, with things I still can use in my life. But as soon as I got to the Torah in Israel, in my language, I came back home."
It was also during that time that Sheffer was diagnosed with testicular cancer. His spirituality helped immediately. "I wasn't being sad, angry or miserable," he says. Instead, he thought, How can I turn it into a gift? He changed his diet and began reading about Eastern medicine. The cancer, fortunately, hadn't spread, and he underwent surgery.
Once healthy, he decided to play basket­ball again. To call it a comeback would be to shortchange the experience. "It was the same ball, same court, same coaches, same players, but a totally new game," Sheffer says. "I could see it in a much more healthy, balanced way. Much less pressure and tension. I could also play much more freely." And he did. Playing for a team in Jerusalem, he took to shooting free throws with his eyes closed and attempting passes and shots that defied both physics and conventional wisdom. "I was still trying to win," he says, "but not getting lost running after the victory, being slave to the score."
After switching to a team in Tel Aviv, Sheffer retired again in 2005. He returned a year later and played until '08. Upon his final retirement he settled in the mountain village of Amirim. His property is dense with cherry and olive trees and walking paths where he tries to spend an hour a day alone with his thoughts. When he's not giving motivational speeches to large audiences, he and Talia run a business hosting guests at their home for "spiritual cleansings."
Though a million spiritual miles from big-time college sports, Sheffer remains a proud citizen of Husky Nation. He rejoiced in UConn's success last season and is still in touch with his former teammates as well as Calhoun, who makes frequent trips to Israel. And Sheffer still evokes warm feelings among the Huskies who played alongside him. After a series of arranged interviews with Allen fell through because of the Heat's changing playoff schedule, Allen took matters into his own hands. He riffed about Sheffer into his phone and emailed the audio file. "Honestly," said Allen, "a lot of who I am came from being around him."
The man who was perhaps the best basketball player in the history of Israel doesn't play much anymore. But after we spoke on his porch for a few hours this spring, he and I shot jumpers in his driveway. His goal lacks a backboard; it's simply a rim and net affixed to a pole. No matter, he stroked shot after shot, at one point getting in the zone and swishing 15 straight.
"It is who I was," he said with a smile.
Even the most rational and skeptical among us have to figure there's deeper meaning in there.