Who will replace Napier's impact for defending champ UConn? Everybody
The year-long leadership seminar, proctored by an uncompromising guy from a Boston suburb, was not listed in any materials Rodney Purvis received for his first year at Connecticut. There was no syllabus for it. Yet participation was mandatory. So here was Purvis, a transfer just settling in, listening to Shabazz Napier tell everyone that he didn't care if people liked him. But they would respect him. At which point Purvis decided he ought to pay attention. Class was in session.
Every day, the former N.C. State guard says, he was in Napier's room, absorbing how the Huskies' do-it-all guard did everything. Purvis watched Napier take care of his body – after all, you can't hold anyone accountable if you break down -- so he traded his beloved sodas for water and added chicken wraps and smoothies to his diet. He saw Napier call out teammates for their lacking work ethic: They'd play up to his level or get exposed. He heard Napier promise after a 33-point loss to Louisville in March that Connecticut would win the national title if it stuck together. Then he witnessed Napier ensure that came true.
It was immediately clear to the Huskies that no one alone could follow Napier. "The day we got back from the national championship, his jersey was hanging up in the gym," Purvis says. "So there's no way you can replace a guy who's the all-time everything at the school. Guys just have to fill in for that role."
College basketball conference previews: AAC
Replacing the only player in program history to record 1,500 points and 500 assists is, in a way, the easy part as Connecticut gets set to defend its most recent national championship. Those are just numbers. Ryan Boatright, Napier's backcourt running mate last season, can help with that. Purvis, a former five-star recruit now eligible for 2014-15, can too. Others can score points and grab rebounds and hand out assists.
Less quantifiable is the way Napier's resolve seeped into every pore of the program. The Huskies now have to find out how much of that is left.
As he does with many concepts, head coach Kevin Ollie coined a catchphrase for this: LBM. Little Bit More. Ollie, himself a former UConn starting point guard, says that is what everyone has to do to pick up for one of the best leaders in college basketball. "If you're stepping out on the court, you have to lead," Ollie says. "That's just how I am. If you're good enough to get out on the court, you're good enough to lead."
Ollie is optimistic that the program's recent fall-and-rise due to APR sanctions – the Huskies were banned from the postseason one year before winning the title – has steeled veterans on the roster. "That pain became our pride," he says. Juniors Omar Calhoun, a 6-5 guard, and Phil Nolan, a 6-10 forward, have been role players to date, but Ollie notes they know what it takes to scrape up from the bottom. He also believes there's an uncommon quality to 7-foot sophomore center Amida Brimah. "This guy is every essence of a captain that you want to see," Ollie says. "He's going to be a very vocal part of our leadership going forward."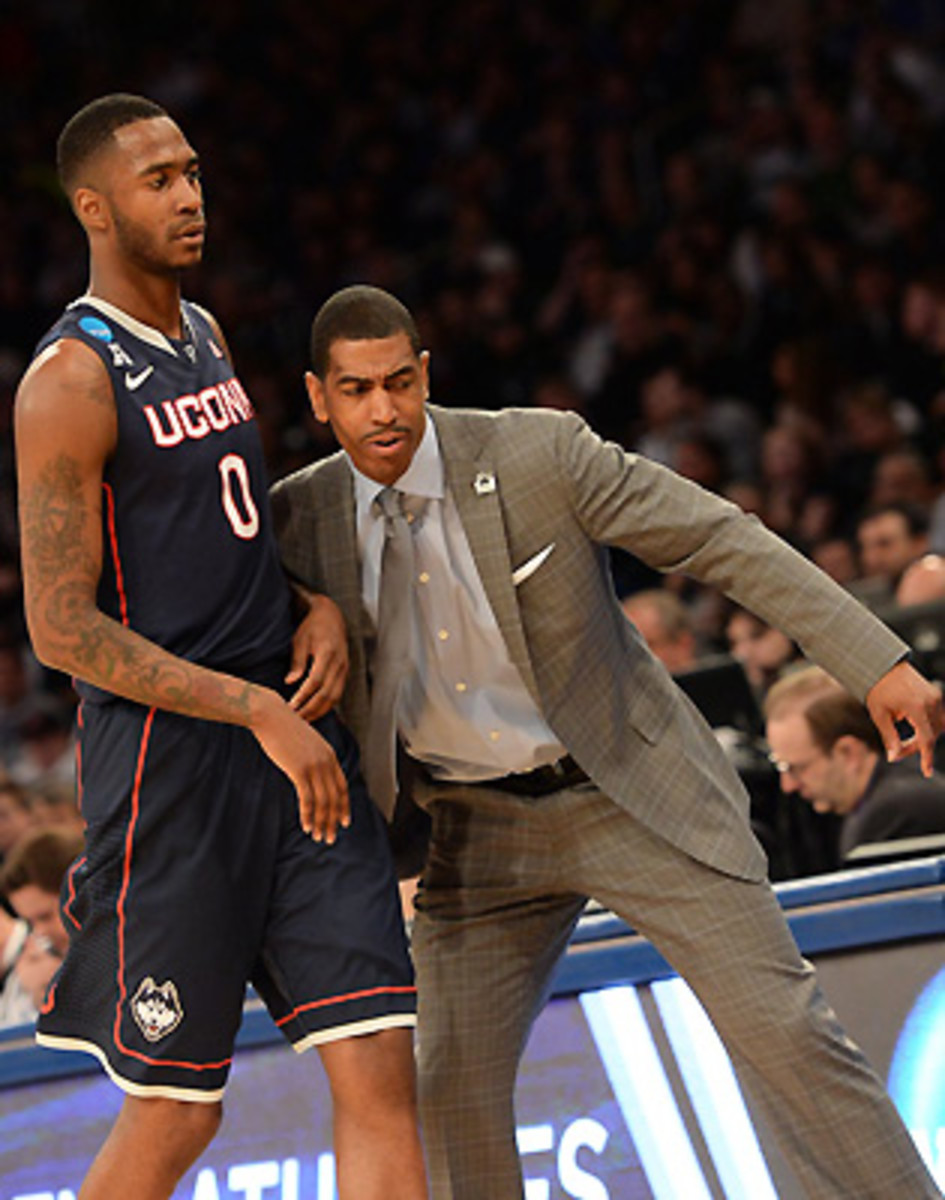 Then there is the willing Purvis, who says he visited the gym nightly this offseason in order to redirect a detoured career. "It comes with the territory," says the former McDonald's All-American, who averaged 8.3 points as an N.C. State freshman. "They can't look at the last guy on the bench to be a leader."
The first guy that comes to mind as Napier's replacement is the next in line of veteran Connecticut guards trying to set the tone for the Huskies.
The 6-foot, 175-pound Boatright was a snarly complement to Napier as a junior, averaging 12.1 points, 3.4 assists, 1.6 steals and a career-best 3.5 rebounds per night. He averaged 13.5 points and five assists to earn All-Final Four honors. His on-ball defense, especially in the NCAA tournament, was like death by a thousand small cuts. He was unrelenting and reliable, just like the All-America guard next to him.
That doesn't mean he is exactly like Napier, though. "I'm not trying to be Shabazz," Boatright says. "I'm being me. I learned some things from him, as far as being on the court and being a leader, but me and Shabazz are totally different people. So I'm going to just do my best at being a leader and being on the same page as coach."
When Boatright talked with Ollie about his decision to return to Connecticut for his senior season rather than jump to the NBA, the head coach asked his player some direct questions about what Ollie calls the "whys" and "mo's": Why was Boatright committed to do this? What was his motivation? Those answers, Ollie advised, would carry the Huskies veteran through the difficult times and allow him to elevate his team.
One of the "mo"s, as Ollie calls them, rang particularly clear: I want to be one of the best guards ever to play here at UConn, Boatright told his coach. That prompted Ollie to relay the requirements for that aspiration. "It can't be the same 'Boat' as last year," Ollie says. "That's not going to be good enough."
In Ollie's eyes, Napier grew to be among the best he's seen at self-correction – he apologized even for bad body language and took ownership of mistakes revealed during film sessions. Boatright must match that accountability. He also must challenge teammates the way Napier did, and get to know them well enough to be a deft crisis manager when the time arrives. "He has to get his teammates on the same boat," Ollie says, excusing himself for the pun. "To get where we need to go, everybody has to have the same vision. I think he's been doing that over the summertime."
Projecting college hoops' leaders in scoring, rebounding and assists
After a cursory offseason visit home to Aurora, Ill., where he spent most of his time in the gym, Boatright returned to Connecticut early in order to build himself and his team. He covered all the basics: Working on the three-point shot, honing his pull-up in the lane, putting on weight, watching film. "All of those things you have to do to be a great player," he says. His personality might not match Napier's just yet. But through pickup games and lifting sessions he aimed to ensure there would be no jealousy or in-fighting on a club that will have plenty of shots and minutes available after losing four of its top five scorers and importing transfers like Purvis and junior college guard Sam Cassell, Jr., plus a five-star freshman in swingman Daniel Hamilton. From there, Boatright let his work ethic underline his message that nothing comes easy.
Boatright bristles at the idea that he'll need to win a title to secure his legacy alongside the likes of Napier and Kemba Walker, the star guard who led the Huskies to the 2011 NCAA title. "That's for y'all to do," Boatright says. "I'm not going into the year thinking like that. I'm going into the year thinking (of) being me and being a good teammate and trying to win. If it adds to my legacy, then so be it."
Ultimately, Boatright will serve his team and his legacy best by being himself – or a Little Bit More of himself, as it were – and allowing others to lead with him. A reminder of that responsibility greeted every player in Connecticut's weight room this summer. A mission statement appeared on a dry-erase board, writ large: No man left behind.
It sounds like something one guy in particular might have said on the way to a title a year ago. It's now left to everyone else to carry the message forward.