Hoop Thoughts: The rise of the zone, the upset of the season and more
Throughout most of his 15 years on the sidelines, Thad Matta has been one of the best teachers of man-to-man defense in college basketball. Yet, in recent years, he faced a recurring problem. "We had times when we needed scoring," Matta says, "but when I wanted to put a player in, I'd think, 'Hey, who's he going to guard?'"
So this past summer, Matta looked at his roster, which included more size and length than he has had in the recent past, and he made a big decision: He would play zone fulltime. It was a drastic shift, but the results are much the same. Ohio State is 6-1, and in that one loss they darn near came all the way back from a 17-point halftime deficit before succumbing at Louisville, 64-55. The Buckeyes' success hasn't come exclusively because of Matta's new toy, but the early returns are encouraging. "I like the fact that I can put my best offensive players on the floor and not worry about who's guarding who," Matta says. "Plus, the game has become so reliant on pick-and-roll. In a zone, we don't have our bigs hedging on ball screens 25 feet from the basket. It's more of a guard-on-guard switch, which is easier."
Matta is quick to remind that he played zone during his first two seasons at Ohio State, and that he used it a lot during the 2006-07 season, when Greg Oden was his center and the Buckeyes reached the national championship game. His 2003-04 Xavier team, which reached the Elite Eight, also played primarily zone. Still, this is a drastic about-face. According to Synergy Sports Technology, last season Ohio State played man-to-man on 99.5 percent of its possessions. Just seven teams in all of Division I played it more. So far this year, the Buckeyes have played man-to-man on just 8.8 percent of their possessions. Only four teams have played it less.
• CBB POWER RANKINGS: Duke moves up to No. 2 after win at Wisconsin
Ohio State is the most extreme example of a program relying more on zone defense in recent years, but it is hardly the only one. Zone has become more prevalent this season at Louisville (50.2 percent, up from 27.4 percent last season), UNLV (26.1 percent, up from 5.9 percent), Purdue (28.8 percent, up from 0.7 percent) and Baylor (90.6 percent, up from 56.7 percent). Marquette has also gone to a near-fulltime zone in the last three weeks, even though the Golden Eagles' first-year coach, Steve Wojciechowski, is a product of Duke, the IBM of man-to-man programs.
"I played more zone in our last four games here than I did in 20 years as a player and coach at Duke," Wojciechowski says. "It's not something that I studied while I was there, but I'm not at Duke anymore. I have to figure out ways to win where I'm at."
It would be too much to say we are in the midst of a zone revolution; it's more like an elevation. But it is real. As I wrote this last spring in Sports Illustrated's NCAA tournament preview, teams played zone on 17.7 percent of their possessions last season, per synergy. The year before, that number was 15.6 percent. The trend is being pushed by other coaches who come from exclusively man-to-man backgrounds like Stanford's Johnny Dawkins, another Duke alum who is using zone on nearly 20 percent of his possessions this season, and UCLA's Steve Alford, the former Indiana player who is using it on about half of his.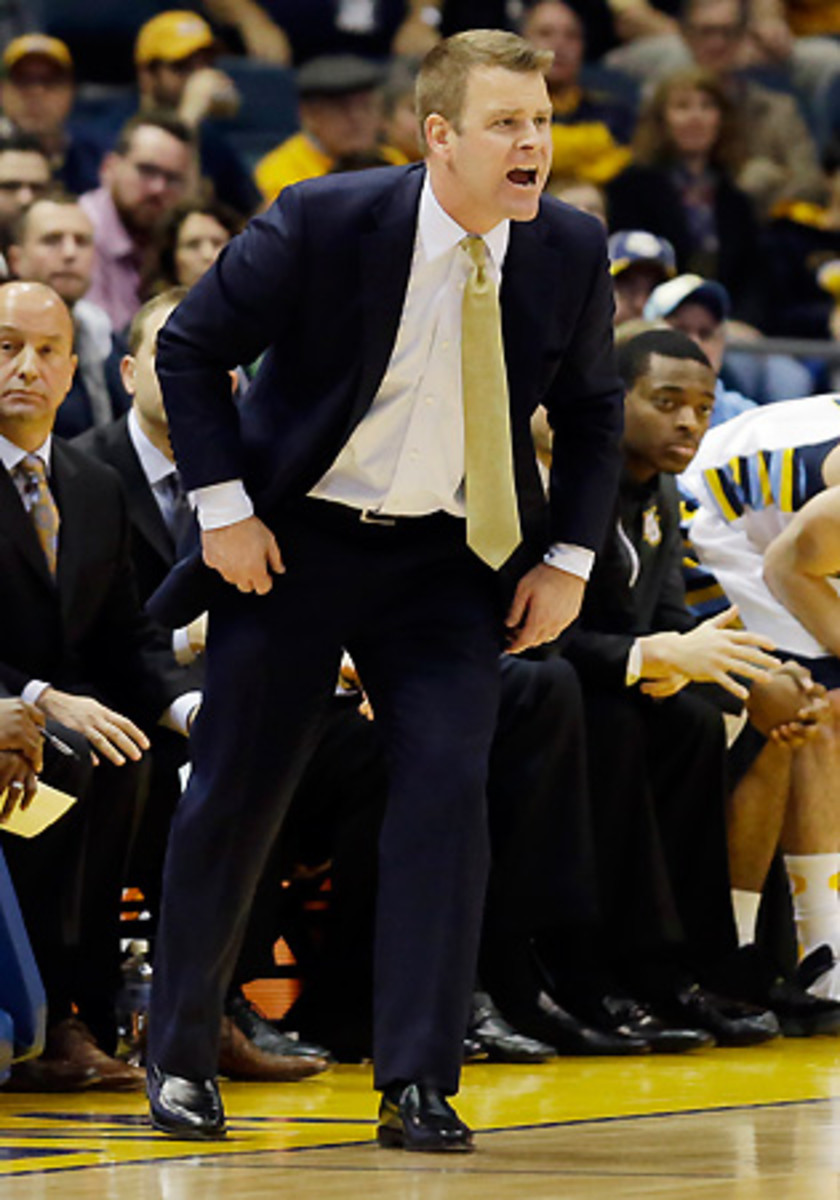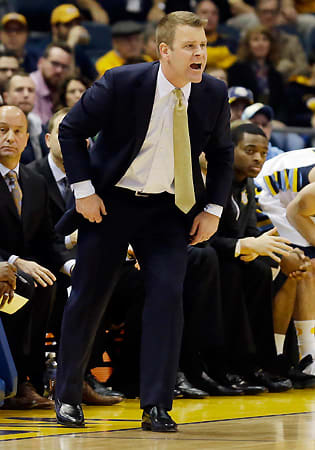 Part of last season's uptick was in response to the NCAA's push to clamp down on physical defense, although both Wojciechowski and Matta say that they have not noticed much of that this season. "They said they would call it tighter, but after the first week it went back to normal," Matta says. As Matta noted, the main reason more coaches are going to zone is because it is an effective counter to the dramatic spike in ball screens over the last decade. The main purpose of the ball screen is to force bigger defenders in the uncomfortable position of defending dribblers behind the three-point line. A zone takes that problem out of the equation.
Coaches love to copy colleagues who are doing things that work. For decades, they worshipped en masse at the man-to-man altar built by icons like Henry Iba, Pete Newell, Bob Knight, Dean Smith and Mike Krzyzewski. In recent years, however, Syracuse coach Jim Boeheim has had great success by going all zone, all the time. Now, more guys are open to the idea, if for no other reason than it gives them another option to adjust to game conditions. "I felt like we needed to become a pitcher who threw multiple pitches," Wojciechowski says. "My training was that you play man-to-man defense and you pressure and you figure out ways to make it work. That wasn't going to the best thing for our team. We needed to be able to throw a curveball, a slider, a knuckleball, to keep teams off balance and play to the strengths of our personnel."
Playing a zone has the added benefit of making gameplanning a lot more simple. Teams might have hundreds of offensive plays against a man-to-man defense, but they usually only do two or three things against a zone. That means a lot less information in the scouting report.
Most coaches will probably always favor man-to-man defense if they have the personnel to play it well. Matta still has his team practice man-to-man about 30 minutes a day, so it is possible he could go back to it at some point. But one of the main precepts of coaching is that if you want to do something well, you have to commit to it. For the time being, Thad Matta is committed to the zone. The more it works, the more you can expect his colleagues to give it a try.
Other Hoop Thoughts
• Remember: If you don't score 50, the win doesn't count. So Wisconsin 49, Marquette 38 is just a historical footnote. Ditto for Washington 49, San Diego State 38.
• Just an amazing job by producer Tim Kylie and the Inside the NBA guys letting their studio talent indulge in a lengthy discussion of the situation in Ferguson. Those guys really, really know TV, and they elevated the debate in a way that none of the news channels have been able to do.
• Louisville senior point guard Chris Jones better find his shooting touch soon. Take a look at these ghastly percentages: 30.1 from the field, 32.4 from three, 64.5 from the foul line. Last year, Jones shot 39.5, 37.7 and 77.2 percent. It's a great example of the difficulty a player has in going from being the sixth guy on the opponent's scouting report to the second or third guy.
• Here's another thing about Louisville: The Cardinals are ranked 333rd in the country in free throw shooting at 59 percent. At some point, that is going to come back to bite them.
• That reminds me of a great line Rick Pitino once said about a player of his who was a poor free throw shooter: "I'm a coach who believes in execution. Whenever I see him shoot free throws, I want to execute him."
• Hard to tell sometimes who has worse shooting form, Arizona's T.J. McConnell or Butler's Roosevelt Jones. Tell you what, though, either of those guys can play for me anytime.
• Virginia's Tony Bennett has to be the best defensive coach in the country. In the national rankings, the Cavaliers are second in points allowed, third in defensive efficiency, third in rebound margin, third in defensive rebound percentage, fourth in defensive field goal percentage and 19th in block percentage. And even though they're ranked 349th in tempo per Ken Pomeroy, they are 13th in scoring margin. And it's not like Bennett is doing it with a bunch of first-round picks. The more I watch Bennett and his teams in action, the more he reminds me of Brad Stevens -- and that is very, very high praise.
• Just remember, Maryland is down two starters: Evan Smotrycz, the 6-foot-9 senior forward who has not played because he is still recovering from offseason foot surgery and is due to return in late December; and leading scorer Dez Wells, who is also out until the end of December because of a fractured wrist. When those two guys are in the lineup and in the flow, Mark Turgeon could have himself an NCAA tournament-worthy squad. That would be a big achievement in Maryland's first year in the Big Ten.
• Michigan's Zak Irvin did not shoot a single free throw in the Wolverines' loss to NJIT on Saturday. Not one! Yet, he went 1-for-8 from three-point range. I have been pointing out this flaw in Irvin's game for a long time, but since he is usually so pure from behind the three-point line, my words fall on deaf ears. Irvin is 6-6, 215 pounds, yet in 280 minutes this season he has shot just 16 free throws. If he wants to become a great player -- a pro, perhaps -- he will have to learn to power his way to the rim a lot more often.
• Along those same lines, I have a hard time understanding how Michigan State point guard Travis Trice can be averaging fewer than four free throw attempts per game. Trice did not attempt a single free throw while playing in 37 minutes in Michigan State's overtime loss at Notre Dame. Drive, son, drive.
• I hope y'all are hip to Jakob Poeltl, Utah's 7-foot freshman center from Austria. First of all, pronounce the name correctly, because he's going to be around for a while: Yah-kob Pur-tle. After playing for his home country at the U18 Euro Championships in Spain, Poeltl attracted some interest from Division I schools, but credit Utah coach Larry Krystkowiak for being the only coach who took two trips to Vienna to close the deal. Poeltl is a fundamentally sound post scorer, rebounder and shot blocker who is averaging 12 points and 10 rebounds in the Utes' first seven games. His 12-point, 11-rebound, 3-block performance against Wichita State helped deliver the Utes their biggest win in years. He may not be easy to find on the tube, but catch him when you can. He's a special talent with a bright future.
• Every time a college basketball player gets called for palming, an angel gets his wings.
• South Carolina isn't as bad as it has been the last couple of years, but still, for Oklahoma State to go into Columbia and get blitzed by 26 points? Not. Good.
• I love the way Sean Miller schedules. He takes on all comers, he's not afraid to leave Tucson, and he's willing to play no-win games like the road dates coming up against UTEP and UNLV. I wish more coaches were like him in this respect.
• Seton Hall's outstanding freshman point guard, Isaiah Whitehead, turned in by far his best shooting performance in Saturday's blowout win over Rutgers, making 4 of his 5 attempts from three-point range en route to a season-high 25 points. If Whitehead is going to shoot like that in the future, look out.
• One of these days, I'm gonna tell you guys my Dennis Scott story.
• You can talk numbers and Xs and Os all you like, but the bottom line is that North Carolina is not a tough team right now. And until the Tar Heels fix that problem, nothing else will matter.
Book excerpt: Jim Boeheim reflects on 50 years of Syracuse basketball
• Syracuse is shooting 22.6 percent as a team from three-point range. The Orange were 3-for-22 at home (!) in their loss to St. John's on Saturday. I just don't see how you can beat decent teams when you are that deficient at such an important part of the game.
• The biggest mistake that TV directors make is cutting away from the court to show a crowd shot, a coach shot or a "hero" shot of the player who made the basket, even though there is still live action happening on the court. Do we really need to miss an important play so we can watch some random fan react to a made basket?
• Maybe we're gonna have a real battle in the Ivy League after all. Yale pulled off a stunner by beating UConn by one point in overtime in Gampel Pavilion on Saturday. That win improved the Bulldogs' record to 8-2, with one of the losses coming by six points at Providence. Harvard, which came into the season as the prohibitive favorite, is still the team to beat, but the Crimson lost to Holy Cross and needed two overtimes to win at Vermont over the weekend. Should be a fun race for the league title.
• I don't like it when coaches automatically take players out for the rest of the half if they commit two fouls. Sometimes it's a good idea, sometimes it's not, but I don't like such hard and fast rules. Besides, it's important for young players to develop the discipline of impacting a game without fouling.
• Indiana freshman guard James Blackmon is shooting 54.2 percent from three-point range so far this season. Just making sure you knew.
· I love that Xavier scored 97 points in a win over Alabama and didn't have a single player get 20. That's why it's called basketball.
• The best tradition in college sports: Taylor University's Silent Night.
[youtube:http://youtu.be/sANNP3CUnH8]
• I dig Mark Few's no-tie look.
• It's nice to see Providence point guard Kris Dunn finally showing what he can do. He was a big-time recruit, but his freshman season was truncated by shoulder surgery in December. Dunn had 24 points in the Friars' loss at Boston College on Saturday, and he is averaging 10.7 points and 6.6 assists on the season.
• Ever notice how often coaches call time out specifically so they can complain to a referee about a call that was just made? If that doesn't speak to the fact that there are way too many time outs available, then nothing will. One time out per team per half is more than enough.
Okafor wins showdown, but Kaminsky leads first Wooden Watch
• I don't mean to sound harsh, but Jon Horford is absolutely killing Florida. He is a 6-10, 245-pound senior who transferred from Michigan. During his three seasons in Ann Arbor, Horford made a grand total of one three-pointer in 10 attempts. During his first seven games at Florida, Horford has shot 24 three-pointers and made only five. During Saturday's loss at Kansas, he was 0-for-5 from behind the arc. Meanwhile, he shot just two free throws the entire game. I honestly have no idea why Billy Donovan is letting Horford play like this, but unless Horford is willing to get on the block a lot more, he will continue to hurt this team's offense far more than he is helping it.
• I've never accepted the argument that college basketball should go back to the jump ball because the possession arrow punishes the defense. If a 5-11 player ties up a 7-foot center and the arrow is pointing his way, then the arrow has rewarded a great defensive play in a way that the jump ball could not. If you want to argue that college hoops should go back to the jump ball because it's a more exciting play, then you are making a better case, but that means you have to live with the possibility that one player will benefit from an errant toss by the ref. That's the reason why the possession arrow was put in place.
• Finally, the sports world lost a good man last week when St. Louis columnist Bryan Burwell died from cancer at age 59. Like so many in this business, I have fond memories of visiting with Bryan in countless press rooms over the years. He had a booming, deep voice and a big personality, and he was always quick with an encouraging word. He was a good dude, and I'm very sorry that he's gone.
Continue reading: Five games to watch this week, Q&A with NJIT's Engles, Seth's Top 25
[pagebreak]
Five Games I'm Psyched to See This Week
Yale at Florida, Monday, 7 p.m., SEC Network
How good is Yale, really? And just how bad is Florida? We'll find out more in this one, but I suspect in the wake of Yale's win over UConn, the Bulldogs' hopes of catching Florida sleeping just got a lot smaller.
Florida 68, Yale 60
Louisville vs. Indiana, New York City, Tuesday, 9 p.m., ESPN
I think Louisville is a real good team, but Indiana is better than people think. I'm not crazy about the Hoosiers' youth, but I'm warming up to their talent, and I think 6-9 junior forward Hanner Mosquera-Perea will be able to guard Montrezl Harrell better than a lot of people. Sure, Indiana is the clear underdog, but that's why they call them upsets, right?
Indiana 77, Louisville 76
Seton Hall at Wichita State, Tuesday, 7 p.m., ESPN2
The good news is that Seton Hall is undefeated and back from the dead. The bad news is the Pirates have to play this game in Wichita a week after the Shockers fell in overtime at Utah. The Pirates have some talented young players, but this program has a long way to go before it can duplicate the culture that it has taken Gregg Marshall several years to build.
Wichita State 75, Seton Hall 63
Illinois vs. Villanova, New York City, Tuesday, 7 p.m., ESPN
Illinois has comparable talent to Villanova, but it is far short when it comes to experience and toughness. The Illini would need some help from Villanova to win a game like this on a big stage, but that help will not be forthcoming. I also like the way Wildcats center Daniel Ochefu is improving.
Villanova 79, Illinois 70
Utah at BYU, Wednesday, 9 p.m., ESPNU
This is one of the great rivalries in college sports. As noted above, any chance to watch Jakob Poeltl is worth getting psyched about, but asking the Utes to win in the Marriott Center is a tall task. You know about high-scoring senior guard Tyler Haws, the nation's fourth-leading scorer, but another senior guard, Anson Winder, is also having a terrific season for the Cougars. Winder is ranked 10th in the WCC in scoring (14.6), he's third in field goal percentage (57.9) and he's second in three-point percentage (51.9).
BYU 80, Utah 75
A Few Minutes With ... New Jersey Institute of Technology coach Jim Engles
SI.com: Your team pulled off the biggest upset of the season by winning at Michigan on Saturday. At what point did you honestly think to yourself you had a chance to win?
Engles: Wow. When it hit zero-zero-zero? This is my seventh year here. It's hard to let down your guard because I've seen a lot of things. At one point in the first half when we were leading, I turned to a fan and said, "Can you take a picture of the scoreboard and put it on Instagram for me?"
SI.com: So what did it feel like when the final buzzer went off?
Engles: Totally surreal. The cop there who was assigned to me, every time we scored I'd look over at him, and he was cheering. At halftime I said to him, "What are you doing?" He said, "I went to Michigan State, dude." After the game, he gave me a big hug.
SI.com: What have the last 24 hours been like?
Engles: I've been humbled by how many people are taking notice. You go through life as a low Division I program and you think nobody cares. We got back on Saturday night and there were about 200 students waiting for the bus in the rain. It really made the whole night. That's something you never forget.
SI.com: The year before you got there, NJIT was 0-29. So why in the world would you take this job?
Engles: I had been an assistant coach for 18 years at Wagner, Columbia and Rider, so I was just happy for the opportunity to be a head coach. It's not like I was in the Big East or a power conference making a ton of money. Columbia was 0-15 in the Ivy League before I got there with Joe Jones, so I think it was eerily similar when I came here.
SI.com: In your first year, NJIT broke the NCAA record for most consecutive losses. Then you finally broke the streak by beating Bryant in your 19th game that season. How would you compare how you felt after that win to how you felt on Saturday?
Engles: Very, very similar. When we beat Bryant, I hugged a couple of players and lingered in the gym, took an extra glance at the scoreboard, just kind of looked around and enjoyed the feeling. When we went 1-30, I got emails from random people around the country saying, "You suck, what are you doing." But I tell people all the time that was one of the most rewarding experiences because of what we went through.
SI.com: You're the only remaining independent in Division I. How difficult is it to fill out a schedule every year?
Engles: It's ridiculous. Honestly, we lose sleep over it. We want to become a better program, but you walk a fine line, because then people don't want to play you. We are building a $100 million facility for our athletics and our student body. That should help us get into a league, but I don't understand why the NCAA hasn't taken more of an interest in this, because out of about 350 Division I schools, there are 300 athletes here that are not experiencing what athletes at the other 350 or so Division I schools are experiencing.
SI.com: You have a wife and two daughters ages 11 and 13. What was their reaction to the big win?
Engles: I called home and my oldest daughter was watching on the Big Ten Network. She said, "Congrats, that's awesome." I said, "Where's Mom?" She said she wasn't home, she was at the mall. So I called my wife and she said she couldn't watch the second half, she was too nervous. So when we won, she was standing in the middle of the mall crying.
This Week's AP Ballot
* (Last week's rank on my ballot in parentheses)
1. Kentucky (1)
2. Duke (4)
3. Arizona (2)
4. Wisconsin (3)
5. Gonzaga (6)
6. Louisville (7)
7. Texas (8)
8. Virginia (10)
9. Villanova (11)
10. Kansas (5)
11. Wichita State (9)
12. Utah (19)
13. Ohio State (15)
14. Oklahoma (20)
15. Washington (24)
16. Maryland (21)
17. Iowa State (22)
18. Butler (23)
19. Northern Iowa (25)
20. Michigan State (16)
21. San Diego State (12)
22. St. John's (NR)
23. Seton Hall (NR)
24. Colorado State (NR)
25. California (NR)
Dropped out: North Carolina (13), Michigan (14), West Virginia (17), UConn (18)
So we finally spilled a little blood last week. I don't keep track of these things (and I hope you don't either), but I'll bet this is the first time since I've been AP voter that I dropped four teams out of the top 20 in one week. The common thread? All four lost at home. The one team I came closest to leaving on the ballot was West Virginia, which lost in the last seconds to LSU. The Tigers are pretty good, but it didn't feel right to rank a borderline top 25 team right after they lost to an unranked team at home. I'm guessing the Mountaineers will be back at some point.
Tyus Jones, No. 4 Duke unflappable in road win over No. 2 Wisconsin
Looking at the top of the rankings, it's unusual for me to leapfrog teams over teams that didn't lose, but Duke's win at Wisconsin was so decisive that I had to install the Blue Devils where I honestly believe them to be -- right behind Kentucky. Those two mark a clear top tier in my mind. The rest of the field is just not in their class right now.
I also don't usually drop teams five spots following a week in which they didn't lose, but I'm probably a little behind the curve with Kansas. Yes, the Jayhawks dominated Florida in the first half, but man did they look bad those first 20 minutes. I still think more highly of Kansas than a lot of so-called experts, and I look forward to their inevitable rise up the rankings as the season progresses.
I was also one of the few voters who gave Washington any love last week. The Huskies validated that confidence by walloping San Diego State at home Sunday night. In fact, I've got a lot of Pac-12 love this week. Utah moved up after beating Wichita State at home in overtime. (Obviously no one intelligent enough to be reading this column would make the case that the order of those teams should be reversed because of that result, considering the game was played in Salt Lake City.) And I plugged in Cal at No. 25. The Bears' only loss of the season came at Madison Square Garden against Texas, and they absolutely embarrassed Syracuse.
Speaking of which, let's welcome two longtime Big East mainstays onto my ballot -- St. John's, which handled Syracuse in the Carrier Dome, and Seton Hall, which is still undefeated. Tonight we're gonna party like it's 1989!
I got a lot of flak on Twitter the last two weeks because I did not rank Miami after the Hurricanes beat Florida. The main reason is that I had a much lower opinion of the Gators than my fellow voters, and Florida's play since then has proved me right. The Hurricanes' 13-point loss to Green Bay at home on Saturday showed that we should all be careful about stating our opinions about these matters with such vehement certitude. Basically, once you get past the top 12 or 13, you can put 14 through 40 in a big drum, pluck them out one by one, and pretty much have as good a ranking order as anyone else's.
I've never voted in Arkansas or Creighton, so I didn't have to figure out what to do with those teams after they suffered losses last week.
Here are the teams that were tied for 26th: Georgetown, Indiana, Illinois, VCU, Notre Dame, Old Dominion and Eastern Washington. That's right, Eastern Washington. Have you noticed the Eagles are 7-1 with a win at Indiana?