Mail: Which mid-majors could bust brackets? Was Gibbs' supension just?
Which mid-major teams will bust NCAA tournament brackets? Is Sterling Gibbs' suspension fair? Seth Davis answers reader questions in his mailbag.
Note: Seth Davis will periodically answer questions posed to him over Twitter, Facebook and emails sent through SI.com. Be sure to check out his Hoop Thoughts column every Monday and to send questions during his Twenty for Tuesday Q&A on Twitter at @SethDavisHoops. Tweets have been edited for clarity. Trolls have not been included.
What unheralded mid-major do you think can bust a bracket in March? — Joe Wright ‪(@Sctvman)
I'm glad Joe used the word "unheralded" because that eliminates Gonzaga, Wichita State and Northern Iowa, all of which are technically midmajors. Here are my top five candidates:
1. Murray State. I ranked the Racers 22nd on my AP ballot this week, so there's no sense in easing up on the accelerator now. Besides not having lost a game since Nov. 29, Murray State could very well enter an NCAA tournament game against a high-major school with the best player on the floor in 6'2" sophomore point guard Cameron Payne. That is usually not the case.
2. Valparaiso. The last team to beat Murray State. Bryce Drew's Crusaders are in first place in the Horizon with an 11-2 record (24-4 overall). Their leading scorer is Alec Peters, a versatile 6'9" sophomore forward who could start for a lot of power conference teams.
Mid-major report: Cameron Payne, Murray State racing to the tourney
4. UC Davis. Besides having a really cool name, the Aggies have been the class of the Big West this season. They have the nation's fifth-leading scorer and leading three-point shooter in Corey Hawkins, a 6'3" senior guard who is the son of former NBA (and Bradley) great Hersey Hawkins.
5. Harvard. I just can't quit these guys. If the Crimson can get the Ivy League bid, they will pose a test to their opponents thanks to their backcourt of Siyani Chambers and Wesley Saunders.
Should I be concerned that the Big Ten isn't testing the Badgers hard enough? — Chris Capade ‪(@Oceanofcapade)
There's not much to be concerned about these days when it comes to Wisconsin. Even losing senior point guard Traevon Jackson has proven not to be overly disruptive because Bronson Koenig has stepped in so seamlessly. As I wrote earlier this week in Hoop Thoughts, I don't believe Jackson will usurp Koenig in the starting spot even after he returns, which should be before the NCAA tournament.
• MORE CBB: Introducing SI's 2015 college basketball All-Stars
To answer Chris' question, no, I don't believe the Big Ten hasn't tested the Badgers enough. Sure, the league is down from where it has been the last few years, but it is still very difficult to go on the road and beat teams, even the teams in the bottom tier. It has certainly posed a bigger test than the one the SEC has been giving Kentucky. When and if the Badgers lose in the NCAA tournament, no one will say that this was the reason.
However, I would also like to point out that back in early January, I got a lot of flak when I started floating the prospect that Wisconsin could go undefeated in league play. They've lost just one game at Rutgers, when they were playing without Frank Kaminsky and lost Jackson early in the second half. We'll never know, of course, what would have happened had those two stayed healthy, and the Badgers could very well stub their toe the next three weeks. But it's not hard to imagine that if the Badgers had been at full strength all season, they would have been perfect in league play.
Thoughts on only two games for Sterling Gibbs suspension? — Kevin Pytleski ‪(@kevinpyt‪)
Seton Hall's Sterling Gibbs ejected for striking Villanova's Ryan Arcidiacono
Kevin is referring to the play that occurred on Monday night, when Gibbs, a 6'2" junior guard at Seton Hall, struck Villanova's Ryan Arcidiacono in the face during a scramble for a loose ball. This may sound weird, but my first reaction when seeing the play was to feel empathy for Gibbs. It was an awful mistake, and in today's age of social media and viral video, it is one that he will never completely live down.
As I saw replays of the incident, I wondered if somehow Gibbs wasn't at least trying to make a play on the ball. But a second angle showed that that was not true. Arcidiacono was gripping the ball at his waist. Gibbs plainly brought his fist squarely onto Arcidiacono's forehead. Gibbs' later tweets confirmed that this was an act of emotion, not competition.
You can quibble with the length of the suspension—personally, I would have gone with three games—but the consequences for Gibbs will go well beyond those two games. This is something he will never live down. That aside, it was really inspiring to see not only the contrition Gibbs evinced on Twitter, but also the forgiveness Arcidiacono offered in response, saying they were "all good." This was one of many examples where the "kids" comported themselves better than a lot of grown-ups. I'm sorry the play happened, but in an age of hating, trolling and petty feuds between millionaires, I'm grateful that two young college students behaved like mature adults and defused an unfortunate situation.
Duke-North Carolina: Classic Photos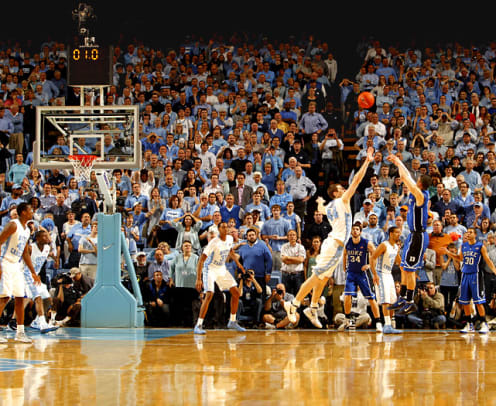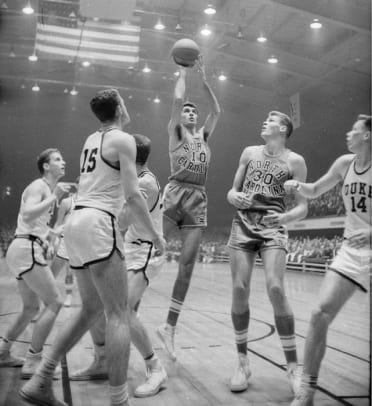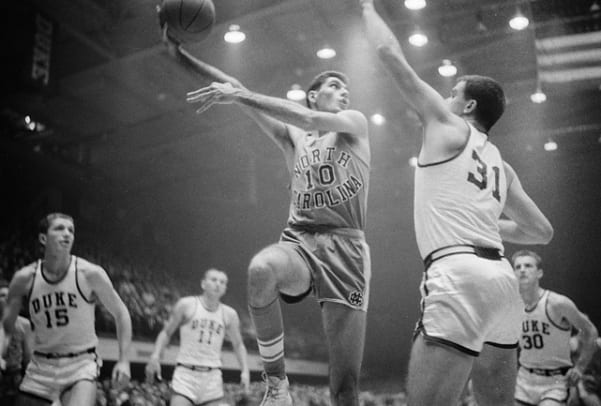 Where does Purdue-Indiana rank on the rivalry list in college basketball? 2 or 3? — AllMySportsTeamsSuck ‪(@AMSTS‪)
Rank? You want me to rank? You know I love lists.
Three things make a great rivalry: History, proximity, and competitiveness. The programs have to be good, and the games have to matter. Here are my top five:
1. Duke-North Carolina. The Blue Devils' overtime win on Wednesday night was yet another classic installment, but the moment that will be most remembered is the pregame huddle at midcourt that honored Dean Smith. There's a lot of hatred in this rivalry, but there's a lot of love, too. It's a brotherhood.
On emotional night, Duke-UNC delivers the latest classic in rivalry
2. Kentucky-Louisville.
3. Purdue-Indiana. It has been a long time since both these teams were ranked highly when they faced off, but it's hard not to shake off memories of Gene Keady vs. Bob Knight when they do. (Or Ward Lambert vs. Branch McCracken, for that matter.) It's the most important game in the greatest basketball state the world has ever produced.
4. Cincinnati-Xavier. Similar to Kentucky-Louisville, the Crosstown Shootout, which Xavier won Wednesday night, is great theater between schools that play in different conferences. I'm glad the schools ignored calls to end the series or put it on hiatus after a nasty brawl married the finishing moments of the 2011 game.
5. Kansas-Missouri. I realize the Border War, which evokes Civil War-era hostilities, no longer takes place because Missouri moved to the SEC and Kansas doesn't want to continue it. I don't blame KU for its stance, but I figure it's just a matter of time before the series is resumed. I just hope I live long enough to see it.
Best team from a pool of any UConn, Kentucky, UNC, Kansas, or Duke teams from the past 15 yrs. Which would it be? — Jaspreet Mankoo (‪@HalfCourt_Jitu‪)
Look, Mom, I get to make another list! I'm going to push this back to cover the last 30 years to make it more fun (and challenging). Here you go:
1. Kentucky '96. Still the best team I've ever covered. Pitino's roster of racehorses went so deep that Nazr Mohammed was the 12th man. Tony Delk, Walter McCarty, Ron Mercer and Antoine Walker and company dominated the season from wire to wire.
SI.com experts pick their Best Team Not To Win A Title
3. Kentucky '12. Even while the Wildcats were winning a lot of games en route to a 38-2 record, they grew to championship caliber in February, when Anthony Davis because Anthony Davis.
4. North Carolina '09. The Tar Heels went 34-4, won the title, and featured one of my favorite alltime college players in Tyler Hansbrough.
5. UConn '04. The Emeka Okafor-Ben Gordon-Charlie Villanueva squad was the best of Jim Calhoun's three titleists.
6. Duke '01. Jay Williams, Carlos Boozer, Mike Dunleavy and Shane Battier on the same team? Sounds like an NCAA champion to me.
7. North Carolina '05. Sean May was an unstoppable force in the NCAA tournament, especially with the likes of Ty Lawson feeding him and Rashad McCants drawing away the defense. It will be interesting to see if the NCAA vacates this title after it completes its investigation into the basketball program's relationship with paper classes.
8. Kansas '97. This was Roy Williams' best team in Lawrence, even though it lost in the Sweet 16 to Arizona. Jacque Vaughn ran point for a frontline that featured Paul Pierce, Raef LaFrentz and Scot Pollard.
9. UConn '99. This team didn't have a lot of future NBA star power (aside from Richard Hamilton), but it went 34-2 and won the title.
10. Kansas '08. Mario's Miracle helped put the Jayhawks over the top in the thrilling title game against Memphis.