Revisiting the remarkable legacy of John Wooden, the greatest coach of them all
John Wooden compiled possibly the greatest legacy of any coach in history. How he defined success was central to his philosophy.
When John Wooden was a high school English teacher in South Bend, Indiana, during the 1930's, he grew disenchanted when he saw how much the parents fixated on their children's grades. Wooden believed this was foolhardy thinking. For a student who was not particularly gifted in a certain subject, a B should be considered a fine grade. For another who had more natural ability but did not work as hard, a B should be deemed less than satisfactory.
Wooden was a lover of the English language himself, not to mention a burgeoning amateur poet. As he ruminated on the meaning of the word "success," he devised his own definition: "Success is peace of mind that comes with the self-satisfaction in knowing you did your best to become the best that you were capable of becoming." Wooden may have become the most "successful" coach in the history of college basketball, but he never lost sight of what that word did, and didn't, mean.
From 1964 to 1975, Wooden's UCLA teams won 10 NCAA championships. That remains an all-time record that is likely never to be broken. Yet, even though he collected more titles than any other coach, he rarely used the word "win" while talking to his players. He wanted them to focus on process, not results. He thought their emotions should remain on an even keel, so he kept his pregame locker room speeches short, to the point, and mundane. He never provided them with detailed scouting reports on their opponents. Once the game began, he didn't want them looking over to the bench for instructions from him. He rarely called time outs. As their coach—their teacher—he believed his work was mostly done during practices. The games would be their final exams.
Most Innovative Coaches in NCAA Basketball History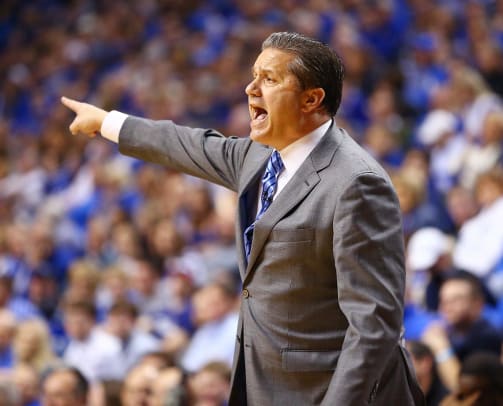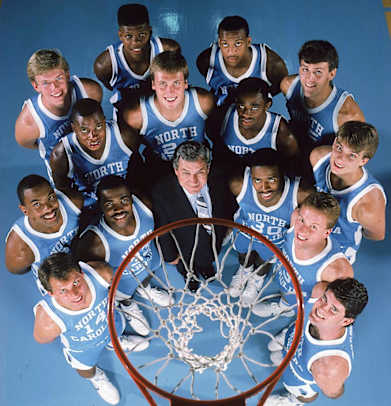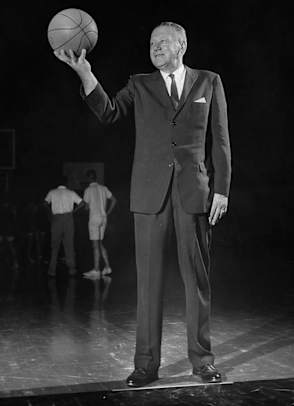 This approach to coaching has often been misconstrued as evidence that Wooden didn't care about winning. That was far from true. He was fiercely competitive, and in his early days at UCLA he developed an unflattering reputation for berating officials. Wooden didn't avoid the word "win" because he didn't care about the final score. He did it because he thought it would alleviate pressure, keep his players in the moment, and give them their best chance to maximize their potential. If he had better players, and they played at their best, then he was confident they would win. If they played their best and lost, he could live with that.
In may ways, Wooden was a Zen master before anyone had heard of that term. He tried to stay in the precious present, and he wanted his players to do the same. "There was total structure and complete freedom," said Bill Walton, who was the star center on two of Wooden's championship teams, in 1972 and '73. "He never used the blackboard. We never had a play. There was no number one, no fist, no slash, no come-up-the-court-and-do-this. There was none of that. He never started practice with the word, 'what do you guys want to do today?' But he never held us back."
Enter Here
Cousin Sal Bets The House
Fill out a perfect bracket, win Cousin Sal's L.A.-area home.
When it came to style of play, Wooden was well ahead of his time. Many of his coaching peers preferred the slow, grinding, defense-oriented style used by men like Oklahoma A&M's Henry Iba and Kentucky's Adolph Rupp. Wooden, however, had learned the game while playing for Ward "Piggy" Lambert at Purdue, where Wooden was an All-America guard from 1929–32. Lambert stood only 5' 5", yet he had been a feisty player himself for Wabash College in Crawfordsville, Indiana. Basketball was a slow game in those early days—besides being many decades away from the shot clock, the rules called for a jump ball after every made basket—yet Lambert was one of the first proponents of an up-tempo pace that emphasized quickness over size. At the time, that style of play was referred to as "fire wagon baskeball." Lambert called it the "fast break."
Wooden was devoted to that style of play throughout his coaching career, but he understood from the start that it would only work if his players were in top condition. This also dovetailed with Wooden's emphasis on maximizing potential in areas you can control. A player is unable to increase his height, and there is only so much he can do to augment his quickness, but he can work hard to make sure he is in better condition than his opponent. After running his guys ragged in practice, Wooden created a fast tempo during games, and his teams typically won games in the final few minutes because they were in better shape. With that style, Wooden was able to win his first NCAA title in 1964 behind a full-court press and a starting lineup that did not include a player taller than 6' 5".
Oregon's Jordan Bell captains Sports Illustrated's 18th annual All-Glue Team
That 1964 team—and specifically the dynamic backcourt of Walt Hazzard and Gail Goodrich—was also a prime example of Wooden's ability to tailor his motivation techniques to each player, depending on their personalities. Goodrich was sensitive, so Wooden had to give him lots of pats on the back. Hazzard was tougher and played better when he was angry. So Wooden had to pat him "harder and lower," as he liked to say.
In his later years, Wooden had to find different ways to communicate with Lew Alcindor and Walton, who were arguably the two best players in the history of college basketball but had vastly different personalities. And towards the end of his career, as he faced the campus tumult of the late 1960's and early 1970's, Wooden expertly navigated the delicate balance between remaining true to his principles while still adapting to the times that were a-changing.
All too often, Wooden was robbed of his peace of mind during his championship years as he faced unfair criticisms from the press and outsized expectations of the fans. He lost sleep, suffered a heart attack, and enjoyed the job less. That led him to announce his retirement before the final game of the 1975 NCAA tournament, even though he was still as good at his job as ever. That tournament ended with UCLA claiming Wooden's tenth and final title. The former high school English teacher always maintained that one of the most important words in the English language was "balance." It wasn't always easy for Wooden to maintain his even keel, but over the course of more than three decades, he walked away with his balance intact, and a success by any definition of the word.