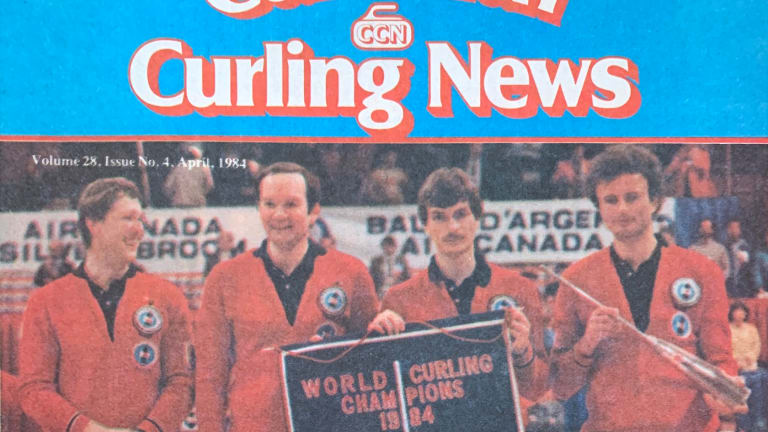 World Men's Curling April 8 Throwback(s)
On this amazing day in world curling history ...
On this amazing day in world curling history ...
The office was in the mood for a #ThrowbackThursday. But if one is to really embrace the spirit of #TBT, one should really throw it back. Hard.
Let's do exactly this, by looking at historic April 8 dates in world men's curling history.
In terms of championship finals, all of 'em. Five of the 62 world men's shootouts to date have finished with gold and silver (and sometimes bronze) given out on April 8. 
Let's get it on.
DULUTH 1984
The first was at Duluth, MN—the home of future Olympic champions John Shuster and Tyler George, aka the U.S. Curling Ambassador. Both Shoostie and Ty were one-and-a-half years old during that one.
Norway's Eigil Ramsfjell won the title, defeating Switzerland's Peter Attinger 8-5 in the final. There was no bronze medal playoff back then, so the losing semi-finalists were Canada's Mike Riley (who lost to the Swiss 9-8) and Sweden's Connie Ostlünd, who fell 5-3 to Ramsfjell.
Ostlund had won the round robin with a 7-2 won/loss record, same as the Attingers, while Norway and Canada placed 3-4 with 6-3 records.
As it happens, Tyler George has a cool banner from the 1984 worlds now hanging in his TV room.
LAUSANNE 2001
The Swiss city was gorgeous, the event was solid and Canadian TV curling host and pseudo-icon Vic Rauter was in his element as Randy Ferbey took his Edmonton squad—soon to be dubbed the Ferbey Four—into the semifinals against the host nation's Christof Schwaller.
But a series of hogline calls by the on-ice officials saw multiple Canadian stones pulled from play late in the game, infuriated the Canadians, who went on to lose 6-5. It's still a sore spot 20 years later.
The other semi saw Sweden's Peter (soon to be Peja) Lindholm defeat Norway's Pal Trulsen 4-3, and Lindholm went on to beat the Swiss 6-3 in the championship final, scoring his second of three world men's titles.
Less than a year later, the Trulsen foursome would win Olympic gold when Kevin Martin's draw for the win was a touch heavy.
Lausanne also marked the sixth world appearance for Finland's famed skip Markku Uusipaavalniemi—he competed at 11 worlds in total, and famously won Olympic silver in 2006.
EDMONTON 2007
It was supposed to be an Edmonton curling team—or at least Albertans, for heaven's sake—representing Canada that year. Instead, Glenn Howard's Ontario machine roared in to town as the home team … and promptly endeared themselves to the crowd by wearing cowboy hats in a pregame ceremony. 
It was a wipeout, really. Canada went 10-1 in the round robin, losing only to Todd Birr of the U.S. in a horrific 10th end shmozzle. Howard then thumped Birr 7-2 in the page playoff 1 versus 2 match, while Germany's Andy Kapp beat 6-4 in the 3 versus 4 game before dumping the U. S. 6-4 in the semifinal. Kapp had previously won two tiebreakers, over Finland's Uusipaavalniemi and Sweden's Lindholm.
Canada walloped Germany 8-3 in an eight-end championship final.
BASEL 2012
Back to Switzerland five years later and it was another trip to the worlds for Glenn Howard, this time with old pal Wayne Middaugh at third stone in place of Richard Hart.
The Canucks went 10-1 again, losing to New Zealand this time. The 3 versus 4 matchup saw Niklas Edin—addled by a wonky back—defeat Norway's Thomas Ulsrud 8-6, while Howard edged Scotland's Tom Brewster 7-6. Sweden lost the semi 7-6 and the victorious Scots played tough in the final, falling to Canada 8-7 in an extra-end.
This marked Howard's fourth career world championship crown, and second as a skip. He also won the 1987 and '93 titles as third for his brother Russ.
It also marked Edin's fourth world appearance; he would win his first gold medal the next year in Victoria, Canada, his first of four titles to date.
Youthful Swiss thrower Benoît Schwarz was the Swiss alternate, and was called into action when skip Toni Müller was demoted to lead. Schwarz, who looks remarkably the same as he did nine years ago (photo below) ended up throwing fourth stones in six of Switzerland's matches.
LAS VEGAS 2018
This is where we see more of today's crop of high-performance international curlers appearing on the scene, from Scotland's Bruce Mouat (who finished 11-1 along with Sweden's Edin) to Norway's Steffan Walstad, and from Italy's Joël Retornaz to Holland's Jaap Van Dorp. One of Germany's Alex Baumann squad members is also competing this year in Calgary.
In one semifinal, Sweden defeated Korea's Chang-min Kim 9-8 in an extra end, after Kim had eliminated Norway in a qualifier. In the other semi, Canada's Brad Gushue took out Mouat 9-5 after qualifying with a win over Rich Ruohonen's U.S. foursome.
Mouat scored his first world medal—bronze— with a win over Kim before Edin made it three of four world golds with an emphatic 7-3 victory over Gushue.
Let it be said here and now that Niklas Edin's beard game was on point that year.
Others who made marks that year include Russian lead Evgeny Klimov, who threw two perfect games—100% in official shooting statistics—for skip Alexy Timofeev. Klimov is now throwing third stones in Calgary for RCF skip Sergey Glukhov, who was the Russian third man in 2018. 
Another was Norwegian second Magnus Nedregotten, who is now a mixed doubles specialist and Olympic bronze medallist in the discipline.
Now back to your increasingly tension-wracked 2021 world men's rockfest.
(That was fun. Let's do it again sometime.)