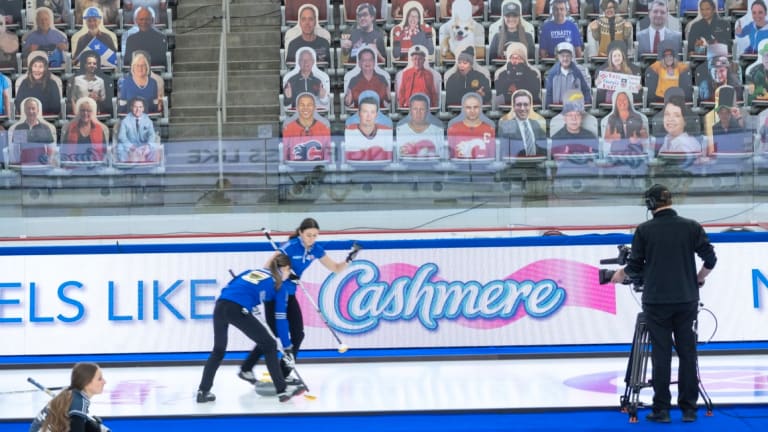 Let The Curling Wash Over Me
It's an 11 out of 10 in excitement.
OMG there is curling on TV. I am 11-out-of-10 excited to leave for the Brier in a few weeks, but for the next 10 days I will be watching the Scotties Tournament of Hearts, the Canadian Women's Curling Championship.
Seriously, I have never been so excited to watch women's curling in my life. In a normal year, I would watch the Scotties selectively, watching only the occasional game during the week and then most of the playoffs. But this year is different. I am not likely to leave my house very often in the next few weeks, so there will pretty much always be curling on for three draws a day, even if only in the background as I work.
I could be wrong, but there seems to be an insane level of anticipation and social media buzz around this year's event. I mentioned in an earlier blogpost that this could be the most-watched Season of Champions ever, as this is providing welcome relief to the curling world which has essentially not had a lot to feel good about in a while.
This just feels good.
*   *   *
What should we expect as fans?
First, the atmosphere.
This event is in the bubble. It will be weird. There are cardboard cutouts of fans instead of fans, and cardboard cutouts don't cheer great shots. There are no fifth-end interview. There are no handshakes, no patch or lounge, and no SOCIABLES.
But I think it will work. Most curlers have spent much of their lives curling in clubs, where the fans are usually on the other side of a window. Will it be that different to have them watching on TV instead? I think it will feel normal for the players on the ice. It might not feel like the Scotties, but it will feel like a curling tournament.
Second, will it be as cool as a normal Scotties? No.
Is it a million times cooler than what most of us have been doing for the last 11-12 months? Hell yes.
By the way, I absolutely love the uniforms. Dynasty Curling has done a crazy good job recreating a vintage curling look with modern materials. I await my box of Brier unis with bated breath, hoping the men's designs are as cool.  
Third... the format.
This year the event features 18 teams, as Curling Canada didn't want to leave anyone out during the pandemic. Strangely it did end up excluding a couple of big name teams in Alberta's Kelsey Rocque and Saskatchewan's Robyn Silvernagle, who were left on the sidelines because they had just shuffled their team lineups prior to the season. Unfortunate for them.
The field of 18 is split into two pools of nine. The top four advance to next stage where they play the top four from the other division. Then the top three end up in the playoffs. No Page Playoff system this year.
Fourth: Who are the favorites?
The Big Four are Kerri Einarson, Jennifer Jones, Rachel Homan and Tracy Fleury (skipped by Chelsea Carey). It will be tough for anyone other than the top four to win this week. I would give 10-1 odds against someone outside the top four winning (if I were the kind of person that bets on curling!).
Tough to bet against Einarson. They looked great last year, winning in dramatic fashion in an extra end over Homan. They are without a doubt the odds-on favorite.
Rachel Homan would normally be my pick, but she finds herself seven months pregnant at the event this year. I honestly have no idea how this will affect her. I played a mixed provincial with my wife who was five months pregnant at the time and playing lead; she played well except for having to pee about every 10 minutes during every game.
Fleury/Carey: Tough to bet on a team that has never played a game together, but weirder things have happened. Carey is a pro and can likely take over and start playing well from the first minute. The strange fact is that when you pick up a new player, there is usually a honeymoon period before you get on each others' nerves. Sometimes new is an advantage.
Jennifer Jones: JJ will surely be around for the playoffs. I think their experience will pay off in this wacky environment.
Other storylines:
I'm eager to see Zacharias, the junior champ from Manitoba. Despite their lofty pedigree, I think they will find it tough, and will take a bit longer to get going. They have very little experience in women's curling, and the Scotties ain't juniors.
I will be cheering hard for Quebec's Laurie St-Georges. They are good people. They work as hard as any team I have ever seen. They are as dedicated as any team I have ever seen. There is no doubt they will be good and will contend, it is just a question of when. It might be a bit soon to expect that for this year, but this is a great no-risk chance to learn and get better. I can't wait to watch them.
Laura Walker's Alberta team is a bit of an unknown, but I am always partial to tattooed toe-tuckers. I rank them just outside of the top four, and likely to make the final eight.
Kerry Galusha will surprise some teams. They have played well since adding Joanne Rizzo to the mix, and they have actually curled a few games this year!
I hope that a team from the Atlantic provinces does well, if only because they will be forced to quarantine for two weeks when they return home! Suzanne Birt and Jill Brothers have the most potential to crack the final eight.
Who wins?
I pick Jennifer Jones to use her experience and guile to beat Einarson in the final, 7-6.
*   *   *
A quick update on my team as we prepare for the Brier.
Unfortunately, restrictions in Quebec have limited our ability to practice in Montreal and Quebec City since the Jan. 8. I am still forced to be the #practiceninja, stalking outdoor rinks and abandoned curling clubs to find practice ice. More to come on this in a future blogpost.
In the meantime, let's all sit back and enjoy some curling for the first time in forever. It was almost a year ago that I was at the Brier in Kingston (unfortunately in the stands, not on the ice), just before all things fun and sociable came to an abrupt end. I miss it dearly, and this week already feels like a much-needed return to fun.
So I shall pour myself a rye and coke, make some popcorn and surrender to the dulcet tones of TSN's Cheryl Bernard and Russ Howard talking strategy. I will let the syrupy-smooth voice of host Vic Rauter wash over me, covering me like a heavy blanket on a cold day.
Make the final ...