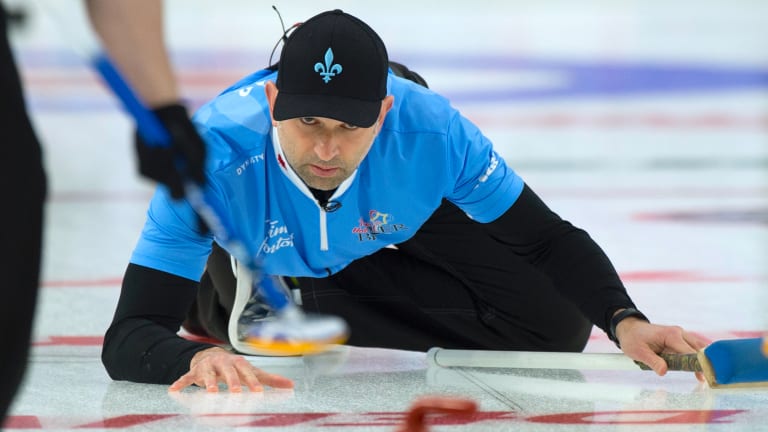 Return from The Bubble Brier
The strangest curling season I will likely ever know has come to an end.
The strangest curling season I will likely ever know has come to an end.
My 2020-2021 season consisted of a total of eight curling games, all played on the biggest of stages in front of a handful of officials and a panoply of cardboard cut-outs.
Now that my season is over and I have returned to my "normal" existence, I can look back at what was the weirdest of seasons.
First, there was a fall of cancellations and frustrations. We went from the excitement of a full season of cashspiels planned across four provinces to the disappointment of realizing it was all cancelled, weeks before we were to leave for our first tournament.
Then there was practice. Lots of practice. Practice without even knowing what we were practicing for. There were rumours they would still try to run a Brier, but who knew anything? My kids were in online school, restaurants and bars were closed, all sports were cancelled, and we had been confined to working at home for months. Would there even be a Brier? And if so, who gets to go?
Then some announcements, first in December that there would be a Brier, then after Christmas that we had been chosen to represent Quebec! While I was glad to have discovered my hours of practice were not in vain, the news also came at the same time as the province shut down. As of January 8, all curling was forbidden, and there were no exceptions—at least none for us.
So despite our Brier in March, we would not be allowed to step on the ice between Jan. 8 and Feb. 27, two days before we would leave for Calgary. Awesome!
This video shows how we trained:
Then we needed to test. And test. And test again. JF discovered that having an oft-broken nose from hockey is not conducive to easy PCR Covid testing. And I discovered I apparently have a very sensitive gag reflex. All of this to confirm, and re-confirm, that we were Covid-free.
Then we needed to isolate. First at home for two weeks, then in a Calgary hotel room. Two days of room service and Netflix. We had a team Zoom call dinner, despite all being within 50 feet of each other in separate rooms.
But then the payoff. On the Friday we got an all clear from our test results, and we were good to go. We got to take off our masks and curl against the best teams in Canada.
Calgary's Markin-McPhail Centre, and the Olympic site surrounding it, are stunningly beautiful. This is the home of the national ski-jumping team, the snowboard half-pipe and mogul training. We would drive by people skiing and snowboarding everyday to get to the curling. The arena itself is smallish yet incredibly modern. I'm guessing it holds around 2,000 fans, although there would be none. There were only cardboard cut-outs (I swear I heard them talking to me sometimes) and a small army of volunteers and officials.
The curling itself was an absolute blast. If my entire season was going to last just one week, then we were going to go all out. Our team motto was: "On est pas venu icitte pour bunter" or, loosely translated, we didn't come here to bunt ... we would go down swinging for the fences.
All our games were all fun, and we never felt outclassed.
Our lone televised game versus Nova Scotia was if nothing else entertaining, as well as incredibly frustrating. Against Gushue and Koe we were very well positioned until a few late misses sealed our fate.
We finished a respectable 4-4. We let a couple of games get away from us and won one match we were not "supposed" to win, against Epping. We beat all the teams we were expected to beat. All in all, a good week.
And in the context of 2021, spectacular. We spent the week in compete awe of the fact we were CURLING, and that we were the luckiest four—or six with Will and Ben—curlers in Quebec.
Hell, I was just excited to be able to eat in the hotel restaurant, as Quebec restaurants haven't been open since last summer. Sitting and having a few beers with friends in a bar while watching sports on TV was like heaven. On our last night we took advantage of that privilege.
Meanwhile, Curling Twitter has been ablaze with numerous comments about TV games, and the entertainment level of the games shown.
A few of the televised feature games showed one team trying to play, while the other team blanked and blanked and blanked. While many of the blanks usually were the result of some impressive hitting, I think even the cardboard cut-outs were napping after five ends of scoreless curling.
I think this will inevitably raise questions of further rule changes. The fact is, the aspiring "pro" teams will often be the least fun to watch, as they take less risk to keep control of games. While having your second make a triple-peel to get rid of all guards is impressive, the fact is it makes for lousy television. The rest of the end has all the drama and excitement of a library visit.
Some food for thought for the "pro" teams: If your goal is to make the game less risky and less exciting once you have a two-point lead, why do you expect sponsors and fans to shell out money to watch? The New Jersey Devils won the Stanley Cup in the mid-90s by playing a boring and defensive style of play, but they seriously hurt the game in the process. The "trap" put teams and fans to sleep, leading to games with no flow. Big hit curling teams do the same.
Don't get me wrong, I know how tough it is to do this. And with the stakes as high as they are, it's naïve to think teams will not do whatever it takes to win. I think we'll need to invent some new rules at the elite level to protect the best teams from themselves. Maybe a no-tick zone, or perhaps the blank end should be banned. I know this would change the game, but probably not as much as the four- or five-rock Free Guard Zone rules. Either way, if curlers are hoping to be able to make a living at the game, they have to figure out a way to put on a better show.
The fact is, when teams decide to play—like in a last end—the curling is awesome. Like the 10th end of the Bottcher-Dunstone semifinal. When both teams want to play, it is spectacular.
*     *     *
In closing, there are a number of thank-yous that feel especially relevant this year.
Thanks to Curling Canada for pulling off what will be remembered as one of the greatest Briers (and Scotties) ever. Creating an incident-free bubble in the context of the current crisis is nothing short of miraculous. Having lived through it from the inside, I can assure you all that you have no idea how much work, preparation and diligence went into planning this event. And it all worked.
The ice, as would be expected, was amazing. To all the ice techs, who took on the isolation and health risks to deliver Brier ice; I say a sincere thanks.
To Curling Quebec, for giving us the honour of representing Quebec on this stage and for the support and effort.
To our sponsors, especially Hardline and RBC Dominion Securities for standing by us this year. We honestly can't wait to get back on the ice next year.
To the folks at Glenmore, Pointe-Claire, Victoria, Val d'Or and RCMP Curling Clubs who kept the lights on the compressors running so we could practice as much as possible this season. The motto on our Quebec jackets says Je Me Souviens, and trust us, we will remember.
To my teammates. I have the best team a 49-year old journeyman curler could possibly ask for. I am heartbroken that we only get to curl eight games together this season; I can't wait until next year.
Lastly ... thanks to all our fans who reached out with words of support during the Brier. I can't tell you what it meant, to know that we were not alone, especially in an empty arena under the strangest of conditions. We are so grateful for your support.
I am now pouring a rye and coke and thinking about mixed doubles.