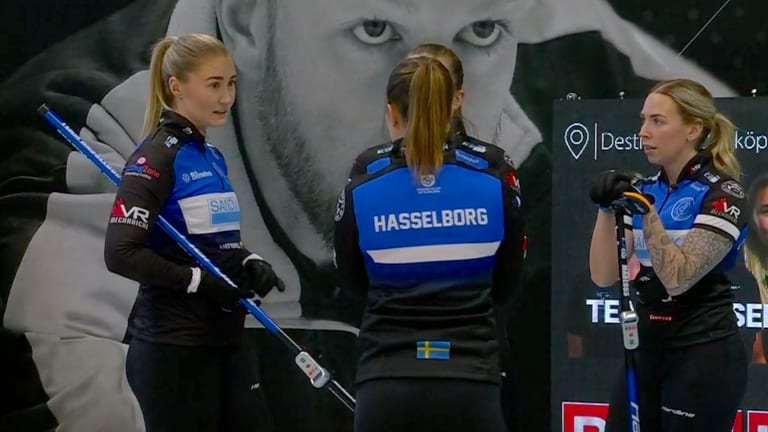 A Brief History of Curling's Battles Of The Sexes
Women versus men is a Roaring Game pastime.
Super Bowl Sunday morning provided the curling world with a much-needed jolt of high-performance action, as Sweden's much-decorated men's and women's squads locked horns in a Mästarmötet aka "master meeting."
It proved to be another so-so Battle of the Sexes between Niklas Edin's multiple world champions and Olympic medalists and Anna Hasselborg's multiple world champions and Olympic gold medalists. But the tilt, which attracted some 529,000 viewers on Sweden's SVT channel–with an average three-minute reach of 1,117,000– was a truly professional production.
Before we delve briefly into the history of such male versus female curling clashes, here's a few things to note about the Mästarmötet.
1 "SWEROCK" is clearly the best name for a Swedish curling sponsor. Ever. And Bauhaus, incidentally, was the greatest goth-rock band in history.
2) Strategize amongst yourselves as much as you like … but Niklas is always watching.
3) Yes, the pandemic has accelerated virtual coaching.
One can still view the match online here ... for how long, who knows.
As one might now assume, curling has displayed its fair share of gender face-offs. They were first hyped during the golden age of corn brooms and cigarette ash.
Next came Eddie "The Wrench" Werenich and his alleged feud with Marilyn Bodogh (neé Darte). The brash kilt-wearing, straw-chewin' Bodogh loved all forms of promotion and when her team won the 1986 Canadian and world women's championships they challenged Canada's men's Brier champions, skipped by "Fast Eddie" Lukowich, to a battle.
It took place during the 1986 men's worlds in Toronto. Lukowich had obviously begged off (he had a world title to capture) and so The Wrench stepped in.
When the Burlington ladies came out for the match–which was televised live on the fledgling TSN network and scored strong viewer numbers–they danced around amid applause. When the Toronto-based Wrenchmen marched into the arena, however, Marilyn had been clearly one-upped.
The boys, accompanied by a female "coach" in a tight T-shirt along with champion boxer Sean O'Sullivan, wore fire helmets with rotating red lights on them (Werenich and lead Neil Harrison were firefighters). Eddie himself more a massive king's crown and a long red fur-lined cape. Gaudy? Wonderfully so.
(For reasons that escape your scribe's memory, Werenich third Paul Savage was replaced by Al Hackner third Rick Lang for the match, although Savage did make a disruptive cameo appearance mid-game, wearing a kilt and a tall chef's hat.)
Ten years later, Bodogh again represented Canada at the 1996 worlds, this time in Hamilton, Ont. and to help hype the event, agreed to a rematch with the Wrench. Amidst winning the title again, she reunited her 1986 squad for the exhibition, this time attired in hot pink body suits.
In 2005, Randy Ferbey's Edmonton crew took on Winnipeg's Jennifer Jones at the Keystone Centre in Brandon, Man. Sportsnet televised it to announce the new CurlTV streaming service. Earlier, another exhibition match was used to test the systems, and featured the 2005 Canadian Junior champions in battle: Saskatchewan's Kyle George versus New Brunswick's Andrea Kelly (now Crawford).
Two high-profile contests then took place north of Toronto at Casino Rama, the initial site of the relaunched TSN Skins Game.
In 2009, Jennifer Jones joined the Skins Game to take on the likes of Ferbey, John Morris and Glenn Howard. She battled Howard in the first semifinal.
Two years later, it was Cheryl Bernard who got the call. Her 2010 Olympic silver medalists battled Kevin Martin out of the gate and, unlike most previous male versus female tilts to date, the ladies played great … and arguably could have won. Martin's men ended up with a narrow $11,000 to $10,000 victory, and went on to defeat Scotland's David Murdoch in the final.
Perhaps the greatest peek into men versus women took place at Victoria in 2016, when Rachel Homan's Ottawa powerhouse joined nine men's teams for the Elite 10, a tourney no longer on the Grand Slam event schedule.
Not only was this a more serious event–not merely a televised exhibition–but the Homan squad provided a sample size of not one but three games, all against top men's competitors. On the down side, the Elite 10 used a match play system in which scoring was based on ends won, rather than points scored. An end was won by stealing or scoring two with the hammer, similar to skins curling–unlike skins, however, there were no carry-overs.
So ... how did the Homans do?
In their first pool match, the Ottaweans fell 4-0 to Toronto's John Epping.
In game two, Rachel and Co. won 2-1 over Calgary's Charley Thomas.
In their third and final match, Brad Gushue's foursome earned a 3-1 victory. The Gushues ended up beating Winnipeg's Reid Carruthers 4-3 in the final.
So there's your history. Which doesn't include, of course, the multitude of "Battle of the Sexes" bonspiels and fun nights that are part of so many curling clubs around the world–perhaps not this year, due to the pandemic, but surely again in the future.
The fun shall continue.