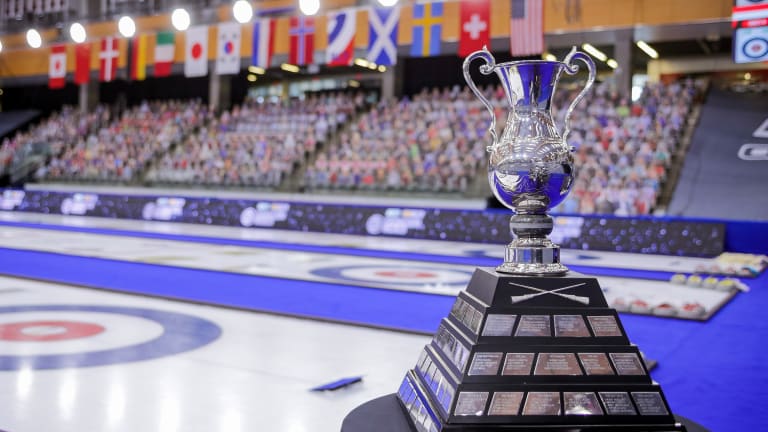 Game On: World Men's Curling Playoffs Confirmed
One athlete from the playoff teams cannot compete further.
The World Curling Federation has now confirmed a story by The Curling News/Sports Illustrated that indicated the 2021 world men's curling championship playoffs are back on for Sunday—all systems go.
After the complete shutdown, the event been given permission by Alberta Health to continue .
One unidentified competitor on the playoff teams, however, will not be able to compete further.
The confirmation came today from the World Curling Federation following a late Saturday night directive sent to the athletes preparing for next week's Grand Slam of Curling event, which we reported on this morning.
"A further fourth positive test involving an athlete from a playoff team was received on Saturday (10 April) morning," read the WCF release.
"All athletes, coaches and event officials deemed to be in close contact with athletes within the bubble, were tested on Saturday morning, with every test coming back negative.
"Despite that negative result, the player who had previously tested positive — and had that result run through confirmatory testing to ensure it was a true positive — will not be able to participate in the remainder of the championship due to Alberta Health regulations."
After two nights and one day of isolation, COVID-19 testing and anxiety, the world men's championship hopefuls are now set to perform. USA's John Shuster and Switzerland's Peter de Cruz are up first, battling at 1:00 p.m. eastern time.
The winner will advance to the semifinals where Scotland's Bruce Mouat—who eliminated Canada's Brendan Bottcher on Friday night—awaits, along with table-topping Sweden (defending champion Niklas Edin) and RCF (Sergey Glukhov).
The semifinal matches are set for 6:00 p.m. ET and the championship final goes late at 11:00 p.m. ET.
"You're so excited to part of an event," said Scotland's Eve Muirhead, currently in quarantine at the Slam athlete hotel. "You're here and you're set to go. Then, you wake up and you have messages and the curling world's news is going mad.

"We've just gotta hope—and fingers crossed—that it doesn't affect us too much.

"They're taking this very, very seriously and rightly so."
Following Friday night's stunning announcement of positive tests, the first in nearly seven weeks of curling competition in the Calgary bubble, a new round of COVID-19 PCF tests had been conducted Saturday morning. However, only partial results were available in time for a World Curling Federation news conference hosted Saturday afternoon.
That conference revealed four positive cases had developed among three different world championship teams. All cases were asymptomatic. Another four teams were identified as close contacts. 
Despite the troubling news, event doctors were optimistic—and almost bullish on the chances the world men's championship playoffs could resume on Sunday.
"There are unknowns that we need to sort out, but I'm confident that (the playoffs) will resume," said event chief medical officer Dr. Bob McCormack. "I'm hopeful that not only will we be able to finish this event—that's a moving target—but that we'll be able to re-establish a new bubble for the next events that is safe."
The Grand Slam directive sent to athletes late Saturday night added to the optimism. The player instructions said the World Curling Federation's Saturday tests had come back negative, and that further test results are still outstanding "which we do not believe will impact our ability to move forward (next) week."
The bulletin further instructed athletes to arrive as scheduled on Sunday at their hotel—separate to the hotel used by the world championship athletes and coaches—for isolation periods, testing and wellness checks onsite.
The Grand Slam's Champion's Cup runs Apr. 14-18 at Calgary's curling bubble and will be immediately followed by the Slam's Players' Championship Apr. 20-25.
The World Curling federation and Curling Canada then return for the rescheduled women's world championship, the final event in the 10-week event series, Apr. 30 to May 9.
World men's teams that are staying in Calgary for the two Grand Slam events are Scotland, Sweden, Switzerland and Canada. They will be joined by Switzerland's Yannick Schwaller, and seven other Canadian teams. A field of 12 women's teams will also compete in the Slams, with some of those teams staying on for the world women's championship.
But the main takeaway for curling fans is quite simple … the Calgary bubble's leak appears to have been plugged—according to Alberta Health—and curling is back on the ice.