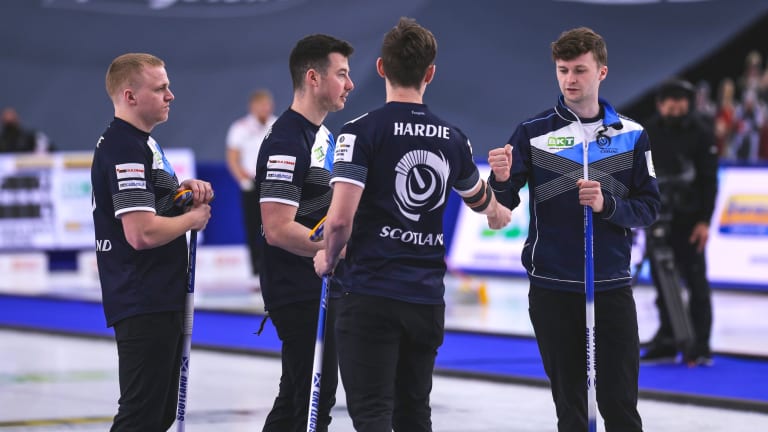 Grand Slam a Possible Go, World Men's Playoff Decision Imminent
Optimism High as Sunday Dawns
Grand Slam of Curling event organizers are optimistic their two championships will be conducted starting Thursday, giving hope that the playoffs of the 2021 world men's curling championship might be completed today.
The news comes from a directive sent late Saturday night to athletes by the Grand Slam organizers. It said that COVID-19 tests conducted Saturday morning on the world men's competitors had come back negative, and that further test results are still outstanding "which we do not believe will impact our ability to move forward (next) week."
The directive instructs athletes to arrive as scheduled today at their hotel—separate to the hotel used by the world championship athletes and coaches—for isolation periods and onsite testing and wellness checks. Some international teams, including women's squads, have already been isolating at the Slam hotel throughout the weekend.
The news is welcomed by curling fans who were on the edge of their seats as Sunday morning approached.
Also awaiting word, isolated in individual hotel rooms all through Saturday and early Sunday morning, were the world men's athletes, coaches and event officials. Sources say anxiety and frustration were high, and mental support staff were on hand to assist those in need.
There had been no playoff games on Saturday, thanks to Friday's late-breaking news that positive COVID-19 tests had been uncovered among the eight departing (non-playoff) teams.
A new round of COVID-19 PCF tests had been conducted Saturday morning, with only partial results available in time for a World Curling Federation news conference hosted on Saturday afternoon.
That conference revealed four positive cases had developed among three different world championship teams. All cases were asymptomatic. Another four teams were identified as close contacts. This means seven of the eight exiting teams—no playoff teams were deemed to be at risk—were under the microscope as the Saturday tests were being analyzed.
Despite the troubling news, event doctors were optimistic—and almost bullish on the chances the world men's championship playoffs could resume on Sunday.
"There are unknowns that we need to sort out, but I'm confident that (the playoffs) will resume," said event chief medical officer Dr. Bob McCormack. "I'm hopeful that not only will we be able to finish this event—that's a moving target—but that we'll be able to re-establish a new bubble for the next events that is safe."
Should the world men's championship playoffs re-commence today, USA's John Shuster will battle Switzerland's Peter de Cruz. The winner will advance to the semifinals where Scotland's Bruce Mouat—who eliminated Canada's Brendan Bottcher on Friday night—awaits along with table-topping Sweden (defending champion Niklas Edin) and RCF (Sergey Glukhov).
World men's teams that are staying on in Calgary for the two Grand Slam events are Scotland, Sweden, Switzerland and Canada. They will be joined by Switzerland's Yannick Schwaller,and seven other Canadian teams. A field of 12 women's teams will also compete in both Slam events, with some of those teams staying on for the world women's championship.
Regardless of the WCF's verdict on today's playoffs, this will be a championship curling Sunday like no other.