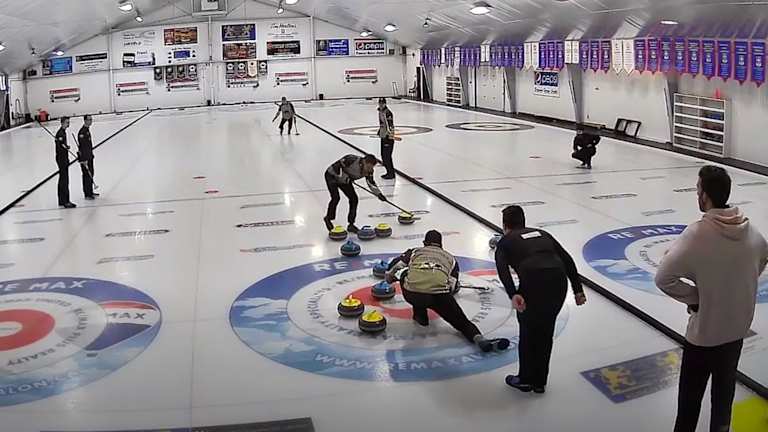 Here Come The Asterisks
Canada's STOH, Brier squads are being named.
An actual weekend of curling took place in Canada, as two Atlantic provinces (Prince Edward Island and Newfoundland & Labrador) and one northern territory (Northwest) managed to successfully host their 2021 women's and men's championships.
The main image shows the microsecond before Colin Thomas' last yellow stone of the 12th end–that's right, the 12th end–ticked Greg Smith's blue guard, wrecking Thomas' hit and roll attempt for the NL title. Thomas had earlier thrown his 11th end draw for the victory through the house.
The action was streamed on YouTube.
The results confirmed the teams set to compete at the women's Scotties national and men's Brier championship at the bubble hub in Calgary, starting later this month.
This being another pandemic season, however, team lineup adjustments are still being announced and there may be more changes coming in the days ahead.
It's a whopping 18-team field for both the STOH and Brier. In addition to the defending champions (Team Canada), each provincial representative and two Wild Card teams, an additional two Wild Card squads were appointed.
Team Mike McEwen (Manitoba), Team Kevin Koe (Alberta) and Team Glenn Howard (Ontario) are confirmed as the Brier's Wild Card entries.
The women's Wild Card squads are all from Manitoba, and are skipped by Beth Peterson, 2020 world junior champion Mackenzie Zacharias, and Tracy Fleury.
Curling Canada confirmed the Wild Card spots today and Team Fleury promptly announced that their skip wasn't going into the bubble, due to her newborn child's health. Chelsea Carey, who has been without a team all season, has been drafted to replace her.
Earlier during the weekend, Nova Scotia's Team Jamie Murphy announced their skip's upcoming absence from the Brier, due to work and family commitments. Scott MacDonald, who captained Ontario at the 2019 Brier, will replace Murphy.
Below are the tentative fields for Canada's STOH and Brier. The women's field is confirmed (barring future announcements) while the men's field is to be confirmed this week.
Single asterisks denote appointed teams that won last year's 2020 provincial or territorial championships to qualify; double asterisks denote appointed teams that did not win their 2020 provincial or territorial championships, finishing second or lower.
Teams with no asterisks won a 2021 provincial or territorial championship to qualify (Team Canada squads obviously won the 2020 STOH and Brier championships).
2021 TOURNAMENT OF HEARTS
CANADA – Kerri Einarson (Manitoba)
B.C. – Corryn Brown*
ALBERTA – Laura Walker*
SASKATCHEWAN – Sherry Anderson**
MANITOBA – Jennifer Jones**
QUEBEC – Laurie St-Georges**
NORTHERN ONTARIO – Krysta Burns**
ONTARIO – Rachel Homan*
NEW BRUNSWICK – Melissa Adams**
NOVA SCOTIA – Jill Brothers**
PEI – Suzanne Birt
NEWFOUNDLAND & LABRADOR – Sarah Hills
NORTHWEST TERRITORIES – Kerry Galusha
YUKON – Laura Eby
NUNAVUT – Lori Eddy*
WILD CARD – Chelsea Carey/Team Fleury (Manitoba)**
WILD CARD – Mackenzie Zacharias (Manitoba)**
WILD CARD – Beth Peterson (Manitoba)**
2021 BRIER
CANADA – Brad Gushue (Newfoundland & Labrador)
B.C. – Steve Laycock*
ALBERTA – Brendan Bottcher*
SASKATCHEWAN – Matt Dunstone*
MANITOBA – Jason Gunnlaugson*
QUEBEC – Mike Fournier**
NORTHERN ONTARIO – Brad Jacobs*
ONTARIO – John Epping*
NEW BRUNSWICK – James Grattan*
NOVA SCOTIA – Scott MacDonald/Team Murphy*
PEI – Eddie MacKenzie
NEWFOUNDLAND & LABRADOR – Greg Smith
NORTHWEST TERRITORIES – Greg Skauge
YUKON – Dustin Mikkelsen**
NUNAVUT – Peter Mackey
WILD CARD – Mike McEwen (Manitoba)**
WILD CARD – Kevin Koe (Alberta)**
WILD CARD – Glenn Howard (Ontario)**