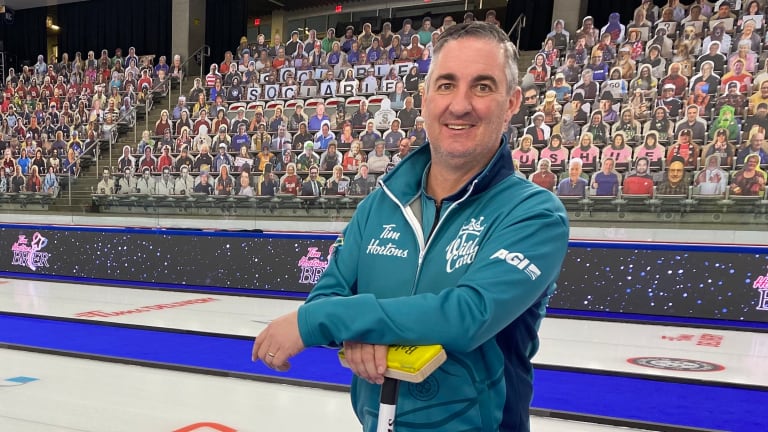 Middaugh Retires Again—Maybe
Any calls, should they come, would be Olympic in nature.
Any calls, should they come, would be Olympic in nature.
It's hard to guess what most fans thought of Wayne Middaugh's sudden return to curling—and the Brier—when the bubbled version of the 2021 shootout started last week.
The three-time Brier and world champion had a massive reputation, to be certain, but he hadn't thrown any stones beyond a local recreational league (and pre-Brier practice) in five years. 
The first two years after his skiing accident were spent largely on crutches, in a wheelchair or in physiotherapy. 
His passion for the sport had plummeted, and it took an overture from Sweden's Anna Hasselborg to drag him back in—as a coach.
All of this was covered in Don Landry's feature, which we published before the Brier began. Somehow, most curling fans had missed the cues that Middaugh would actually be skipping the Howard team in Calgary, with Glenn riding the bench as coach/alternate. As such, our feature beat other media coverage to the punch, and then became a sensation as Middaugh started making big shots and winning games right off the bat.
The big shots continued, many of them of highlight-reel quality.
Middaugh kept winning right up to the Championship Round—and won his first of those four matches too—before the wheels fell off. Team Howaugh (or Middoward) then lost to ex-teammate John Epping, defending champion Brad Gushue and four-time champion Kevin Koe in quick succession to finish 8-4.
Not bad at all. An amazing pre-event story that exploded with amazing on-ice performances. All this from an elder statesman trying to fit in to a brand-new team dynamic in his first high-performance experience in five years.
So what comes next?
If you believe Middaugh's Sunday statement, he has promptly returned to retirement.
Middaugh went on to conclude:
"Thank you to my family, without you I would not have believed this run was even possible.
Last but certainly not least, (thanks to) every fan that took the time to reach out thru some form of social media. I've honestly never felt so much support to chase the dream. #retiredagain"
Did you catch that hashtag? #retiredagain
But what happens if the phone rings in the next week or two?
Canada's Olympic Trials are scheduled for late November in Saskatoon. There's still two berths available via the pre-Trials qualifier, plus a third in a new direct-qualifying event still to be announced for September or, more likely, October. Any of those teams might like to grab Middaugh to lead them into those battles.
Heck, one of the few squads that have already qualified might soon be thinking about a lineup change.
If the phone rings, what does Middaugh say?
Obviously, his answer might depend on whom is calling. And the simplest thing to do is to stick to his hashtag and say no, citing his coaching commitment to Team Hasselborg.
However, any calls would be coming with the Olympic Trials in mind. And that's the one event—the only event—that has stymied Middaugh throughout his otherwise glorious career. His won/loss record is a combined 9-27 in four Trials competitions with nine different teammates over a 16-year span, and he failed to qualify in 2005 (he served as alternate to old chum Glenn Howard, who went 5-4).
In the end, no one knows what fire might have now re-ignited in the Hall of Famer. One he might not yet be acknowledging to anyone, including himself.