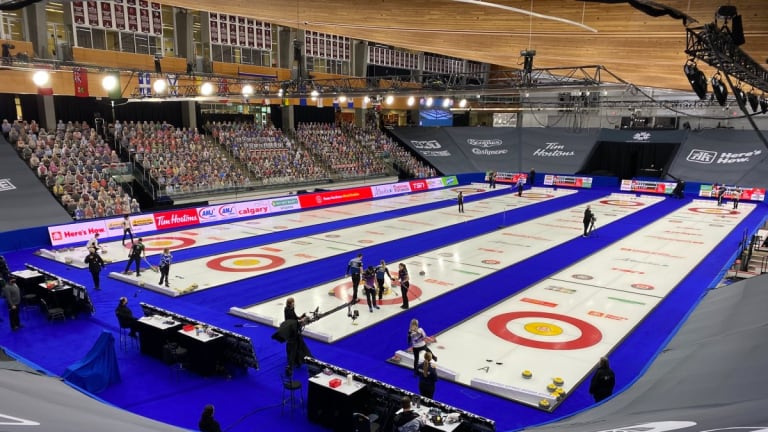 Time for Canadians To Get On With It
Resistance is not only futile, it's dumb.
Resistance is not only futile, it's dumb.
Canada's national competition in mixed doubles in now underway in the Calgary bubble and for the first time, national broadcaster TSN—picked up by U.S. pals ESPN3—is televising the whole darned thing.
This could be pivotal in the average Canadian curling fan's understanding and acceptance of the discipline.
Despite Canada's Kaitlyn Lawes and John Morris winning mixed doubles gold three years ago in PyeongChang—an uncomfortable Olympic Winter Games which saw both of Canada's four-player teams miss the podium—the world's largest curling nation continues to take wobbly baby steps toward embracing it.
This despite that fact the format, which has gone through numerous tweaks over the years, was created by Canadians—Warren Hansen and Neil Houston—for the Continental Cup competition, often considered the Ryder Cup of curling, which debuted in 2002.
For a recent discussion of mixed doubles' unique Power Play maneuver, watch this Rock Logic podcast (with video).
Canadian stubbornness is also mystifying because the mixed doubles game is played in less time (eight ends are played, sometimes only six ends in club play, and only five stones per player are delivered in each end) and seems perfect, many say, for today's fast-paced digital world … where few have time to spend hours at a curling facility before rushing off to wherever the smartphone tells us we need to go. Similar arguments insist it's far easier to recruit two people—such as a couple—into a traditional four-player sport.
Some club leagues that embraced mixed doubles report overwhelming success. Others that tried offering it eventually cancelled it, due to lack of interest. In Canada, it's all over the map. 
The Curling News has followed mixed doubles since the beginning. We even had a spy reporting from the first-ever world championship at Vierumaki, Finland in 2008—Canada's national coach, in fact.
The World Curling Federation had announced the launch of a world championship for mixed doubles two years earlier, reasonably secure in the belief the International Olympic Committee would accept its future submission as a second curling medal sport at the Winter Games. The WCF felt secure because the IOC actually nudged them, shortly after Nagano 1998, to consider a "World Cup" series of some sort, similar to what exists in so many other sports. As curling fans know, the WCF ran with the mixed doubles baton and their application was accepted on the second try, resulting in medal status in PyeongChang.
We recall the confusion that struck Canada with the 2006 worlds announcement. Manitoba curling exec Ian Staniloff was just one mandarin who faced the sudden task of organizing a new provincial championship process.
"How do we determine a champion, through playdowns or a selection process," he asked. "If its playdowns, do we play in a curling club or an arena? How many people have actually even played it? What are the rules even?
"I have no idea what we're going to do."
Surprisingly, even format founder Warren Hansen was taken aback by the announcement.
"I have absolutely no idea what we're going to do," said Hansen, referring to Curling Canada. "I generally have no clue. You're finding out about this the same time that I did."
In those early years of the worlds, Canada sent two players from the national four-player mixed team, and only one throw-together pairing won a medal—Manitoba's Alli Flaxey and Sean Grassie at Cortina d'Ampezzo in 2009. There have been dedicated Canadian mixed doubles championships held since 2013, and the current 35-team bonanza in Calgary features both mixed doubles experts—like two-time champs Jocelyn Peterman and Brett Gallant—and more throw-togethers, such as Kerri Einarson and Brad Gushue.
The television might make a difference. Recent MD nationals have been streamed online via CBC, Canada's national broadcaster, but many of the country's curling fans are loathe to watch their rock 'n roll stars on a computer or mobile screen.
TSN's previous experience televising the discipline was at the Continental Cup, where the broadcast crews often struggled to present a cohesive picture. This 2021 show might present better. Why, you might ask?
• The format clearly isn't going away, and with Canada the defending Olympic champions next year in Beijing, it's time for Canadian curling stakeholders and fans to get on with it. As we wrote in a social media post back in 2012: Canada—This is Mixed Doubles. Resistance is futile. You will be assimilated.
• The TSN talent is the morning crew at the four-player events—Bryan Mudryk and Cathy Gauthier—and despite the challenges of the bubble, they just might feel and translate some enthusiasm.
• Despite well-received women's Scotties and men's Brier events, the fans are still starved for curling and might tune in more than they have done so in the past.
Regardless, the table is set and there a most high-profile national MD shootout will play out on TV and internet screens, with all kinds of snarky versus supportive comments on social media.
Just get on with it, Canada.