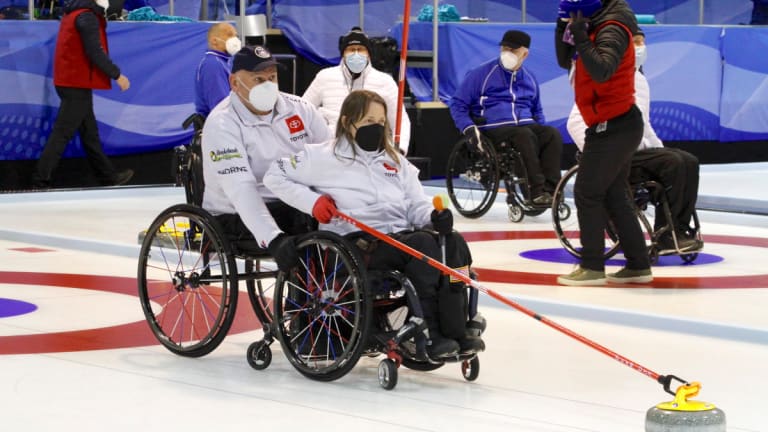 U.S. Qualifies for Wheelchair Curling Worlds
Next stop: Beijing in October.
Next stop: Beijing in October.
The United States has made the long climb back to the World Wheelchair Curling Championships by winning the Worlds "B" competition in Lohja, Finland.
Few will be happier than U.S. third Stephen Emt, who was featured in a recent episode of the Extra Extra End podcast, part of The Curling News/Sports Illustrated podcast network.
Skip Matthew Thums led his team—featuring Emt, David Samsa, Batoyun Uranchimeg, alternate Pamela Wilson and coach Russel Schieber—to gold with a 4-3 over Switzerland's Eric Decorvet in the final.
Trailing 0-3 after five ends, the United States scored two points in the sixth end and went on to steal single points in the seventh and eighth end to complete their golden comeback.
By qualifying for the final, both the U.S. and Swiss qualified their nations for the 2021 world championship, scheduled for Beijing's "Ice Cube" Olympic and Paralympic Winter Games curling venue. The championship will also act as a test event for the 2022 Paralympic wheelchair curling tournament.
A third worlds qualifier came from the bronze medal game between Italy and Germany, and the honors went to the Italians with their 8-4 victory. A German three-ender in the fifth frame put them ahead but Italy responded with a big four-count in the sixth end before adding a steal in the seventh.
The U.S. and Italy had tied for second in the round robin with 7-2 won/loss records, behind Switzerland's excellent 9-0 finish. The Americans upended Italy 6-5 in an extra-end semifinal, while the Swiss dispatched Germany 8-2.
Germany and Estonia had finished at 6-3, with hosts Finland at 4-5. Three teams tied at 2-7—Czech Republic, Turkey and Japan—while Hungary finished at 0-9.
The result is a shot in the arm for the U.S. wheelchair curling program, following poor results at the 2018 Paralympic Winter Games (2-8 record) and the 2019 worlds (4-7) and world-B (2-5) events.
In 2019, mighty Canada—medallists at the last four Paralympic Winter Games including gold in 2006, 2010 and 2014—were relegated to the world-B qualifier, and managed to clamber back into the worlds to score a silver medal in 2020.
In their match against Hungary, U.S. skip Thums made a remarkable angle-tap to get our of trouble. 
Prior to the World-B event, Uranchimeg created a GoFundMe page seeking donations to assist with the team's travel to Finland. Nearly $6,000 was raised.