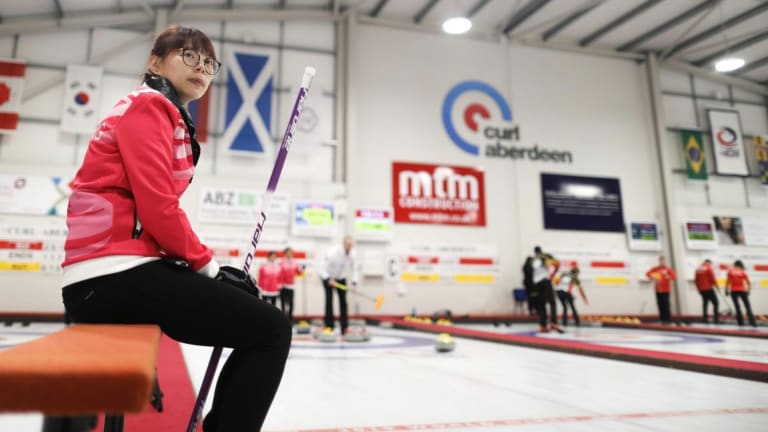 World Mixed Doubles to Aberdeen
"To be honest, this event is a godsend. It's really given us something to do."
"To be honest, this event is a godsend. It's really given us something to do."
2014 Olympic silver medalist Tom Brewster manages the Curl Aberdeen facility in northeast Scotland, and he's winding down from a busy day planning the 2021 World Mixed Doubles Championship.
Just over a year after cancelling the 2020 affair—scheduled for Kelowna, B.C.—along with a slew of other championships, the World Curling Federation announced the 2021 championship will be contested in a COVID-safe environment at Curl Aberdeen on May 17-23.
"To be honest, this event is a godsend," said Brewster. "It's really given us something to do."
The event was approved after a consultation with the Scottish government regarding strict COVID-19 safety protocols. The World Curling Federation and Curl Aberdeen—i.e. Brewster—are now finalizing a detailed set of health protocols to ensure the safety of those involved.
"We are delighted that we can confirm Curl Aberdeen as the host for our final world championship of the season," said WCF president Kate Caithness. "Not only is the world title on the line but seven teams will also secure a place for their National Olympic Committees in the Beijing 2022 Olympic Winter Games mixed doubles event.
"A great deal of work has gone on behind the scenes in order to make this championship a reality and I have every confidence that Curl Aberdeen will be able to hold a first-class and safe competition for our athletes, officials and staff."
At present, Brewster is shouldering almost all of the planning process—assisted by WCF's Richard Harding—since he furloughed his facility staff due to the COVID-19 pandemic. The financial impact was lessened when some U.S. $2.7 million in government funding came through, saving many of Scotland's ice rinks from disaster.
"I tell you what, it's been a pile of work," said Brewster.
It's been a brutal year for Curl Aberdeen, which enjoyed a total of only six weeks of curling since the pandemic first shut the facility on March 18, 2020.
"We restarted curling on Nov. 8 and shuttered on Dec. 18," said Brewster, who skipped Scotland at eight world championships in his career, winning two golds in four-player mixed and four silver or bronze medals in men's play. "We've been in complete lockdown ever since."
Aberdeen also suffered a 2020 cancellation; the world four-player mixed championship was scheduled for last October, and had to be removed from the calendar. It was to be the second of three world championships hosted by Aberdeen in a 2019 agreement struck with the WCF.
Leading the Aberdeen field of world qualifiers to date is Switzerland's 2018 Olympic silver medalists Jenny Perret and Martin Rios, Scotland's Jennifer Dodds and Bruce Mouat (also the men's four-player team skip), Sweden's Almida de Val and Oskar Eriksson, Hungary's two-time world champions Dorottya Palancsa and Zsolt Kiss, and USA's Tabitha Peterson and Joe Polo. 
Canada's national mixed doubles shootout declares its champion on Thursday, Mar. 25.