Thursday's P.M. Hot Clicks
Happy Halloween
Joakim Noah pumpkin head :: @ellokech
I've seen a ton of Halloween-related sports photos over the past few days but the Joakim Noah pumpkin head takes the grand prize ... Here's a good collection of NBA players in costume ... Tom Brady admitted that he used to egg houses when he was younger ... Bill Belichickdressed as a pirate this year ... The Tennessee Titans cheerleaders are worth checking out ... So is this gallery of celebrities in costume ... If you like Parks and Rec,you'll like the personalized candy of characters on the show ... Kevin Garnett looks unusually happy in this pic of the Nets starting five holding pumpkins ... Brett Favre went trick or treating at Mike Holmgren's house in the mid '90s.
Hot Clicks Q&A: Jason Witten
I spoke with Cowboys tight end Jason Wittenabout fantasy football, his favorite player growing up (Junior Seau), and what Tony Romo is like behind the scenes (spoiler alert: Romo's a good guy).
Win an Official World Series T-Shirt
My good friends at Fanatics.com, which everyone knows is the largest online retailer of officially licensed merchandise, asked me if I wanted to give three of these official World Series locker room T-shirts away to my readers. I, of course, jumped at the chance. So the first three people to email me (andy_gray@simail.com) the name of this morning's Lovely Lady of the Day and who she was dressed up as get them. If you want to purchase one for yourself, follow this link.
(Update: Contest has ended and the winners have been notified).
Lovely Lady Of The Day
Thursday's P.M. Hot Clicks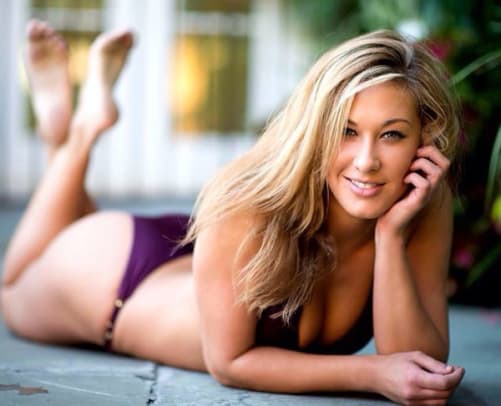 Megan Bernard emailed me to ask if she could be featured in Hot Clicks. I obliged her request ... Mick Jagger's daughter (and an obvious Bulls fan) Georgia May is excited about Derrick Rose's return to action ... Lane Lindell, who was in the SI offices recently for a SI Swimsuit Casting Call, should be on your radar.
General Needs a Clue
It's been said that many people in Washington are clueless, but none so much as this former Washington Generals player who did not know all his games were fixed.
In Pam Anderson News
The former Baywatch star looks like a completely different person with a new super-short haircut. Matt Lauer clearly did not get the news about her new look.
Odds and Ends
The creators of South Parkcontinued their animated assault on Tom Brady this week ... Did some members of the Jaguars get beat up while in London for last Sunday's game against the 49ers? ... The coaching staff of the Assumption College football team saved a man from being mugged ... Albert Haynesworthis not a fan of Redskins coach Mike Shanahan. ... CBS is considering a How I Met Your Mother spinoff called How I Met Your Father ... Wired has the best microscope photos of the year.
Fan Video of the Day
This girl really supports South Carolina.
Tackle Of The Day
Northern Arizona's Ryan Reardon had one of the best defensive plays of the year.