Up In Smoked
Getty Images
The No. 3 Baylor Bears and the No. 5 Oregon Ducks both got lit up by conference foes on Saturday, dashing their BCS National Championship dreams and in all likelihood a trip to any BCS Bowl game. Unranked Arizona set the tone on the first play from scrimmage with an acrobatic sideline interception that you must see, and then simply pounded the Ducks with over 300 yards rushing en route to a 42-16 upset.
Meanwhile No. 10 Oklahoma State forced three Bears fumbles and stifled previously unbeaten Baylor's pinball machine offense, which managed only three points in the first three quarters, ultimately falling 49-17. The Turf Monster struck Baylor QB Bryce Petty, who tripped and fell at the 1 on a near walk-in touchdown in the first quarter; Shock Linwood fumbled two plays later, leading to a 99-yard Cowboys TD drive. College Gameday's Lee Corso predicted the quasi-upset, and did so in terrifying fashion (via @BrianMFloyd).
We pray that those were blanks, and thank the Cowboys assistants for balancing Corso and his giant hat. Remember: Corso accidentally cut himself with a sword predicting (correctly) the Trojans' upset last week. He may want to stick to the headgear or puppies in the future instead of weaponry.
Stiff-arm, Man Boobs, Beatdowns
In other words, a college football roundup. Here we go!
I cannot -- cannot overstate the awesomeness of target="_blank">this stiff-arm by Boston College running back's Andrew Williams ... Those man boobs I promised, complete with a Nike Swoosh ... Another fantastically entertaining Oklahoma State fan ... The Ohio State Marching Band's incredible "Salute to Gettysburg" ... OSU QB Braxton Miller's flying salute to the end zone ... The Gophers showed the Dramatic Chipmunk on its big screen, cursing the Badgers' field goal attempt ... The Anchorman is strong in this Gameday sign ... Mike Gundy is a man who's 46 and should probably leave dancing to the kids ... Another incredible one-handed grab (by Oregon's De'Anthony Thomas) ... But Michigan State's Bennie Fowler might have had the catch of the day ... Fresno State successfully executes the Fumblerooskie ... Florida State tagged Idaho with 80 points, and North Carolina did the same to Old Dominion in only three quarters, but perhaps the most eye-opening result of the day was Florida's 26-20 loss to the FCS's Georgia Southern, an option team that cranked out an incredible 429 yards rushing and ZERO yards passing ... Let's finish with the Iowa State Teletubbie gals and this sad, drunk, adorable Oregon State panda.
Pac-Man Roars Past Rios
Manny Pacquiao trounced Brandon Rios in a unanimous decision last night, his first victory in almost two years. Pacquiao entered to Katy Perry's "Roar," which seems to be part of an evolution, as target="_blank"> Pac-Man has used "Eye of the Tiger" previously; Perry's "Roar" contains the apropos lyric I got the eye of the tiger, a fighter, dancing through the fire.
Cheerleader of the Week
Weekend Hot Clicks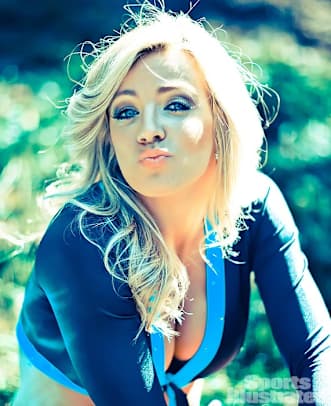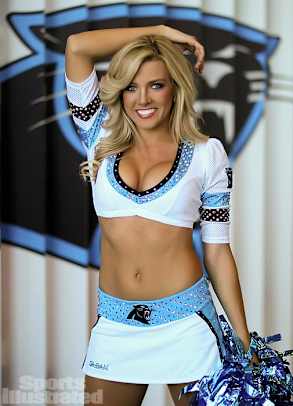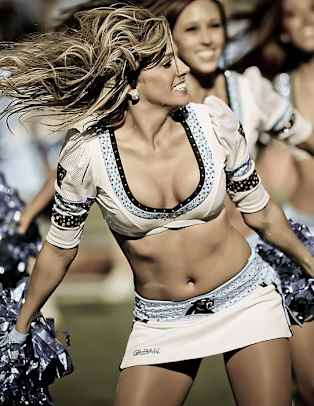 This week we turn to the professional ranks and meet the recently-engaged Aryn Ward, a Carolina Panthers TopCat who sharpened her teeth at UNC Greensboro.
Favorite people to follow on Twitter: "Ellen Degeneres, Justin Timberlake, and Jimmy Kimmel. Laughter is life's best medicin, and by following these individuals I am always guaranteed to start my day off happy and healthy."
Celebrity crush: "Channing Tatum is a beautiful man. I have seen every movie he has been in. I haven't been able to concentrate on what any of his movies consist of or the plot. I have a hard time concentrating on anything besides his smile."
Favorite phone apps: "There's three: Google TV because my 9-month-old yellow lab destroyed my TV remote so my phone app is the only way to watch Walking Dead. Dinner Spinner, which allows you to input any ingredients and in and it will give you a recipe. And Pet Finder's app, because I am always looking for a new pet to adopt."
Guilty pleasure: "Mint Chocolate chip ice cream. Spoon in hand. I don't even bother with a bowl."
If you want to see more of Aryn, check out the full gallery.
Tailgate-gate
The AP is reporting that officials are thinking of nixing tailgating at this year's Super Bowl at Metlife Stadium, citing security and space for TV-satellite trucks. Indeed, the NFL will only countenance a lighting blackout. In other Super Bowl news, here's an infographic exploring the relationship between pornography traffic and the Super Bowl. Yes, it exists.
Ill-Advised Teaser of the Week
I am red hot and listening to Katy Perry right now ("Firework," obviously), coming off last week's Saints/Seahawks win. Good music for winning money. I'll get back to .500 before puffing my chest out further, and it's going to happen with the Lions over Bucs (Detroit is -8 or -8.5 depending), and Patriots (+2.5) hosting the Broncos. Lions are coming home after a tough road loss and have played the rush pretty well, so temper your Bobby Rainey expectations. Give me Megatron in the dome against a rookie QB on the road and I'll happily lay 2.5 (in the 6-point tease). Put the Patriots in there at +8.5, also home after a frustrating loss -- and they're 15-2 against the spread in their last 17 after a loss ... smells like winning, friends, and I'm putting my units where my ego is.
Pigskin or Turkey?
Rasmussen Reports conducted a poll asking fans if they would accept 50-yard line seats for a college football game on Thanksgiving, or stay with the family. If you'd stay home and stuff your face you'd be in the majority, but not by much.
Wanted Dead or Alive
Wanted: The Bills, by none other than Jon Bon Jovi, who is seriously positioning himself to make an ownership bid for the franchise, which will hit the market when 95-year-old Ralph Wilson passes.
Odds and Ends
Thirteen Spurs suited up Saturday against the Cavs and all 13 scored at least 6 points -- none more than 17, combining for a total 126 in the 30 point win. They're like the socialists of basketball ... those Spurs love a target="_blank">goofy prank, too (via r/nba) ... Hysterical skit on SNLusing lyrics from The Outfield's "Your Love" ... Warriors-Blazers scrum last night registers about a 2.5 on a scale from 1-to-Artest Melee ... In light of the fine on Ahmad Brooks, here's a guide to tackling QBs in 2013 ... Ovechkin is on fire with 20th goal already, and has he ever looked more like Mr. Larson? ... Ari Emanuel's son Leo, hanging out court side with Rihanna like a typical teenager ... Ridiculous free kick score by Liverpool's Luis Suarez ... Mikhail Grabovski takes a skate to the face, gets 20 stitches, returns for 3rd period, eats poisoned glass for an encore ... Cam Fowler falls off the bench, teammate correctly laughs at him.
This CrossFit Snatch Ends Badly
Obviously we wouldn't be showing you amateur weightlifting otherwise.
Dancing Usher vs. Dancing Kid
We all win. (via r/nba)
Dumbest 30 Seconds in WoF History
Guyism breaks it down further. I have no explanation.