Tuesday's A.M. Hot Clicks
Rex Ryan and His Flawed Heather Locklear Poster
Heather Locklear and Rex Ryan in 1981 :: Getty Images, Courtesy of Southwestern Oklahoma St.
It never gets boring with Rex Ryan, who is featured in an upcoming book (Collision Low Crossers) about a season with the Jets. A tiny nugget has leaked -- and it's sensational. According to the book, Ryan was sent a Heather Locklear poster last season by one of his assistant coaches, and to his dismay, the blonde beauty had her shoes on. If you remember, Ryan has a thing for feet. I contemplated moving this story down, finding a bunch of early '80s Locklear pics like the one above, and making her the Lovely Lady of the Day. Perhaps for today's PM Clicks ... let's vote on it.
[polldaddy poll="7596024"]
The Curse of Vanilla Ice
The Texans have lost nine straight and players are starting to blame Vanilla Ice for it.
A Holiday Gift for Soccer Fans
Nothing to see here. Just some defecating Christmas figurines of major soccer stars.
Lovely Lady Of The Day
Tuesday's A.M. Hot Clicks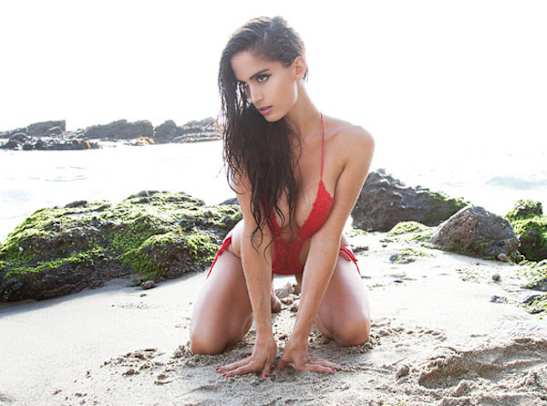 Natalia Barulich is a Cuban-Croatian model and former ballerina. Follow her on Instagram and Facebook.
Banned in Locker Rooms
As the Knicks prepared to take on Portland last night, someone turned on the Monday Night Football game in the locker room. Amar'e Stoudemire then immediately had the TV turned off, saying "We've lost five straight games." The ploy didn't work as the Knicks lost 102-91. Meanwhile in Toronto, forward Rudy Gay has banned stat sheets from the locker room. The Raptors are 6-7 while the Knicks are 3-10.
Three Longform Recommendations
1) SI's Thomas Lake on Tim Tebow and whether he's played his last NFL game. 2) Mashable's Sam Laird on 5-foot-7 YouTube legend Kiwi Gardner, who is now playing in the D-League. 3) Since it's Shawn Kemp's birthday, here's a 1996 SI profile of Seattle's newest star.
SI Vault Photo of the Day
Shawn Kemp :: John Biever/SI
Shawn Kemp flies during the 1991 Slam Dunk Contest.
Odds and Ends
Lightning forward Martin St. Louis ruined a perfectly fist-pump goal celebration with an unexpected tumble to the ice ... The Booty Lounge, Detroit's mobile strip club, returned to the parking lot for Sunday's game after a two-year ban ... With the four-year anniversary coming up, here's a refresher on the Elin Nordegren-Tiger Woods 2009 Thanksgiving from hell ... Redskins QB Robert Griffin III got kicked in the family jewels last night and was the subject of controversy when his dad showed up in the locker room after the game ... There will be a remake of Road House... The Mets sang a really bad version of Sleigh Ride.
Hockey Video Of The Day
Canucks forward Daniel Sedin pulls out his tooth after getting a high stick to the face.
These Two Do Not Like Each Other
UMass basketball is back in the Top 25 after a 15-year absence. Kentucky is No. 3 in the nation. Seems like a good enough excuse to replay this classic 1994 press conference when then-UMass coach John Calipari and then-Temple coach John Chaney nearly came to blows.