Hey there. Today's Clicks were heated up for you by yours truly, Ryan Glasspiegel, purveyor of hot sports takes, food porn, and Packers lamentations.
Pigskin on Turkey Day
Gregory Shamus/Getty Images
The Lions got revenge for the 2012 game that got Matt Flynn PAID, rolling the Packers 40-10. The 435-yard differential between the two teams was the the 7th-most lopsided since the AFL/NFL merger. If any one play were a microcosm of the game, it was Ndamukong Suh's target="_blank">busting through a double team to sack Flynn for a safety ... DeMarco Murray ran for three touchdowns as the Cowboys came from behind to beat the Raiders 31-24. Rashad Jennings stiff-armed a Dallas defender, and then ran over a cameraman. Matt McGloin may not have been heroic, but he did engineer a late-game field goal drive to secure the beloved backdoor cover ... Emmanuel Sanders dropped what would have been a game-tying two-point conversion with a little over a minute to go as the Ravens beat the Steelers 22-20. Earlier in the game, Sanders mimicked the Ray Lewis dance and Mike Tomlin may have impeded a possible Jacoby Jones TD.
More Thanksgiving Leftovers
A producer for The Bachelor and Diane from 7A engaged in the most hostile and hilarious airplane note-passing you'll ever see ... Turkeys with LeBron James' hairline ... The best turkey frying disasters on the Internet ... Chris Andersen didn't exactly dress up for Thanksgiving at LeBron's house in Akron ... Gawker ranked the 21 best Thanksgiving songs.
Soda-Gate
Jason Kidd was fined $50,000 for instructing Tyshawn Taylor to knock the rookie Nets coach's drink out of his hands when the team was out of timeouts Tuesday night. Darren Rovell busted out his calculator and jokes were cracked about expensive drinks in New York City.
Recovery Suggestions
Since you're just going to spend today on the couch nursing food-and-whatever-else hangover(s), might as well check out some of the dynamite college hoops being played. No. 1 Michigan State kicks off the day against Mount St. Mary's at 1 p.m. Later, Marcus Smart—who was the subject of an excellent Brian Phillips profile at Grantland—and his OK State teammates take on Butler at 1:30 p.m. on ESPN. Then the day peaks at 6 p.m. when No. 4 Arizona faces No. 6 Duke at Madison Square Garden. If you haven't yet, it's as good a time as any to get acquainted with Jabari Parker.
Lovely Lady of the Day Round-Up
Friday's A.M. Hot Clicks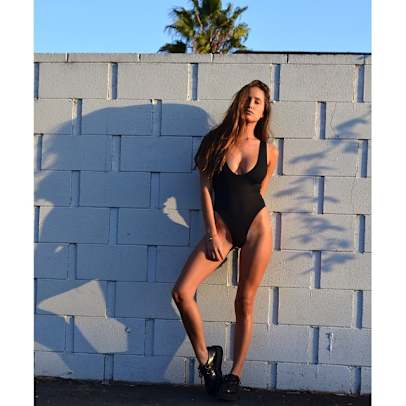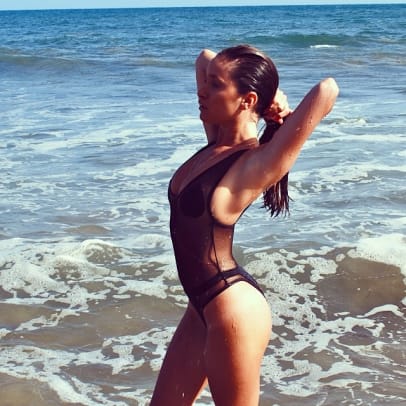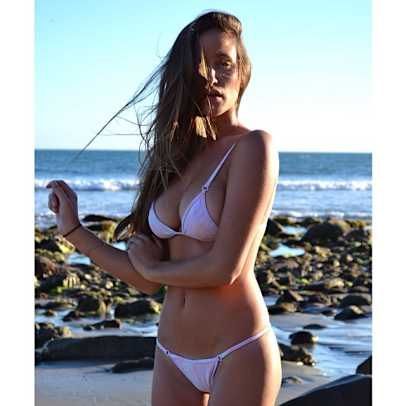 Katrina Brodsky (above) is a model and stylist ... Maximhad a Throwback Thursday post dedicated to Rebecca Romijn's 2002 cover shoot ... FHMgoes through the highlights of Jessica Lowndes' Instagram account ... Guyism is thankful for Reka Ebergenyi in bikinis.
Odds and Ends
This baby clearly hates Iowa ... The case for PEDs in sports ... Kobe Bryant continues to defend his max contract ... The Bucks are offering a package for season tickets where the average seat is less than four bucks ... The Trailblazers use iPads on their bench to help them make mid-game adjustments.
GIF of the Day
@LSUFreek spliced Aaron Rodgers and Mike McCarthy into a target="_blank">classic Seinfeld scene.
Let's Watch a Guy Wash 50 Dishes in About 10 Seconds
Would have been nice to have in the house last night.
[youtube
An RC Paper Airplane?
If you want one, you're in luck: The Kickstarter project has raised a few dollars …
[youtube
Classic Wrestling Clip of the Day
Revisiting one thing I'll always be thankful for: Shawn Michaels vs. Razor Ramon in a ladder match at Wrestlemania X.
[youtube