Athletes and Their Dogs
Monday's P.M. Hot Clicks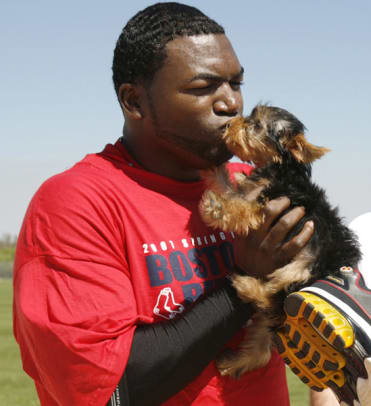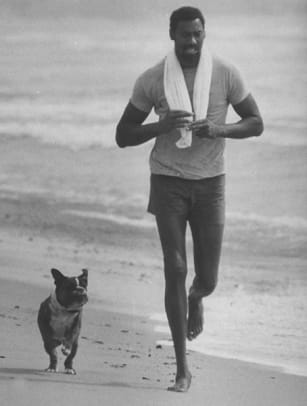 Masahiro Tanaka travels in style, which I guess most people would do if they had just inked a $155 million contract. The Yankees newest ace paid a reported $195,000 for a 200-seat Boeing 787 Dreamliner to fly himself, four guests and a toy poodle to New York City. And since Hot Clicks loves its pooches, here's a gallery of athletes and their dogs.
Dancing Machine
Move over, Michelle Jennekeand Anastasia Ashley. There is a new queen of the warmup dance and her name is Kate Hansen.
Dennis Rodman Makes a Mess
My sympathies to whoever was stuck cleaning Dennis Rodman's hotel room after his visit to North Korea last month.
Lovely Lady Of The Day
Monday's P.M. Hot Clicks
Vivica Mitra isn't just a model and actress but also an attorney. Follow her on Twitter and Instagram ... Lauren Mellor is the sixth rookie of SI Swimsuit's Class of 2014. Only six more to go ... Melanie Iglesias posed in a bikini for something called Ultra Dance.
Quote of the Day
"[Only] if everybody else stayed home."
-NASCAR legend Richard Petty describing how Danica Patrick could win a Sprint Car race. In fairness, he did go on to compliment her, but still ... ZING!!
Valentine's Day Giveaway
What do you get that special someone in your life who happens to be a huge college sports fan? A bouquet of College Roses, courtesy of our friends at FTD Flowers. Yup, you can get a bouquet of roses in the colors of your favorite team. Even better, you can save $10 when you order online from this link. Even better than that, they have given me five sample bouquets to give away. I will send them to the first five people who email me (andy_gray@simail.com) the name of the German skater who was staring at his partner during the Ice Dance competition (it was the lead photo in A.M. Hot Clicks). Please make the subject line "College Bouquet."
(Update: 4:49 p.m.: Contest is closed. Winners have been notified. We'll have more giveaways soon. Thanks.)
Fun Rumor of the Day
Beyoncé and Barack Obama are having an affair.
Jared Lorenzen Update
The biggest backup QB in NFL history injured his leg over the weekend while playing for the for Northern Kentucky River Monsters.
Odds and Ends
Spoiler: NBC's Olympic Video Player is giving away the results of some events ... This is how you turn a 3D printer into an air hockey robot ... Olympian Johnny Quinncan't catch a break ... Google passed Exxon to become the second most valuable company in the United States (Apple is first) ... David Poile, the GM of USA Hockey, won't travel to Sochi after being nailed in the face with a puck ... This dancing Utah Jazz fan would be getting a lot more internet attention if not for the 100 other major stories happening today.
Hockey Fight of the Week
Bloguin has the week's best fights, leading with Boston's Kevan Miller taking on Ottawa's Zach Smith.
NBA Jam Video Of The Day
Kansas State freshman Marcus Foster scored 34 points against Texas. This is what it looked like if he were playing NBA Jam.
Do Not Anger Samuel L. Jackson
A reporter confuses Samuel L. Jackson and Laurence Fishburne. Hilarity ensues.