Oakley Built Bubba Watson a Custom Bulletproof Truck
Oakley Built Bubba Watson a Custom Bulletproof Truck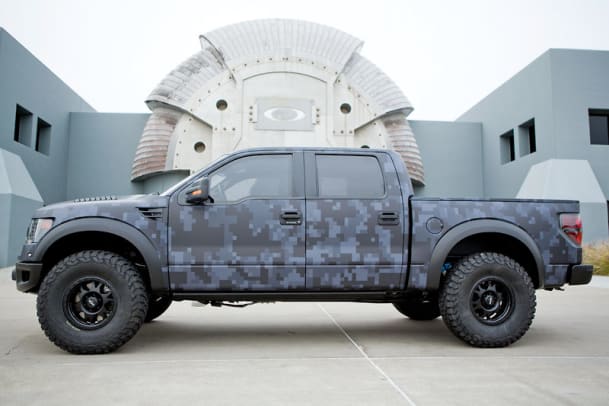 While a far cry from the flashiness of the golfer's The General Lee, Bubba Watson's new needlessly-bulletproof Ford, provided by Oakley, will fit in well with his garage of obscure rides.
As a marketing ploy, the California-based apparel and eyewear company pulled their golf and motorsports teams together to fully trick out a 2013 Ford Raptor Super Crew Cab over a six-month process.
The military-patterned bulletproof exterior features a black digital camo print wrap. The fully tinted windows are also bulletproof. Why not, right? A 6160 billet aluminum Oakley grille highlights the front and a custom Oakley logo was machine worked to fit the curvature of the hood.
Inside, the team reworked the colors, using one of Watson's favorites: lime green.
And while Bubba rolls with his family—he wanted a funky ride that he could also use practically—he has four horn sounds at the touch of a remote, including a nod to the rest of his garage with the inclusion of the General Lee jingle.
Al Janc, Oakley's marketing manager for golf, says the idea to build a truck came after Bubba loved checking out vehicles on the company's campus that had been filled with after-market gadgets.
[tweet https://twitter.com/bubbawatson/statuses/428692963225391104]
"I've seen some really cool surf trucks and other toys that Oakley has created so I knew they could design something new and different for me," Watson says in Oakley press material. "My favorite thing would have to be that it's bulletproof. How many people can say they have a bulletproof truck? I can!"
Yes, Bubba, yes you can.
Tim Newcomb covers stadiums, design and technology for Sports Illustrated. Follow him on Twitter at @tdnewcomb.