Miggy Gets Paid
Miguel Cabrera :: Getty Images
The baseball world is shaking its head at the $292 million Detroit agreed to pay Miguel Cabrera over the next 10 years. Yahoo's Jeff Passan described it as "the biggest contract mistake in baseball history," while SI's Mike Rosenberg thinks it "might make the least sense of all the big baseball contracts in this millennium." League executives and general managers, meanwhile, are appalled at the length of the deal. On the plus side, Cabrera has been practicing his Tranquilo Yoga, so maybe his body will hold up until age 40 (or at least bring him back to the svelte figure he had at age 16).
Sweet 16 Leftovers
Dayton, Wisconsin, Florida and Arizona advanced in Sweet 16 action last night and, as usual, the best action took place off the court. Packers quarterback Aaron Rodgers visited the Badgers locker room after the game and witnessed the one-man dance party that is Evan Anderson. Dayton students celebrated the school's first Elite Eight appearance in 30 years by flooding the streets and discussing the alumnus who invented the Control+Alt+Delete command. Stanford alums Richard Sherman and Condoleezza Rice posed for a selfie, which proved to be the highlight of their night. Ole Miss guard Marshall Henderson showed his SEC pride by cheering on Florida and appeared to have a lot more fun at the game than Tim Tebow.
Call Me Maybe
Former Dolphins offensive lineman Richie Incognito is back in South Florida to attend the Ultra Music Festival and for some reason, tweeted out his phone number to the 92,000 people who follow him.
Lovely Lady Of The Day
Friday's A.M. Hot Clicks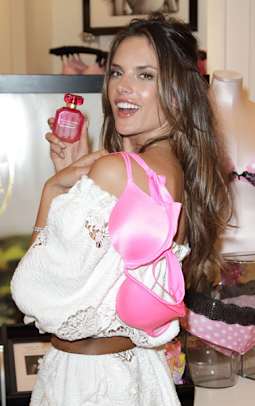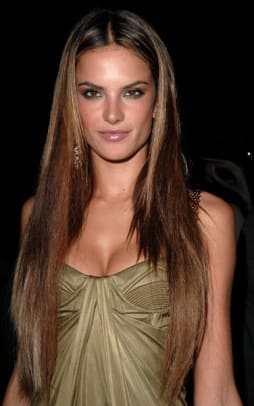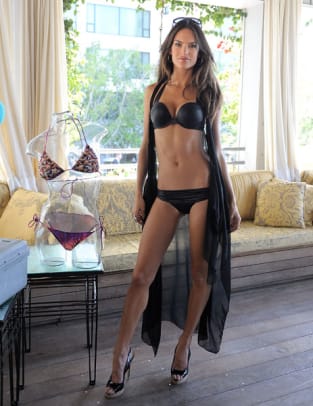 Dwayne from Miami asked why I haven't made Alessandra Ambrosio an LLOD. He has a point, and I humbly apologize for this unintentional snub.
Bacon Hat Hot Clicks Giveaway
Remember the Lehigh Valley IronPigs bacon hat discussed in Extra Mustard a few weeks ago? Our friends at New Era Cap Company have sent me a few to give away. The first four people to email me (andy_gray@simail.com) the name of yesterday afternoon's Throwback LLOD will get them. Please make the subject line "Bacon Hat."
Update (10:52 a.m.): Contest is closed. Winners will be notified. More giveaways to come.
Dale Murphy Hall of Fame Song
Former REM guitarist Mike Mills has written a songpleading for Dale Murphy to get a spot in Cooperstown. The song is titled "To The Veteran's Committee" and includes this incredible lyric:"Forget about the liars/All the Sosas and McGwires/ I wanna see Dale Murphy in the Hall of Fame."
From the SI Vault
Rick Pitino :: Getty Images
Rick Pitino and Cardinal Bird can barely watch as Louisville loses its 2011 second-round game against Morehead State. Pitino's Cardinals will face off against longtime rival John Calipari and his Kentucky Wildcats squad tonight at 9:45.
Odds and Ends
Nike unveiled it's "Easter Collection" for Kobe Bryant, Kevin Durant and LeBron James ... Everyone's favorite mascot, Hank the Brewers Dog, will have his own bobblehead night in September ... A dog ended up in the stands at Joe Louis Arena last night for the Red Wings-Canadiens game ... Tara Reid kissed Tom Brady many years ago and is still talking about it ... Jonathan Papelbonpitched an inning in the wrong jersey on Thursday ... Carlos Boozer is getting divorced for the second time from the same woman ... The Sixers tied an NBA record with their 26th straight loss last night ... The San Francisco Giants will give away inflatable guitars when the team hosts Metallica Night in May ... I was this 105-inch television.
Bill Belichick Video Of The Day
Boston Globe reporter Ben Volin asked Bill Belichick about a timetable for Rob Gronkowski's return and received this great response. I reached out to Volin for his take on the video and he laughed it off, saying "I'm not doing my job if I don't get the stink eye from Belichick once in awhile."
Fan of the Night
A fan in Houston (possibly Tuffy Rhodes) catches a ball autographed by Hakeem Olajuwon and gives it to a young fan. (HT Holdout Sports)
Becoming Marge Simpson
Model Kate Moukhina transforms into a real-life Marge Simpson.