Selfie Made Men
Weekend Hot Clicks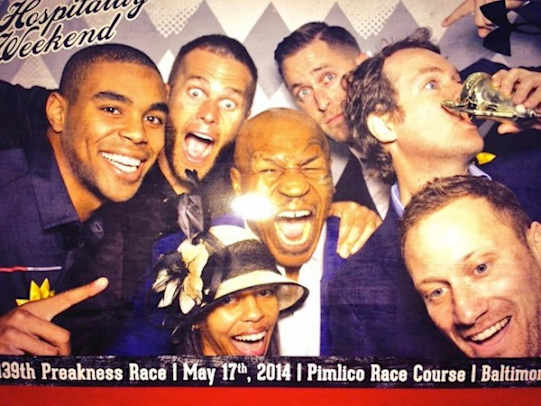 Look at the dapper crew in Mike Tyson's pre-race selfie at the Preakness Stakes at Pimlico, where favorite California Chrome notched the second jewel in horse racing's Triple Crown. That's Texas Tech head football coach Kliff Kingsbury playing it cool in the back next to Tom Brady. On June 7 at the Belmont Stakes, Chrome will become the lucky number 13th horse to try for the Triple Crown since since Affirmed won the elusive honor in 1978.
You'll find a few more interesting Preakness photos in the gallery. One other horse racing note: take a look at the name of this horse that competed in a race in the lead up to the big one. Spoiler: it's Extrasexyhippzster. Someone named a horse extrasexyhippzster, the son of Extra Sexy Psychic and Freud.
Absolutely Genius Youngster at Rangers Game Hands Ball to Cute Girl
There's more, and you should really go watch it. The kid, who already had a ball in his non-glove hand, caught a foul ball. Immediately he turned to a trio of girls about, oh, eight to 10 years older than him sitting in the row behind. Then he held up the ball he already had in his hand to suggest that was the one he caught, and he gave it to the girl. This kid is going places.
Atletico Madrid Wins La Liga, Also Wins Free Services From Prostitutes
Atletico's La Liga victory broke up nine years of Real Madrid and Barcelona dominance. Oh yeah, the prostitutes: Take a look at the Spanish brothel D'Angelo Palace's advertisement containing the promise. "Todas las putas Gratis!" Also check out this incredible goal by Barcelona's Alexis Sanchez.
Cheerleader of the Week
Weekend Hot Clicks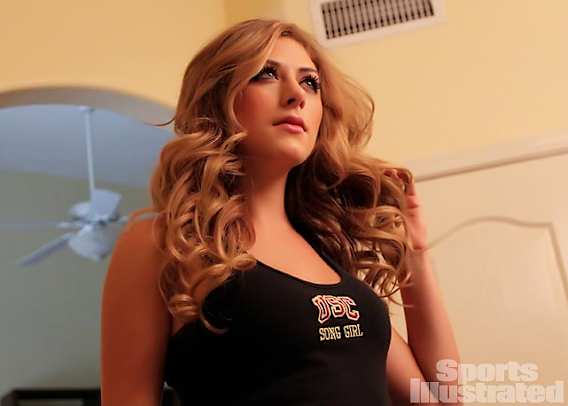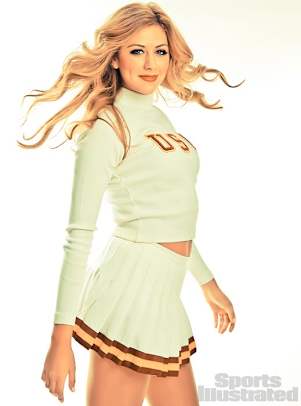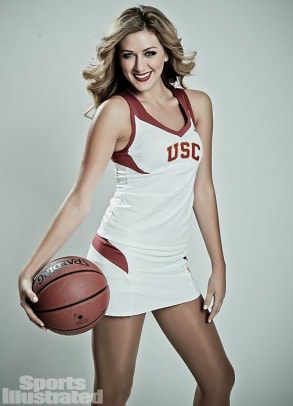 Meet USC Song Girl Perry, a sophomore film and acting major.
Three people I'd like to have dinner with: "1. Meryl Streep – as the best living actress of our time. 2. Kristen Wiig – We could be soul mates. I just know it. 3. Pete Carroll – I think I could convince him to come back to USC!"
The talent I'd most like to have that I don't currently possess: "My father is an incredible surfer and I wish I could get out there on a board with him! I'm learning!"
If I had to watch one movie or TV Show over and over and over again: "The Bachelor/Bachelorette. I've never missed an episode since the very first season. No shame."
Top three items on my bucket list are: "A trip to Greece, be the featured guest on the Actor's Studio, and ride an elephant in Thailand."
For Perry's full gallery, click here.
Jackie Bradley Junior Debuts Glorious Afro
He said that teammates had finally convinced him to ditch his cornrows in favor of a fro, which represents two years of not getting a haircut. Pretty fine work. Check out some more of the best afros in baseball over the years.
Idiotic U.S. Open Jungle Bird Guy Strikes Again, Pays a Price
You remember the guy who interruptedBob Costas's interview with U.S. Open champ Webb Simpson? He made a run for it at Nationals Park, put his arms out to get cuffed after taking a practice cut, then got headlock-chokeslammed by security. Jungle Bird Man definitely uses some questionable tactics to raise awareness for climate change but that slam feels like unnecessary use of force.
New York Post Hates on Jeter
Specifically, columnist Michael Gray, who wrote a piece titled "Derek Jeter has made this season an ego-driven circus."
Odds & Ends
Gronk got spanked by his mother for his birthday ... Mitch "Wild Thing" Williams on leave of absence from MLB Network after reportedly ordering beanball in youth game and other bad behavior ... Canadiens backup goalie Peter Budaj got some time in a rout last night; check out his Ned Flanders mask ... Twins ballboy saved a fan from a line drive ... Cyclist celebrates victory a little bit too soon ... Hamptons shuttles to get selfie machines ... Belmont race track accidentally gives out number for phone sex line.
CM Punk Leads "Take Me Out to the Ballgame" at Wrigley
Pretty decent performance. He certainly knows how to work a crowd.
David Price and Luis Jiminez Compete in Dairy Milking Competition
"Oh, you can milk anything with nipples." [BSO]