Tuesday's P.M. Hot Clicks: Notable Misspelled Sports Jerseys
Notable Misspelled Jerseys
Spelling Fails: Cringe-Worthy Misspellings on Sports Uniforms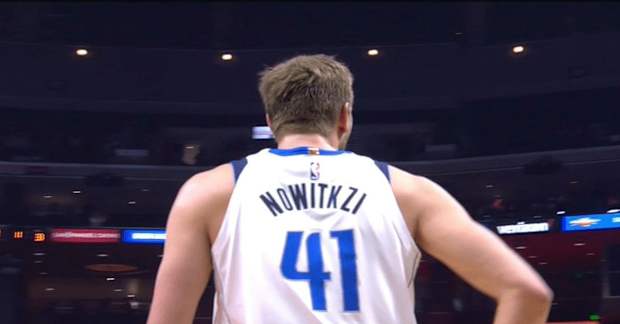 It was a rough weekend for the Colorado Rockies Promotional Department as the team gave away 15,000 Troy Tulowitzki jerseys only to realize his name was misspelled (TULOWIZKI instead of TULOWITZKI). This happens more often than one might think and our photo editors have been paying close attention. So in honor of the Rockies spell checkers, here is a gallery of notable misspelled jerseys.
Andre Reed. Not A Johnny Manziel Fan
New York Magazine profiled Jon Bon Jovi and his quest to buy the Buffalo Bills, but the best part of the story had nothing to do with JBJ. While the author (Reeves Wideman, a former SI intern if memory serves me correctly) is interviewing Buffalo legend Andre Reed, a television shows Johnny Manziel's tweet referring to LeBron James as "my guy" and Reed goes off. "Who the f--- is Johnny Manziel? LeBron ain't your guy! You're not 'Johnny Football.' You're 'Johnny Rookie B----.'" And that's just the start.
The Olympian and the Porn Star
Can't blame a guy for trying. U.S. Olympic sprinter Joshua Mance ran into TMZ and convinced them to find his favorite porn star, Skin Diamond, and let her know he is interested. Unfortunately for Mance, Skin played the "I'm already seeing someone" card but left the door open a little by saying, "he would really have to do something wild" to garner her interest. On the bright side, Hot Clicks now has a favorite Olympian heading into the 2016 Games in Rio.
Lovely Lady Round-Up
Stuart from L.A. requested Bar Paly photos and that seemed like an excellent request ... Irina Shayk's best magazine covers ... Genesis Rodriguez turned 27 today ... Samantha Hoopes posted a photo from her Bello Magazine portfolio.
Urban Meyer Has Opinions
The Ohio State coach spoke at Big Ten Media Day and questioned why Tim Tebow, the second-most efficient passer in college football history, isn't in the NFL. This 2012 compilation of his bad passes may be one reason. Meyer also took time to text LeBron James and tell him that he's expected to attend every OSU home game this season.
Who Said It? Justin Bieber or Johnny Manziel
I got nine out of 10 correct. The only quote I messed up was this: "I'm not going to conform to what people want me to be, or go out there and start partying, have people see me with alcohol." See how you do.
The Best Hair in College Football
Odds & Ends
Take 15 minutes and read this story about a first-time skydiver who narrowly escaped death. It's really good ... NFL teams and their superhero counterpart ... Mark Cuban and Fat Joe nearly came to blows over a pair of Air Jordans ... Why Jay Cutler and Kirk Cousins are driving huge conversion vans ... Mike Napoli's high school yearbook photo is tremendous ... The 30 most ridiculous MLB fan tattoos ... It's not a good idea to sleep with a cell phone under your pillow ... I hope the inside of all airplanes soon look like this ... Surgeons in Mumbai have removed 232 teeth from the mouth of an Indian teenager.
Clayton Kershaw Visits Jimmy Kimmel
The Dodgers ace tries to hit the late-night host in the face with a fastball. I'm guessing the ball is fake.
[youtube:http://youtu.be/d-5Pf8wY32I]
FSU Freshman Football Players Create Rap Video
Demarcus Christmas, Lorenzo Featherston, Derrick Nnadi and Jacob Pughteam up for this masterpiece.
NHL Through the Years
Mapping the growth and evolution of the NHL and its teams.
Wheel of Fortune Video of the Day
Weird Al Yankovic plays against James Brown, Little Richard and Lee Greenwood in this 1994 gem. (H/T Rolling Stone)
[youtube:http://youtu.be/DHNONE5ic0U]