Wednesday's P.M. Hot Clicks: Carmelo Anthony's Offseason Fashion
Carmelo Anthony: Fashion Icon
Carmelo Anthony's Offseason Fashion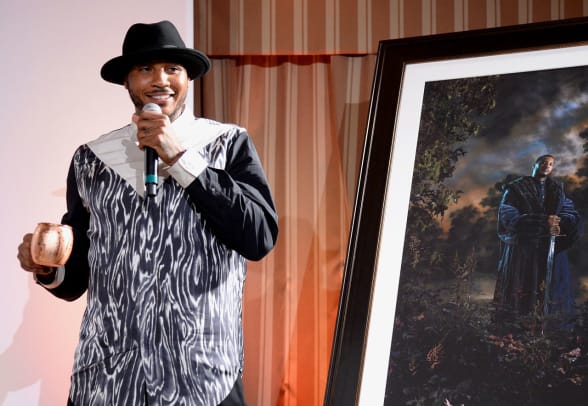 It's official. Carmelo Anthony has entered the Hall of Fame of oddly-dressed professional athletes, joining Tom Brady, Russell Westbrook and Dwyane Wade. He was in the running all of last season but really stepped up his game in the offseason, as this gallery demonstrates.
While We're Taking Fashion...
Next Impulse Sports has re-ranked the Top 25 college football teams based on how well-dressed their coach is. So now Bo Pelini and Mark Dantonio have something else to argue about.
A.J. McCarron vs. Fran Tarkenton
​For reasons I am not sure of, Chiefs backup QB A.J. McCarron does a weekly spot on Tuscaloosa's Tide 99.1-FM radio show. On Tuesday, McCarron commented on Alabama coach Nick Saban and his tendency to "handcuff" his offensive coordinators by calling safe running plays. Saban politely disagreed with McCarron's comments but Fran Tarkenton was not as kind. The Vikings legend went on Birmingham radio and said that McCarron "should keep his mouth shut and praise Saban and Alabama for the rest of his life," among other pleasantries.
Lovely Lady Round-Up
As I mentioned this morning, Latina Magazine's "Hollywood Hot List" party produced a bevy of LLOD candidates. Among my favorites is the uniquely-named Scheana Marie​ (click here for full-size gallery) ... Massachusetts' own Alexa Dunn swung by the SI office for a 2015 swimsuit casting call ... WAGs of the 2014 MLB Playoffs ... Chantelle Vee is my new favorite Australian model.
Concession Food Item of the Week
Why are all the Royals fans so happy these days, you ask? It's because of the Pulled Pork Mac 'N Jack Sausage served exclusively at Kauffman Stadium. For $10.50 you get a pepperjack sausage topped with pulled pork, spiral mac and cheese and bacon crumbles, served in a bun. The Royals' first playoff appearance in nearly 30 years has people excited too, I guess.
Roger Federer > Free Wifi
​
​The Right Guard Zamboni
Novak Djokovic Meets Yao Ming
​
​Odds & Ends
Five movies that should be rebooted with athletes in starring roles ... A Florida teen has bowled 58 perfect games in the past three years ... There are no better 103-year-old soccer fans than Betty Musker ... I love when my buddy Richard Deitsch goes after someone at ESPN ... Busted Coverage continues to investigate Sammy Sosa's changing skin tone ... The most popular NHL players and teams on Twitter this summer ... The Miami Hurricanes football squad deserves much praise for filling this child's Make-a-Wish dream ... Phil Mickelson's most memorable quotes ... Jay Leno is close to getting a CNBC show about cars ... Celebs and their wax counterparts ... Colgate University is at the top of the list of colleges with the most dateable alumni.
This is a Victory Dance
This video of Clemson football manager David Saville made my day. (H/T Dr. Saturday)
Turn Down For Waffles!
Texas Tech is giving away 10,000 waffles to students before its game against West Virginia on Saturday, and the school's mascot created this nifty video to promote the giveaway.
High School Play of the Week
Angelo Wiggins, a senior wide receiver from Wayne (Mich.) Memorial High, refuses to be tackled. Apologies in advance about the awful music in the background.
Pau Gasol on Sesame Street
It's a fiesta!
Weatherman Improv
A meteorologist is forced to improv after his microphone fails.
[youtube:http://youtu.be/IhPdxp6u_cw]