Monday's P.M. Hot Clicks: Elena Kosmina; College Superfans of the Week
Monday's P.M. Hot Clicks feature the lovely Elena Kosmina and College Superfans of the Week
College Football Superfans
​ Including the likes of Miami and Minnesota, we spend hours reviewing photos of college football fans for this week's Superfans gallery (see below and click here for full-size version.)Do you have any pics you'd like us to add (college or any sport)? Send them to me at andy_gray@simail.com. ​
College Football Superfans, Week 2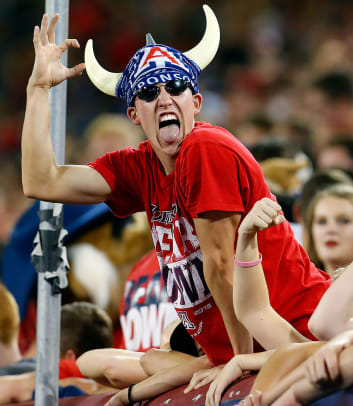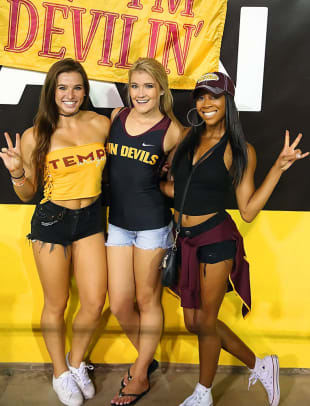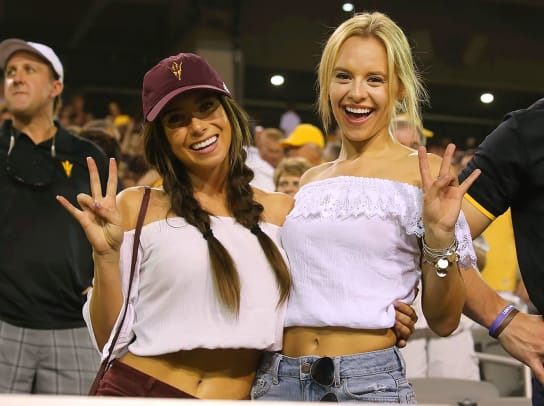 ​
DeAngelo Williams is a Bad Tipper (but was it justified?)
The hottest NFL story coming out of the weekend has nothing to do with football. DeAngelo Williams visited a Maryland restaurant and left a $.74 cent tip on a $128.26 meal. My immediate reaction was that Williams is a bad tipper and thus a bad person. But I was wrong. Turns out Williams allegedly waited over an hour for his food, the waitress got his order wrong and she never asked if he wanted refills on his drink.
Jimmy Garoppolo = Twitter Gold
Our crack research team dug into the Twitter archives for some of Jimmy Garoppolo's old tweets and discovered two things. One, Garoppolo is an interesting dude. And two, Garappolo does not like punctuation. This is my favorite (from December 2012): "Ive never understood why dentist talk to u when u cant talk back." He's totally right!
Elena Kosmina: P.M. Lovely Lady of the Day
Elena Kosmina, a native of the Ukraine, was named Top Model in the World for 2015, which is good enough to make her this afternoon's LLOD (click for full-size gallery).
​
New Words For 2016
The Oxford English Dictionary have officially weighed in and "moobs," "swirlie" and "fuhgeddaboudit" are now acceptable words in the English language.
The Most Oddly-Named Towns in all 50 States
It's my new life goal to visit Beer Bottle Crossing, Idaho, at some point in my life.
Musicians and Their Backstage Demands
Mariah Carey's three-seat couch had better not have any busy patterns!!
Dirk vs. Troll
Why Didn't I Think of That?
Odds & Ends
SI is counting down the top 100 NBA players. Here are Nos. 100-51 (the top 50 will be out Tuesday) ... The Dwyane Wade-LeBron James friendship extends to ordering food at restaurants ... The best trade ever made for every NFL franchise ... Fifty parting thoughts from the 2016 U.S. Open ... Here's a look at '90s heartthrob Jonathan Taylor Thomas through the years ... This just may be the most grotesque food item ever created ... Meet Florida's James Bates,​ the best artist in college football.
Happy Birthday, Yao Ming
Trick Shots With Derrick Henry
Strawberry Fields Forever
My new favorite band, Six-String Soldiers, covers the Beatles classic.
When Local News Meets Dunkin Donuts
Email andy_gray@simail.com with any feedback or ping me on Twitter. Click here for previous editions of Hot Clicks. Visit our Extra Mustard Page throughout each day for more offbeat sports stories and the latest Cheerleader of the Week gallery. Also check out the SwimDaily Page for the latest updates and Instagram pictures of models who have appeared in our issues.