Monday's P.M. Hot Clicks: Ali Drew; Best Cleats of 2016 NFL Season
Monday's P.M. Hot Clicks feature the lovely Ali Drew and the best cleats of the 2016 NFL season
Best Cleats of 2016 NFL Season
​The 2016 NFL season has been one long fashion show—whether it'sCam Newton's postgame hats or Antonio Brown's fur coat. Cleats have also been a source of fashion throughout the league. We found our favorite footwear of the 2016 season and compiled them into the gallery below. (Click here for full-size gallery.)
The Many Creative Cleats of the 2016 NFL season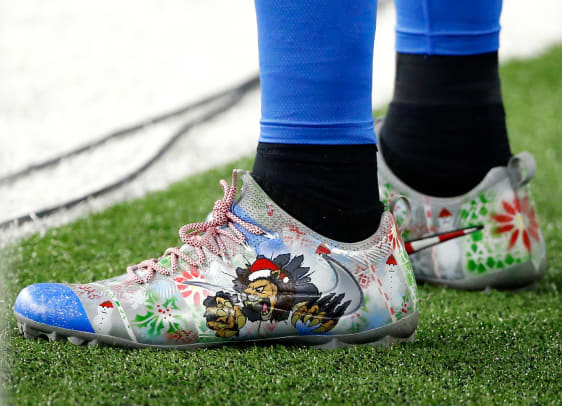 25 Athletes Who Share Names With Thanksgiving Foods
How many can you guess without looking at our list? I got two (Darvin Ham, Eli Apple).
Two New Inventions Worth Trying Out
Ever go biking but aren't sure where to put your bulky helmet afterwards? Worry no more. The folding bicycle helmet is here to save you space. Then after you purchase a folding bicycle helmet, be sure to check out Flippr, a two-sided ironing board for people who don't want to waste time ironing.
Ali Drew: P.M. Lovely Lady of the Day
I was thinking of my friend Paul Heyman after his client Brock Lesnar got destroyed at Survivor Series Sunday night. So I went to his website and got distracted by British model Ali Drew, who will soon release a 2017 calendar. She is this afternoon's LLOD (click for full-size gallery).
​
Finally!
Season 12 of It's Always Sunny in Philadelphia begins on Jan. 4. According to Charlie Day, "we can expect to see some of the UFC, an entire musical episode (guest starring from Scott Bakula), you can expect to see us at a water park." I'm excited for all of that.
This is What an 8,000-Calorie Sandwich Looks Like
The cheese on this looks delicious. Unfortunately, nothing else does.
Vote for 2016 Sportsperson of the Year
Michael Phelps? Vin Scully? The Chicago Cubs? Vote on the 2016 Sportsperson of the Year.
Happy Birthday, Rocky
Did Not See This Romance Coming
Odds & Ends
I don't blame the Raptors for being annoyed at Sunday night's loss but it was the right call ... LOL Jets ... Justin Bieber totally looks like he plays for FC Barcelona ... Fashion Alert: Chrissy Teigen wore a dress with a really, really high slit ... The creepiest Thanksgiving Day parade balloons ... Gabrielle Union called outLena Dunham and Amy Schumer ... No, 50 Cent. I will not buy your overpriced underwear ... Six great Black Friday camera deals.
Never Seen This Before
Two Teammates Reunite
DeAngelo Williams Makes Thanksgiving Cake
[youtube:https://youtu.be/hsdyQYoL1wo]
Chrissy Teigen Gets Bedazzled
Email andy_gray@simail.com with any feedback or ping me on Twitter. Click here for previous editions of Hot Clicks. Visit our Extra Mustard Page throughout each day for more offbeat sports stories and the latest Cheerleader of the Week gallery. Also check out the SwimDaily Page for the latest updates and Instagram pictures of models who have appeared in our issues.